This post brought to you by Manwich. All opinions are 100% mine.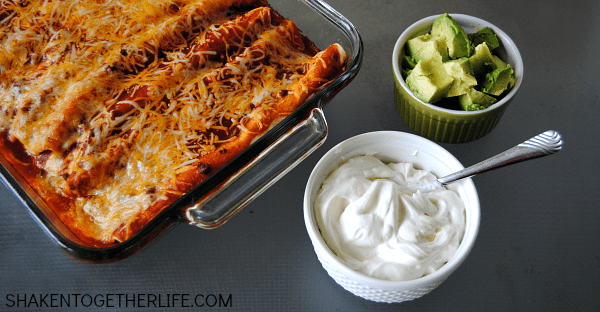 Well, we are officially back to school, football practice has kicked off and the homework has begun.  I have oodles of forms to fill out and paperwork to complete, but I am proud to say that I actually survived our first day with a 9th grader and a 6th grader.  But, when I look at all of the boxes that are filled on our calendar, I realized that I am in desperate need of Easy Weeknight Meals to help me keep our sanity and schedules intact!
Enter …
When this shows up on your door step, there is nothing left to do but cook!  Talk about a special delivery!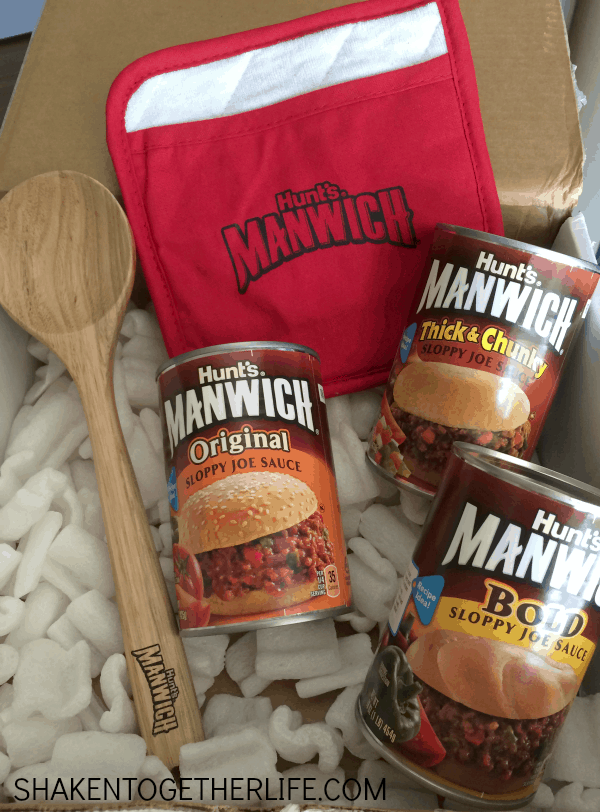 You may remember the Manwich Bar I put together before – it is definitely making a repeat performance for football season this year.  But one night, we got creative and mixed two of our favorite meals to make one delicious dinner!
Cheesy Sloppy Joe Enchiladas
1 can Manwich Thick & Chunky
1 can Manwich Original
1 1/3 lb. lean ground beef
1/3 cup salsa
1 cup enchilada sauce
2 1/2 cups shredded Mexican blend cheese
10 flour tortillas
Preheat oven to 375*. Spray a 9 x 12 baking dish with non-stick baking spray.  In a large skillet, brown the ground beef and drain any excess grease.  Stir one can of Manwich Thick & Chunky and 1/3 cup salsa into the browned beef.  Reserve 1/3 cup Manwich meat sauce and 1/2 cup shredded cheese.  Fill each tortilla with 1/10 of the Manwich meat sauce and sprinkle with shredded cheese.  Roll up each filled tortilla and place all 10 rolled enchiladas in the baking dish.  In your skillet, combine the remaining 1/3 cup of Manwich meat sauce, 1 cup enchilada sauce and one can of Manwich Original.  Pour Manwich enchilada sauce over rolled enchiladas and top with remaining 1/2 cup of shredded cheese.  Bake for 15 minutes or until cheese is melted and sauce is hot and bubbly.  Top with sour cream, cubed avocado or your favorite enchilada toppings!
This dish was a really fun way to meld enchiladas + traditional sloppy joes!  Manwich gives the meat and enchilada sauce that great familiar sweet tang with no artificial flavors.
Need some heat with your cheesy sloppy joe enchildas?  You can easily spice this up by using hot and spicy salsa and sliced jalapenos!
Did you happen notice that you only need one skillet and one baking dish to make cheesy sloppy joe enchiladas? Who wants to wash a sinkful of dishes?  There are book reports to review, math homework to check and practice to get to!  And since these are WAY to messy to eat on the go, dinner was the perfect opportunity for us to slow down and spend a few minutes together at the dinner table.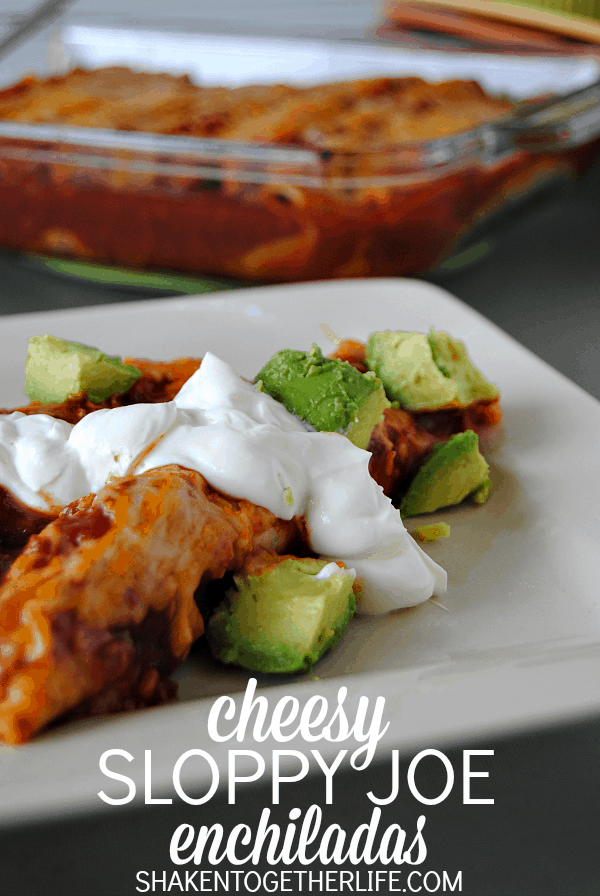 Yes, that is my plate with tons of avocado and sour cream, ha ha!  From sliders to soup, casseroles to appetizers, there are tons of great Manwich Recipes to keep you out of a back to school dinner rut!  Check them out >>   
This post may be shared here: