There is almost nothing better than a bowl of piping hot French onion soup, brimming with soft caramelized onions, topped with a crouton and a slice of melty cheese.  Notice I said almost nothing better.  Because you have yet to meet this unbelievably delicious appetizer!  When I had the opportunity to try STAR Olive Oil, I jumped at the chance to share one of our family's favorite appetizers with you!  If French onion soup and a big loaf of gorgeous, soft bread met and had a delicious, cheesy baby, THIS would be it!
Cheesy French Onion Soup Bread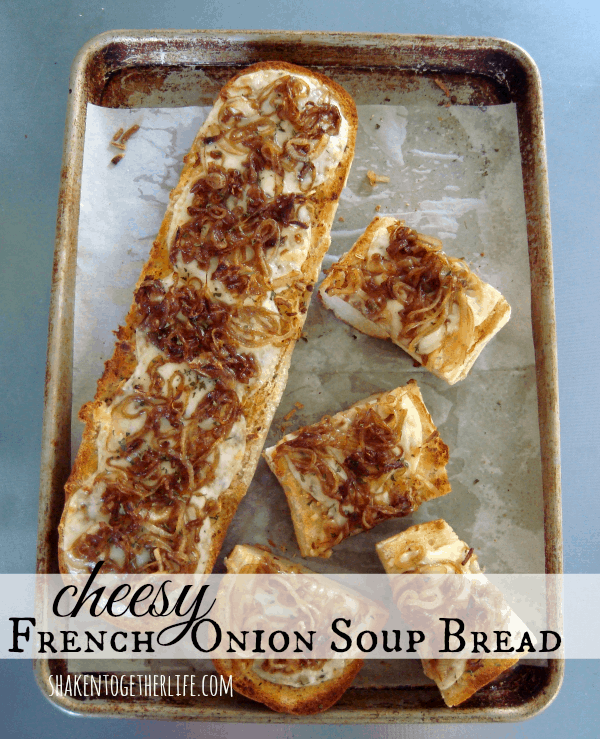 Do you see that beautiful crusty French bread?  Well, underneath that lovely layer of melted provolone is a rich, onion-y butter.  And that is topped by a huge heap of gorgeous caramelized onions.  All the delicious flavor of French onion soup without the bother of a bowl and spoon!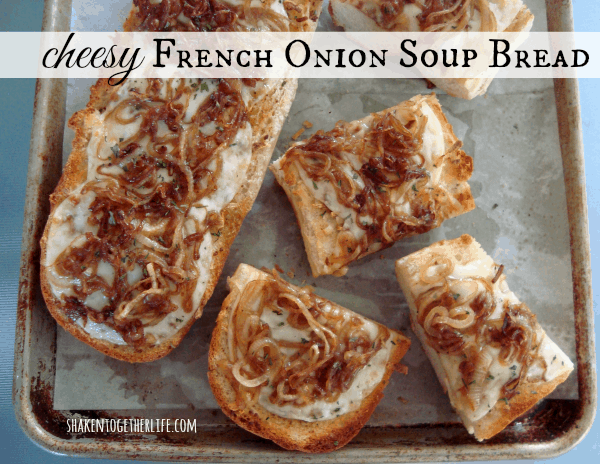 Before we get things sizzling, let's talk olive oil.  We use it all the time:  roasting veggies, mixing up homemade dressing, sauteing meat, a little drizzle over a baked potato.  And this week, while shopping at Walmart for the ingredients for this appetizer, I ran into three friends I think you'd like to meet!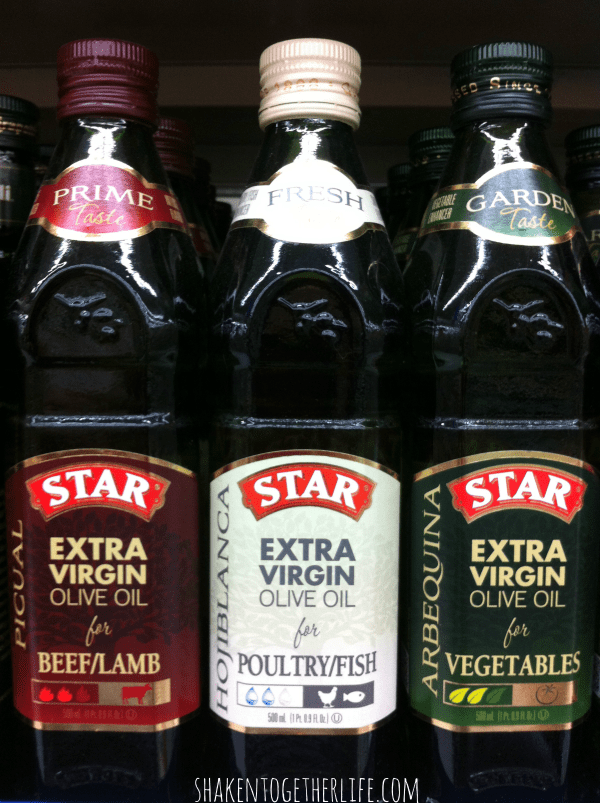 STAR Usage Pairings Olive Oils … meet my fantastic readers!  The extra virgin olive oil inside each different bottle is made to compliment a certain type of food.  Pretty cool, huh?  This terrific trio includes:
Picual for Beef/Lamb
Hojiblanca for Poulty/Fish
Arbequina for Vegetables – this is what I used to caramelize my onions!
Speaking of caramelized onions … let's get cooking!
Print Cheesy French Onion Soup Bread with STAR Olive Oil
---
Scale
Ingredients
1

loaf of soft bread

1

packet onion soup mix (divided)

4 tablespoon

s softened butter

6

–

8

slices provolone cheese

3

small yellow onions (sliced into thin rings (I used a mandolin))
STAR Arbequina olive oil
---
Instructions
In a large skillet, separate onion rings and drizzle with STAR Arbequina olive oil.
Sprinkle half of the packet of dry onion soup mix on the onions.
Saute onions on medium heat until they are soft and translucent, stirring frequently.
Reduce heat to medium low and allow onions to caramelize until they are deep brown in color.
While the onions are caramelizing, slice the load of bread lengthwise and spread each half with softened butter.
Sprinkle the other half of the dry soup mix packet over the bread.
Place in preheated 350* oven until bread is slightly toasted and butter has melted – mine took about 4 to 5 minutes.
Remove bread and layer 3-4 slices of provolone cheese on each half of the bread.
Return to oven until cheese has melted.
Remove bread and spread the caramelized onions evenly over each half of the bread.
Set oven to broil.
Broil bread – watching carefully – until the cheese is bubbly and just browned.
Remove bread and allow to cool slightly before cutting into pieces.
---
Notes
Cheesy French Onion Soup Bread recipe found at shakentogetherlife.com
Chris has already asked if I would make this again this weekend.  And the boys had to split the last piece of bread exactly down the middle.  I'm telling you … this cheesy French onion soup bread is THAT good!
I'm pretty sure we're making this for Thanksgiving and likely every get together I host from here through New Year's.  We're stocking up on STAR olive oil, onions and breath mints 😉
Oh!  And the folks at STAR Fine Foods are hosting a tasty giveaway over on their Facebook page and they'll pick 5 winners just in time for Christmas!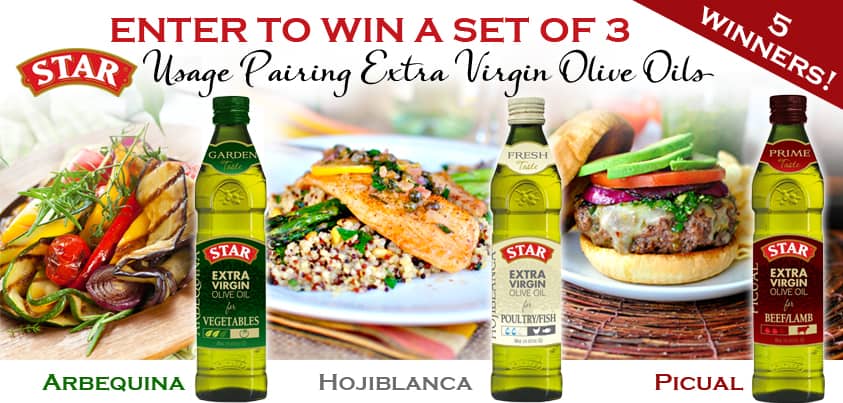 You can connect with them on Pinterest and on Twitter, too!