I am a member of the Collective Bias®  Social Fabric® Community.  This shop has been compensated as part of a social shopper amplification for Collective Bias and its advertiser. #VIPFruitFlavors #CollectiveBias #shop
You had to know this post was coming, right?!  What would a holiday at Shaken Together be without seasonal gifts – especially those made with candy?!  Do you remember my lemon drop Valentines or "corny" candy corn mason jar gift?  I guess my brain is just wired to pair candy with a little creativity to make sweet little gifts for the VIPs in our lives: co-workers, teachers, friends and kids.  And today's trio of sweet Spring & Easter gifts are no exception!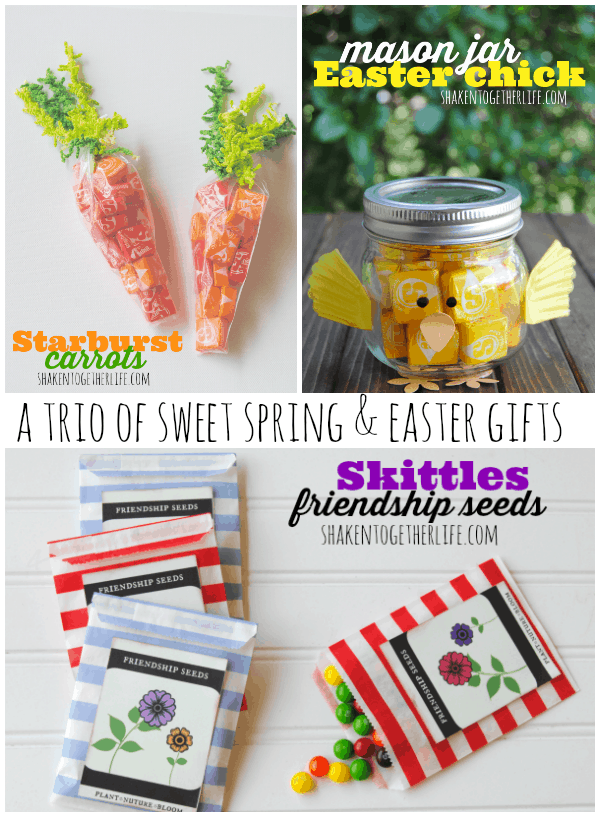 When I was at Sam's Club stocking up on anything and everything in an effort to satisfy my boys' appetites, I meandered down the candy aisle looking for inspiration for Spring and Easter gifts.  Sure enough, the bright green packaging on the Skittles & Starburst 30 Pack from Sam's Club did it!  And I couldn't get home quick enough to start crafting!!  I even have a fun FREE printable so you can make your own friendship seeds!!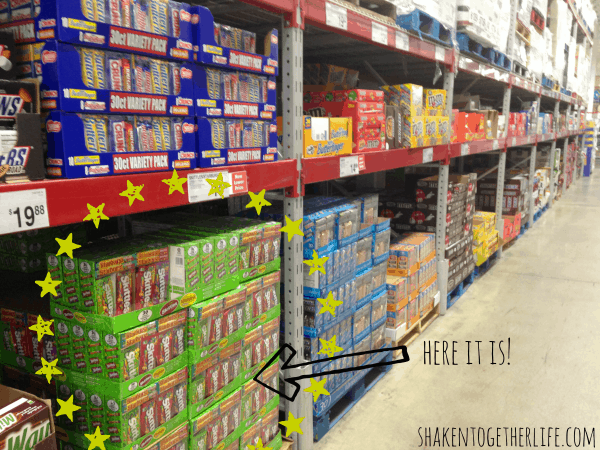 Once I shooed the boys outside so I could craft without sneaky little walk-by candy snatching, I opened all of the Starburst packets and started sorting by color.  And BAM!  It hit me!  Bright orange Starburst carrots for the boys' Easter baskets!  I snagged some disposable piping bags from my stash and some of the kooky green yarn I had on hand from my picket fence chalkboard countdown and made a few veggies that I know my boys will eat!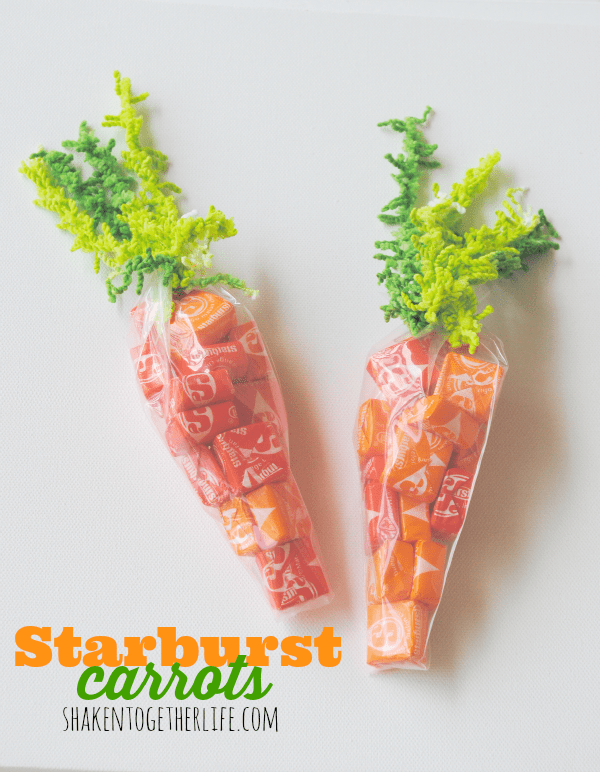 For each carrot, you will need:
One disposable piping bag
Orange Starburst candies (or orange Skittles)
Green yarn, raffia, twine, ribbon, ric rac, etc. for the carrot top
String
Scissors
Clear tape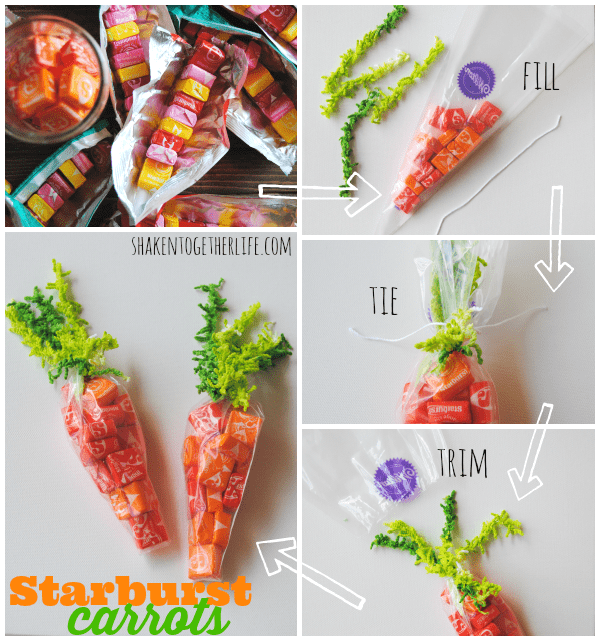 Once you have sorted the orange Starburst, fill a disposable plastic piping bag with the candy- make sure you leave room between the candy and the logo (if your bags have one).  Then lay a piece of string under the piping bag and a few pieces of yarn on top of it.  Use the string to tie the bag closed and the yarn carrot top to the bag.  Avoiding the yarn, trim the excess plastic bag away (below the logo if there is one).  Finally, fold the empty pointed end of the bag back and tape it to the back of the carrot with a small piece of clear tape.
And now, because no holiday is complete without a mason jar gift (and since I had already had a big pile of yellow Starburst), I'll show you how to make this chubby, cheery mason jar Easter chick!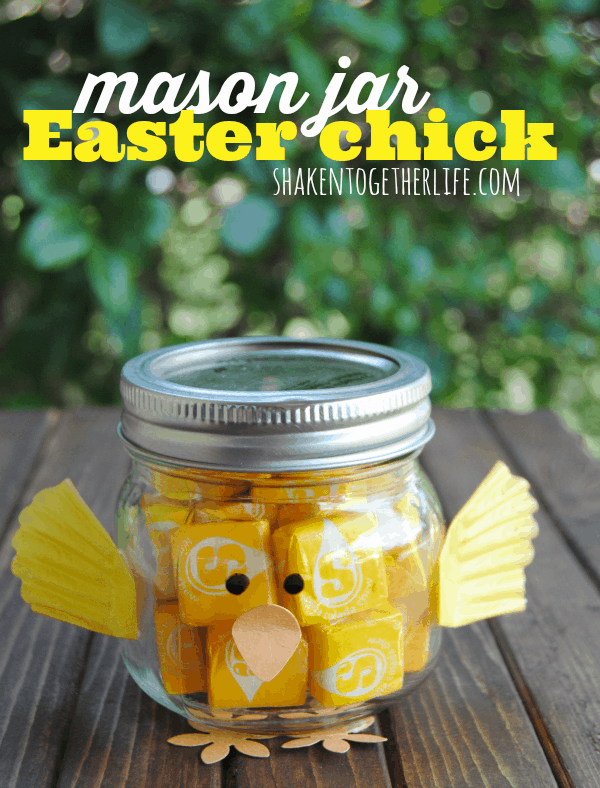 For each mason jar Easter chick, gather:
One small mason jar
Yellow Starburst or Skittles
Permanent black marker
One yellow cupcake paper
Two orange paper flowers
A small piece of orange scrap paper
Craft or hot glue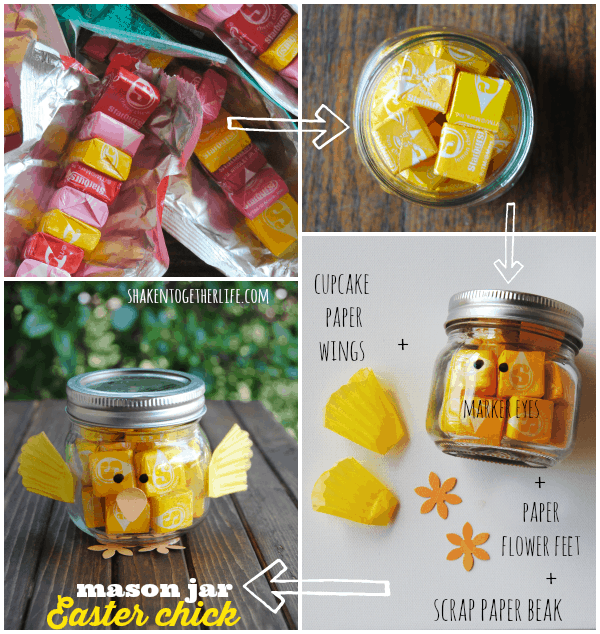 First, fill your mason jar with your yellow Starburst or Skittles and put on the jar lid and ring.  Draw two black eyes on the jar with a permanent marker.  Cut your piece of orange scrap paper to form a beak and glue it on under the eyes.  Use two paper punched flower for feet and glue them along the bottom of the jar.   Finally, fold your yellow cupcake paper in half and cut it into two halves.  Fold the two halves in half again (so the wings are fluffy) and glue the wings to each side of the mason jar.  And then decide that this little guy is too cute to give away!  😉
The third gift is one of my favorites.  With all of the Skittles included in the pack, I wanted to make a Spring gift that would be great for a crowd of VIPs – classmates, teachers, neighbors or co-workers.  So, I created these cute little Skittles friendship seeds seed packets!
For these Friendship Seeds seed packet gifts, you will need:
Small treat bags
Skittles
Seed packet labels – see below.  I'm sharing them with you as a free printable in two different colors!
Scissors or paper trimmer
Glue stick / adhesive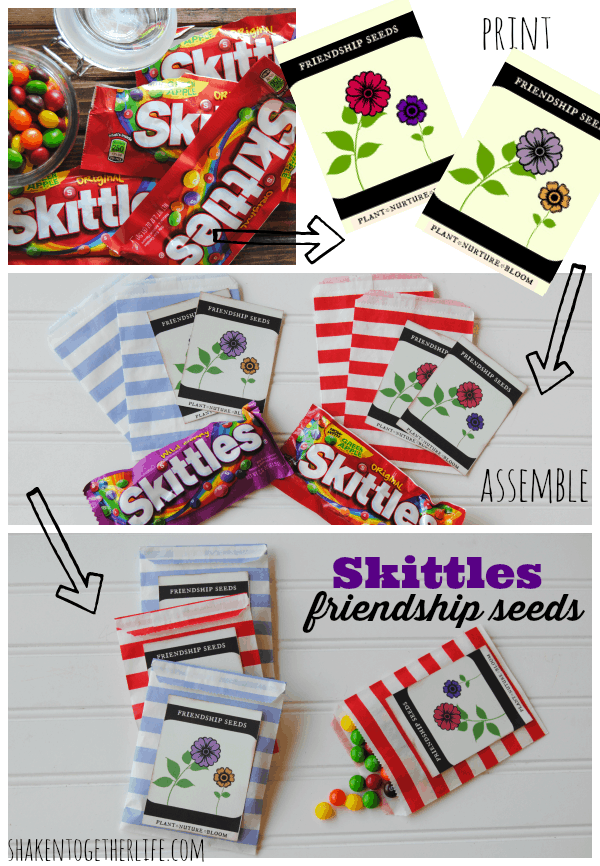 Once you have printed your seed packet labels, cut them out using scissors or a paper trimmer.  Use a glue stick to affix the labels to small treat bags.  Fill the bags with Skittles.  Fold the top of the bag over and glue it closed.
Will these Spring & Easter gifts be making appearances in your Easter baskets or neighborhoods?!  I've tucked the carrots away with my stash of Easter basket goodies and the little mason jar Easter chick is going to be a sweet surprise for one of my favorite chicks!!  I'd love to see your twists on these Spring & Easter gifts, too, so feel free to share them with me on Facebook!