With chocolate pretzel butterflies, load of sprinkles and easy washi tape flags, these Butterfly Cupcakes transform store bought cupcakes from blah to brilliant in no time flat!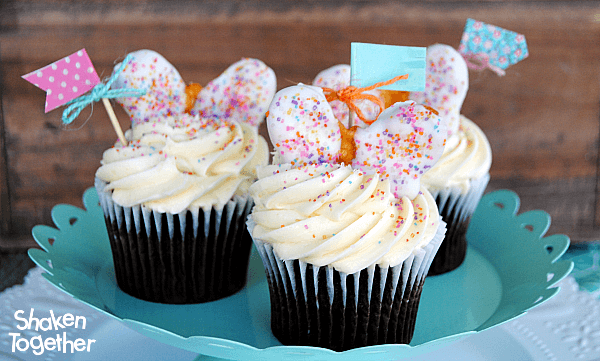 There is just something about a cupcake. The perfect ratio of soft cake to creamy frosting. Add a filling, add a topper, most definitely add some sprinkles! Switch it up and make ice cream cupcakes. And in a pinch, there is no shame in making store bought cupcakes look homemade – who's with me?!
Butterfly Cupcakes with Chocolate Pretzel Butterflies
The CUTENESS!
When I saw butterfly pretzel thins at Target, I just knew that they were going to take a quick dunk in Candiquik and get a boatload of sprinkles. But then what? Only go on to be the cutest cupcake toppers of all time!
Make Chocolate Pretzel Butterflies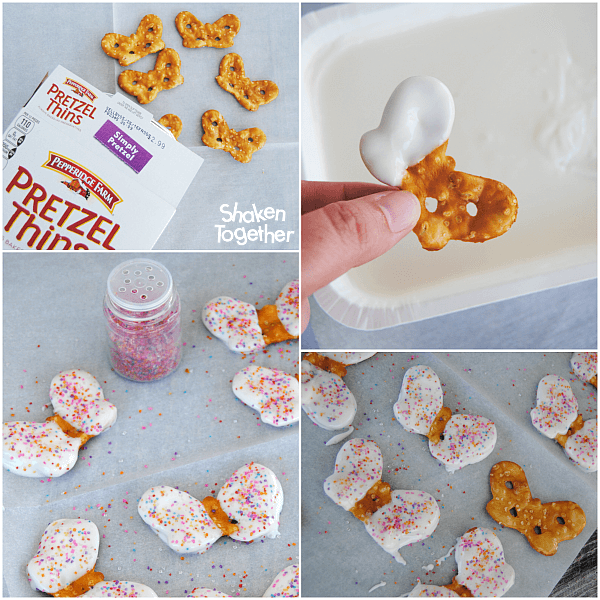 Line a baking sheet with parchment paper.
Microwave vanilla Candiquik according to package directions.
Dip each half of the butterfly pretzel thin in Candiquik – leave the center of the pretzel undipped so it becomes the 'body' of the butterfly.
While the Candiquik is still wet, add sprinkles.
Allow the butterflies to set up – pop them in the fridge until set to speed up the process.
While the chocolate pretzel butterflies were setting up, I made washi tapes flags to add to the cupcakes. In hindsight, there is no real purpose for the flags. They just look darn cute and I love the teeny tiny twine bows. These are totally option, of course. But oh-so-cute!
Make Washi Tape Flags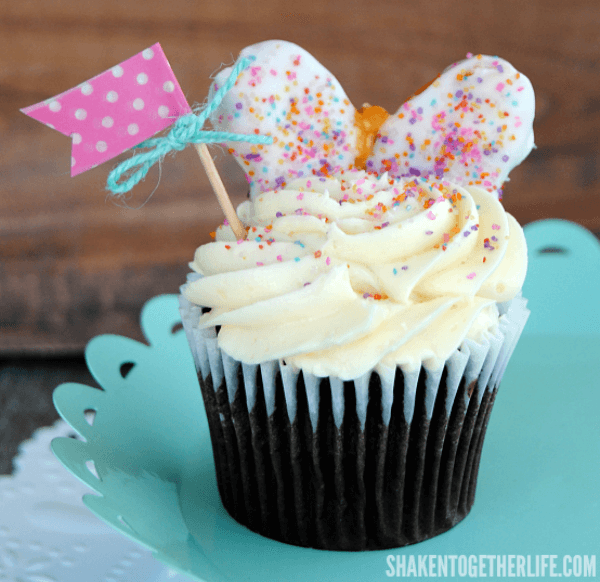 Grab a few rolls of patterned washi tape, several colors of twine and toothpicks.
Fold a length of washi tape over the top of the toothpick.
Use scissors to create a decorative edge for each flag – an inverted triangle, a little fringed edge or a point.
Finally, tie a teeny tiny bow right under each flag with the twine.
Now, it's time to assemble! Just place a chocolate pretzel butterfly on the top of each cupcake, add another healthy helping of sprinkles and place a washi tape flag.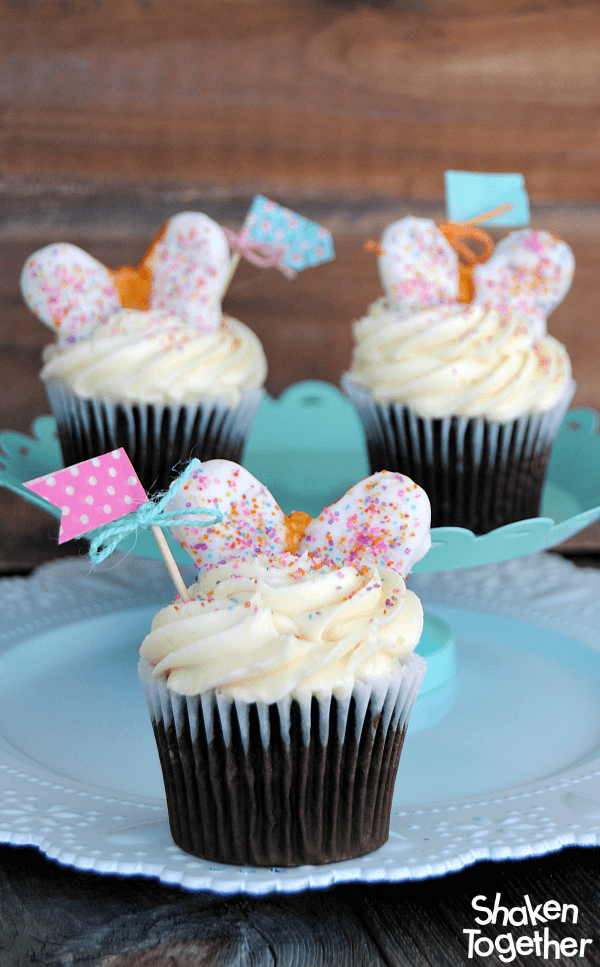 That's it! See?! You can do this! Make any dinner or lunch a party with these Butterfly Cupcakes!

Who knew that store bought cupcakes could go from blah to boring this quick? What do you think? Would you like to see more easy ideas like this one?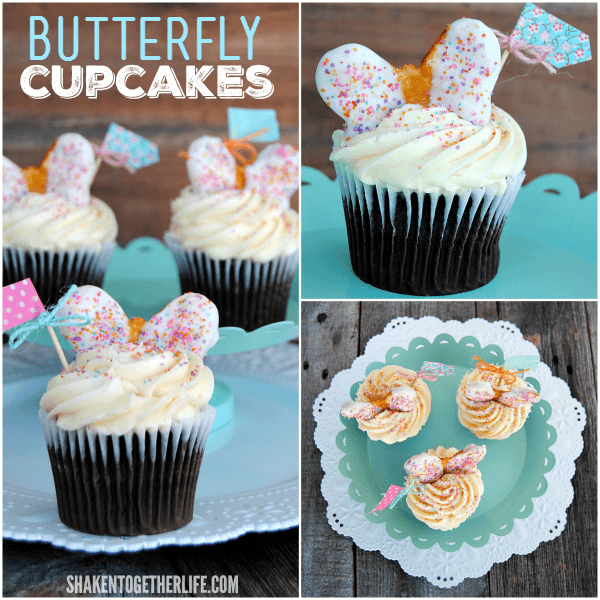 How about a few more ways to dress up store bought cupcakes?!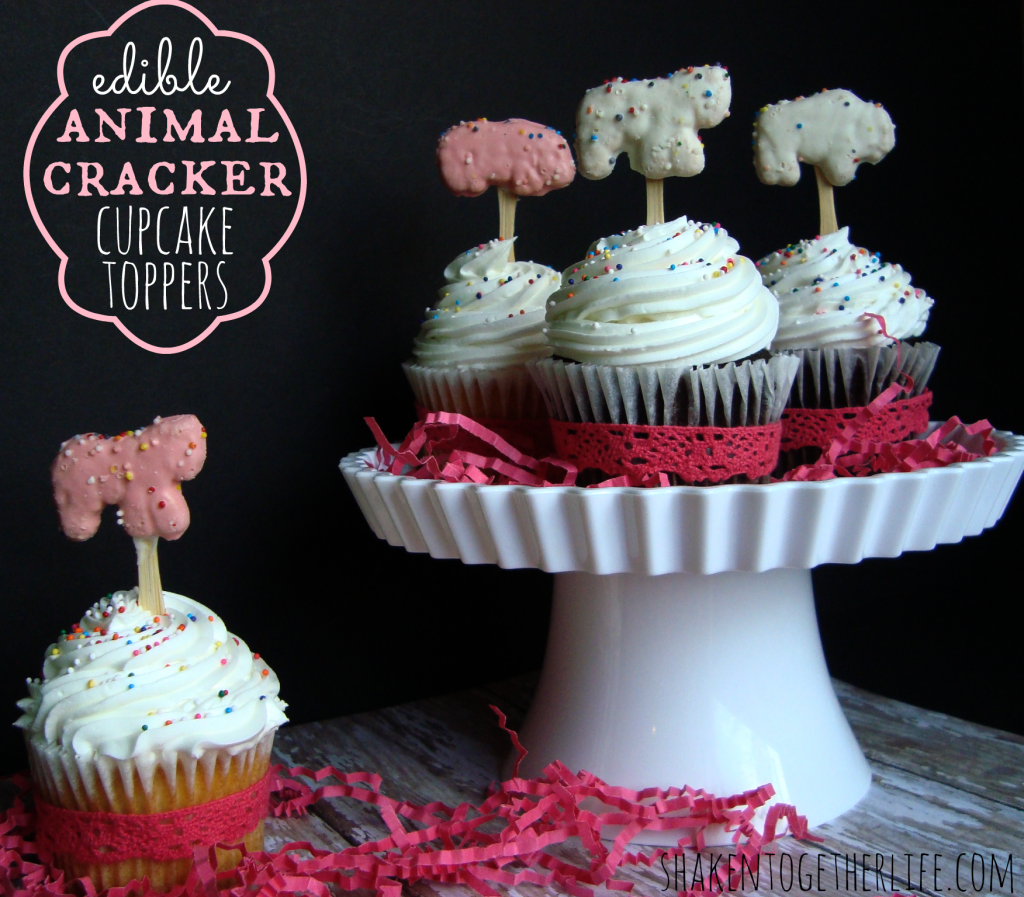 Edible Animal Cracker Cupcake Toppers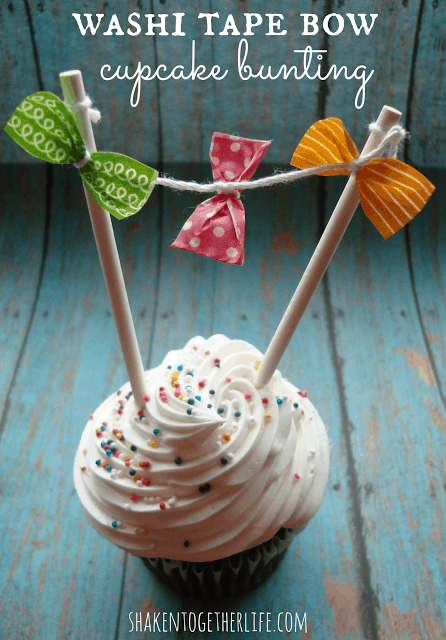 Washi Tape Bow Cupcake Bunting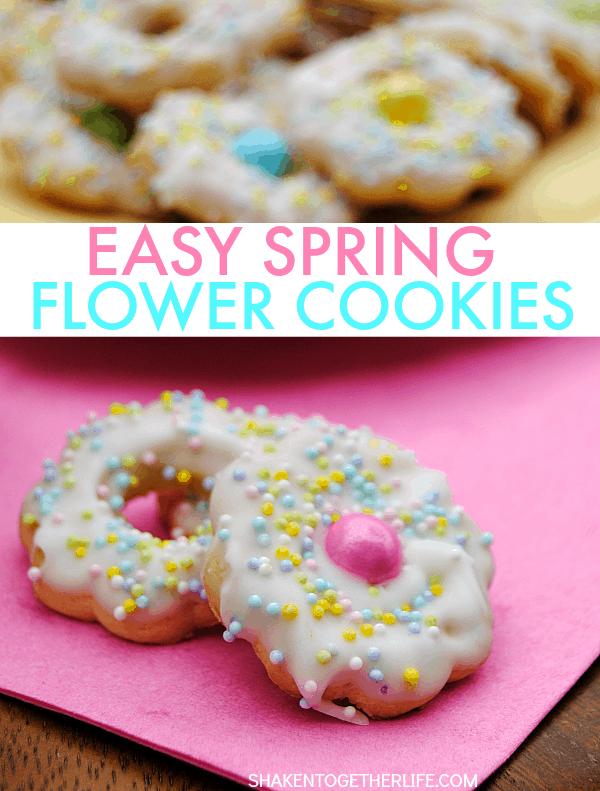 These Easy Spring Flower Cookies would make SUPER cute cupcake toppers!
Our Butterfly Cupcakes with Chocolate Pretzel Butterflies may be shared here: