One bite (or bowl!) will not be enough once you try this light, luscious Brownie Berry Chocolate Mousse! Would you believe this no-bake dessert for six was made for less than $10?!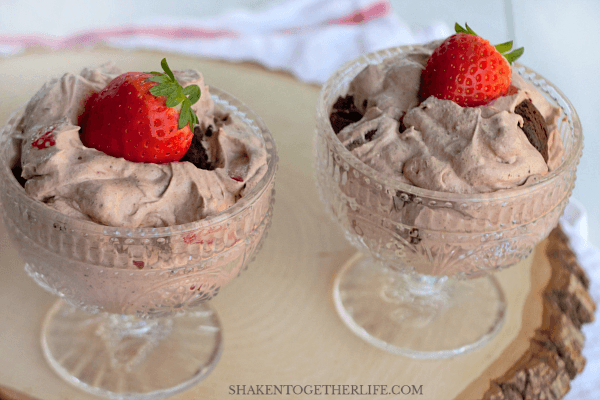 Guys. This dessert should come with a roll of caution tape. It is SO good. Dangerously good. So good that you have to dip your spoon in the second the chocolate mousse is stirred together in all of its creamy dreamy magic. And then dig in again for another spoonful with a berry. Then a brownie. Then both! It's so good that your spoon clinks against the bottom of the dish before you even know it. Yeah. It's that good!
Brownie Berry Chocolate Mousse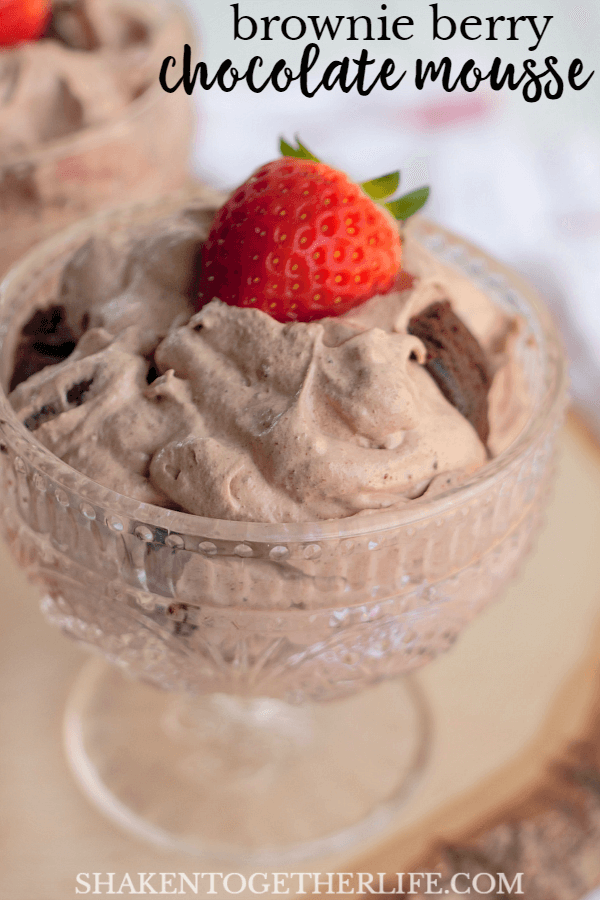 But what really seals the deal is just how crazy easy it is! The tough part is remembering that this recipe serves six to eight people, not just me, ha ha! This Brownie Berry Chocolate Mousse only has 5 ingredients, too. Five!!
Now, I've talked over the last few months about our family's savings goals this year. As part of that initiative, I've been making one trip to our local ALDI each week to grab some of our grocery items. So, it was no surprise when I picked up the ingredients for this dessert at ALDI and at our local national grocery store that I saved 30% just by shopping at ALDI!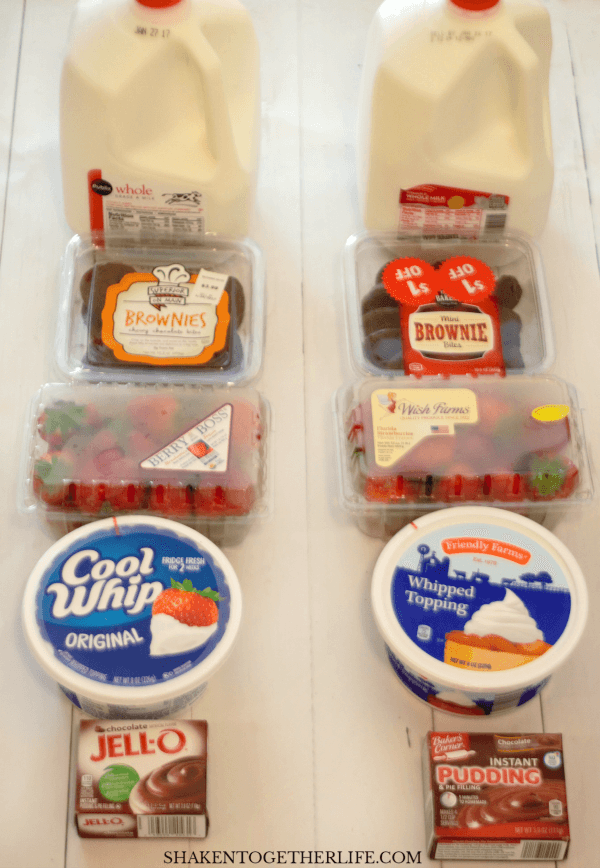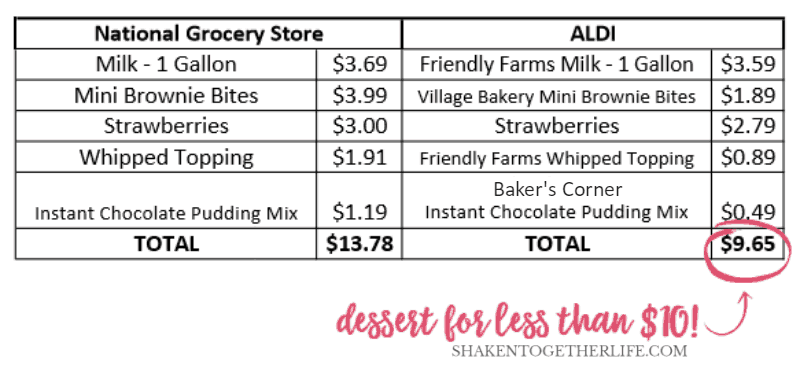 Dessert for 6 – 8 people (with practically a full gallon of milk left) for under $10? Winning!
ALDI keeps prices reasonable by maintaining smaller stores (trips are quick & easy!), omitting non essential services and stocking products right in their shipping boxes. If you have been to ALDI, you know that they have a cart 'rental' system: insert a quarter and release a cart. When you return the cart, you get your quarter back. This means employees' time isn't spent chasing down carts in the parking lot and they can focus on customers inside. I always do a little random act of kindness and take my cart back but leave the quarter in for the next shopper 🙂
Did you know that ALDI taste tests their products multiple times a year? AND they have removed added MSG, certified synthetic colors and partially hydrogenated oils from their ALDI brands? They even offer a Double Guarantee: If for any reason customers don't like an ALDI exclusive brand food, they'll give their money back and replace the product!
On every trip I find new products that have become part of my weekly shopping list. These are a few more of my favorite finds:
Single Serve Donut Store Blend coffee cups/pods
SimpleNature Strawberry Fruit Strips (only 50 calories & Non GMO verified!)
All the bread! Croissants, sourdough loaves, baguettes, sub rolls …
My hubby also insisted that I include the Tuscan Garden Artichoke Salad with artichoke hearts, red peppers, green olives and spices 🙂 He takes it in his lunch at least twice a week.
Now that I've shared all my insider ALDI info, let's get started on this chocolate mousse. It is just pudding mix, milk and whipped topping. I love, love, love the fluffy texture!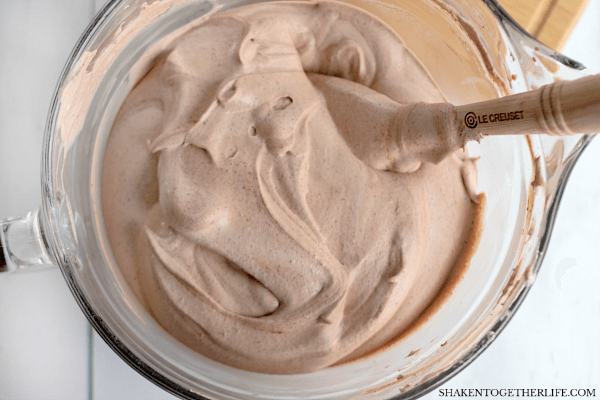 If this mousse sounds familiar, it is. I use this as frosting for a bazillion desserts 🙂 This Lemon Strawberry Poke Cake, my Death by Chocolate Poke Cake, 5 ingredient Pumpkin Spice Cupcakes, Triple Strawberry Cupcakes and anything else I can pile this delightfully delicious fluff on. But today, it is the dreamy base for this pudding meets brownie meets berries no bake dessert!
Once the mousse is mixed up, you can chill it in the fridge for a day or so prior to serving. When you are ready to wow your family and friends, just go pile in chopped strawberries and brownie bites.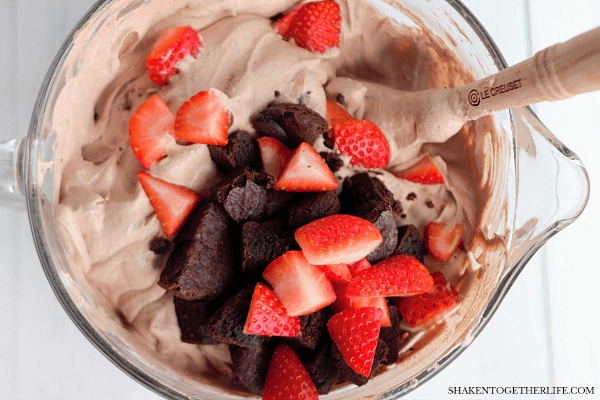 Spoon it into clear dessert cups (or even clear plastic cups) so you can see those peeks of bright red berries and deep dark chocolate brownies!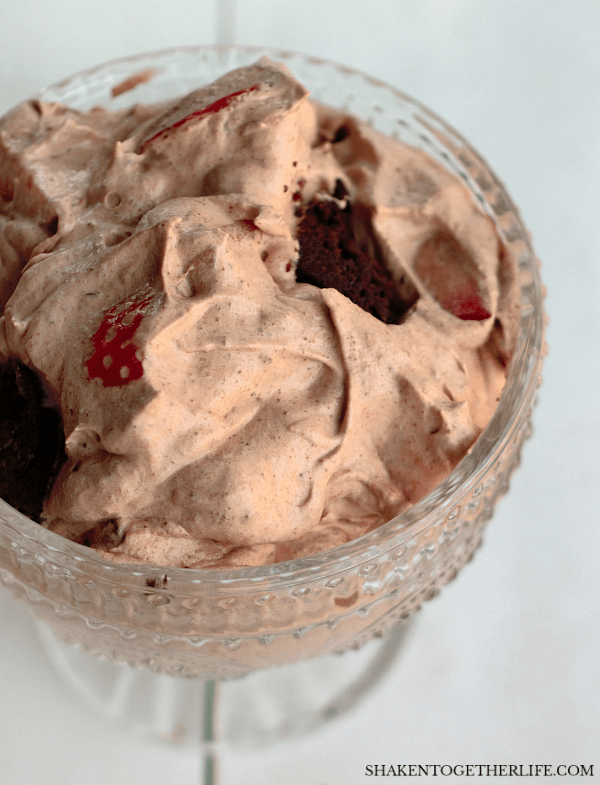 Top each cup with a ripe red strawberry (or even a halved berry so you can put more berries inside the mousse).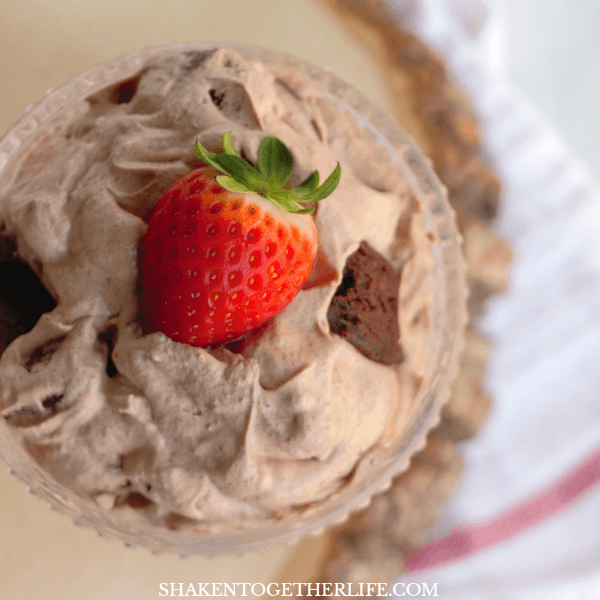 You can't get away without a beautifully ripe berry or brownie bite as you dig your spoon into this chocolate mousse. And honestly, why would you want to? 😉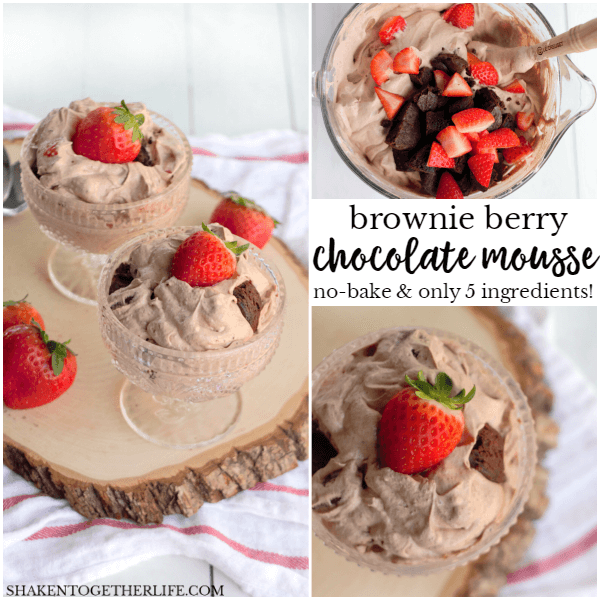 Print
Brownie Berry Chocolate Mousse
Yield:

6

-

8

servings

1

x
---
Scale
Ingredients
One

3.9 oz

box Baker's Corner Instant Chocolate Pudding & Pie Filling

One cup

cold Friendly Farms milk
One

8 oz

. container Friendly Farms whipped topping (thawed)
One container Village Bakery Mini Brownie Bites
One

16 oz

. container strawberries (optional: reserve several berries for garnish)
---
Instructions
Cut brownie bites into quarters.
Remove stems/leaves and cut strawberries into bite sized pieces.
In a large bowl, whisk together pudding mix and cold milk.
Allow to set up for 1-2 minutes.
Gently fold in thawed whipped topping, stirring just to combine.
Fold in cut berries and brownies.
Spoon fluff into bowls or plastic cups.
Garnish with a fresh strawberry (optional).
---
If you are surprising your sweetie with dinner on Valentine's Day, this Brownie Berry Chocolate Mousse would be the perfectly easy make ahead dessert to have chilling in the fridge!