If the natives are restless and it's not yet time to trick or treat, if you want a fun Halloween party activity or if it's raining on Halloween, this fun Halloween Scavenger Hunt will send guests around your home to collect treats and sweets! Grab the free printable clues for this Trick-or-Treat Treasure Hunt, too!
Trick-or-Treat Treasure Hunt ~ Halloween Scavenger Hunt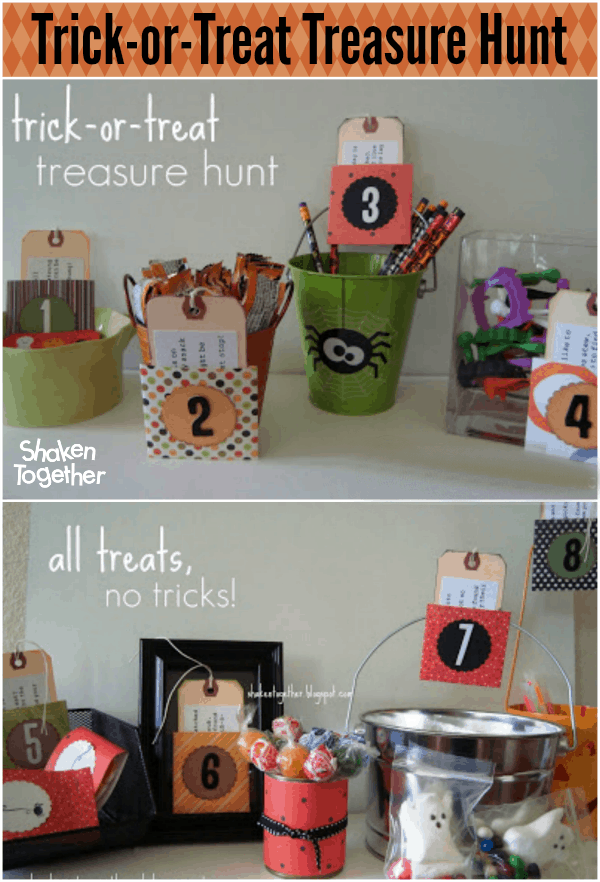 I have put together a fun follow-the-clues treasure hunt for your little party goers to fill their treat bags!  Each clue will lead them to a different part of your home to pick up a treat or trinket and their next clue.
First, we've got to put together the clue pockets and clues!  I came up with 8 clues for places that most homes have (I even made an alternate clue in case you live in a warm climate like us and don't have a coat closet, ha!) and a thank you message that hosts can add to the last treat!
Next, you'll need to make eight clue pockets: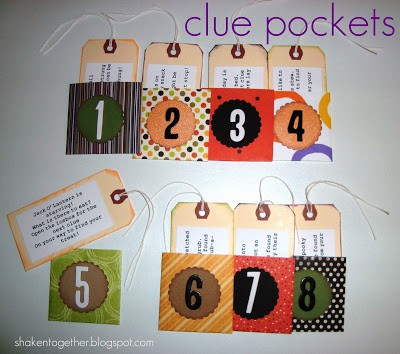 Here is what you'll need to make these cute little clue pockets: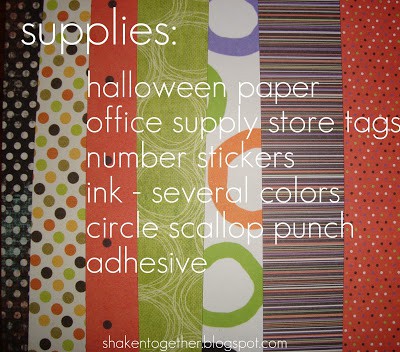 Each pocket is 7 3/4 inches x 3 1/4 inches.  Fold the two ends in so the pocket is about 2 3/4 inches wide.  Fold the bottom of the paper up about 1/4 of an inch.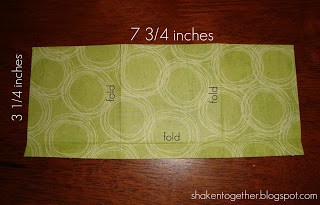 Cut away the sections indicated below, corner round the bottom flap, adhere all the flaps down and voila – you have your clue pocket!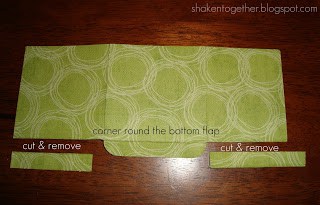 I used a scalloped circle punch (inked around the edges of course) to add a number sticker to each pocket.  Finally, ink the tags, adhere your clues and pop each clue in a pocket!  Attach a clue pocket to your treat stations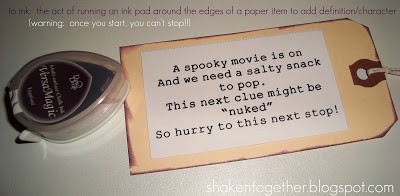 Now the fun part!
Round up 8 household containers or pick up some festive metal pails to hold all the treat bag goodies at each stop.
Some suggestions:  spider rings, plastic vampire teeth, stretchy skeletons, Halloween pencils, temporary tattoos, sticker sheets, candy/gum, fruit snacks, homemade sweet treats and glow-in-the-dark bracelets.  (I got most of my treats/trinkets in the Target Dollar Spot and their Halloween section.)
Here are my treat stations: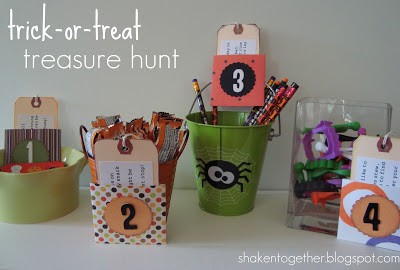 1 – Halloween sticker sheets, 2 – mini fruit roll ups, 3 – Halloween pencils, 4 – stretchy skeletons & vampire teeth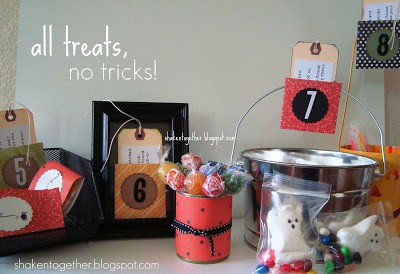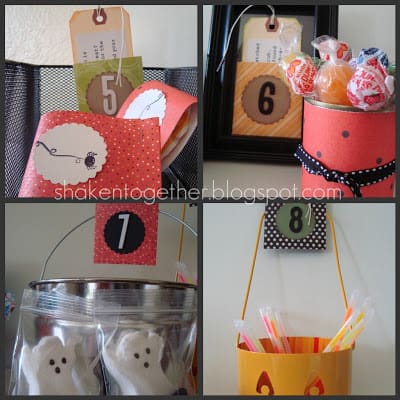 5 – matchbook treat pockets, 6 – lollipops, 7 – ghost seeds (see below!), 8 – glow-in-the-dark bracelets
Can I share one quick bonus project with you?  GHOST SEEDS!  All you need are jelly beans, ghost Peeps and small bags.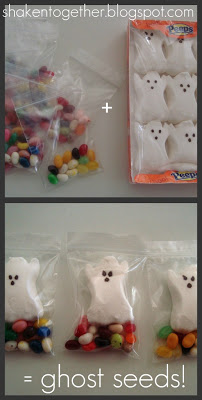 Finally, place your treat stations in the order of the clues (make sure station 1 is visible since your kiddos will need the 1st clue), give your trick-or-treat treasure hunters a bag to fill and let 'er rip!!  Your guests will hit the fridge, the microwave, the bath tub, the coat closet (or welcome mat), the silverware drawer, a bed, the washer/dryer and end up with the party hosts!!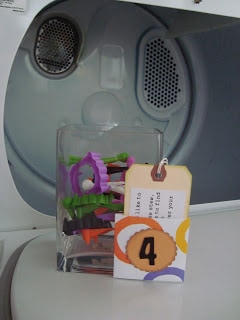 in the dryer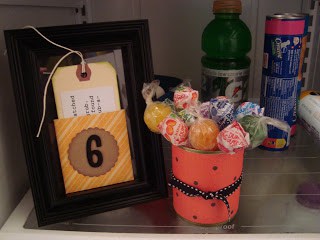 in the fridge!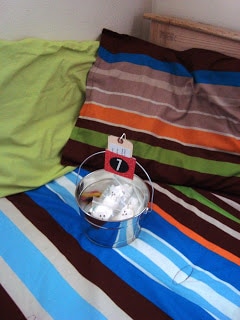 tucked in bed!
Well, there you have it … the trick-or-treat treasure hunt!  I had a ton of fun creating this Halloween scavenger hunt and the boys have decided we have to do this at our house this year!  Hope you add it to your party, get-together or family fun night as well!
Now where the heck did I put those ghost seeds?!
Keri