This Christmas, my mom & her sweet hubby Bill gave me a mini donut pan and I immediately headed over to Pinterest to hunt down a few recipes for baked donuts. My rise & shine breakfast stuff board definitely makes it a little easy to wake up … peruse my 100+ breakfast pins!

I found a delightful recipe for orange glazed blueberry buttermilk donuts and knew I could tweak it to fuel my love of blueberry and lemon! So, here you have it!


Blueberry buttermilk mini donuts with lemon glaze!!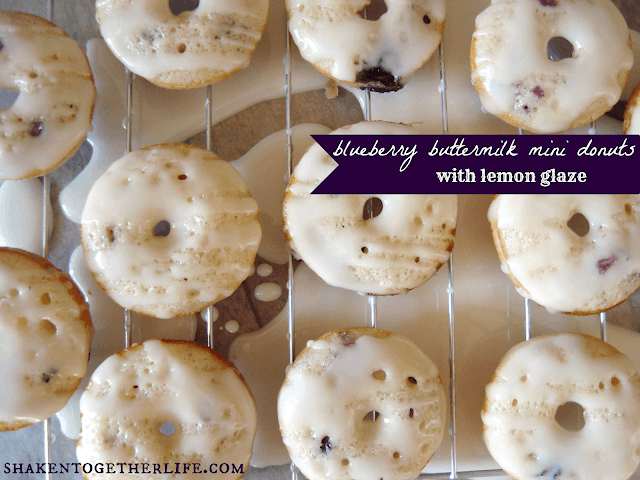 blueberry buttermilk mini donuts
Makes about 24 mini donuts (I halved the original recipe so that's why the measurements are a little odd)

1 cup cake flour
12 tablespoons granulated sugar
1 teaspoon baking powder
1/2 teaspoon salt
1 teaspoon lemon zest
1 egg
12 tablespoons buttermilk
1 tablespoon applesauce
1/4 cup blueberries, sliced in half (I used frozen berries, cut in half and drained as much as possible. Fresh would be totally awesome!)
Preheat your oven to 400* and spray the mini donut pan(s) with nonstick cooking spray. Sift the first 4 dry ingredients together into a mixing bowl and then stir in the lemon zest. Mix together the 3 wet ingredients in a separate bowl. Add the wet ingredients to the dry ingredients and mix well. Gently fold in the blueberries.
Spoon batter into the mini donut pans – filling wells about 3/4 full. My blueberries sunk to the bottom of the bowl of batter, so I fished them out and tried to distribute them throughout the donuts. Bake for 8-9 minutes or just until set and the bottoms are light brown. Place on wire racks to cool and prepare glaze.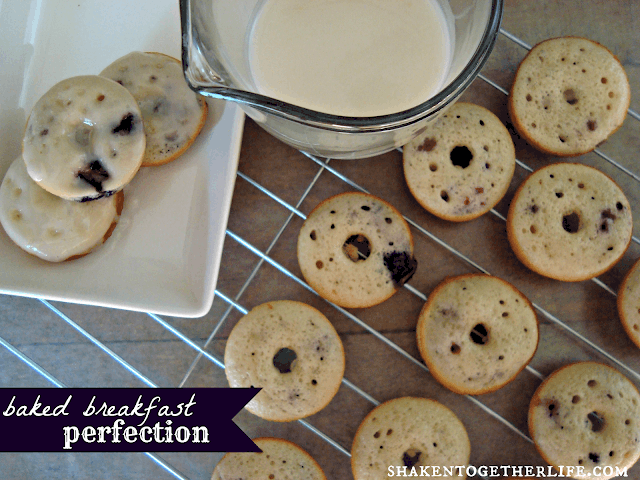 easy lemon glaze
3/4 cup powdered sugar
1/2 tablespoon milk
1 tablespoon freshly squeezed lemon juice
1/4 teaspoon vanilla extract
1-2 drops lemon extract (add more to taste if you like)
Stir ingredients together and adjust liquid as needed. (I would add lemon juice before adding more milk to kick up the lemon flavor.) Drizzle this luscious lemon glaze over the mini donuts or just dip them into the glaze. If you dunk the donuts, you'll probably have glaze leftover – save it for a pound cake or another batch of donuts. If you drizzle and pour like me, you probably won't. It was messy but that just means you can lick your fingers! These donuts are light and fluffy and the lemon glaze is sweet with a nice punch of lemon! Four boys gave them two thumbs up and there aren't many left for breakfast tomorrow!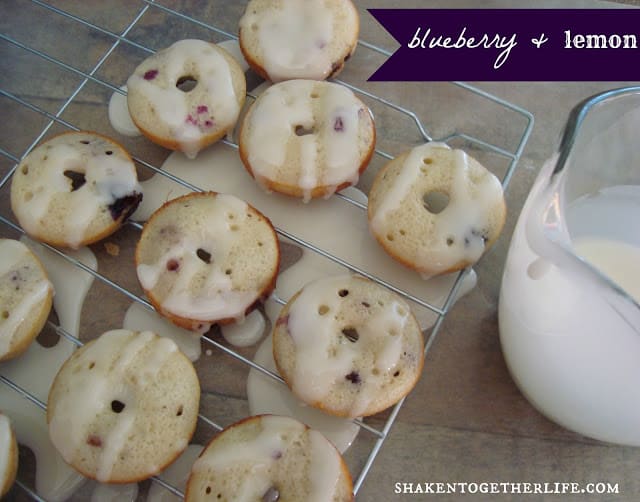 Breakfast is the most important meal of the day … why not try these awesome recipes?!
This project or recipe was shared at all the blogs on my Link page! Go take a peek … they rock!