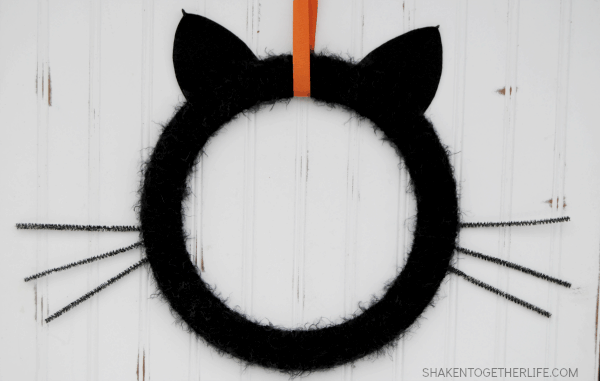 Give your front door a dose of frightfully furry fun with this easy to make, not-so-scary Black Cat Wreath for Halloween!
Black Cat Wreath
While black cats may get a bad rap, we are pretty partial to them in our house.  In fact, we adopted our own black cat last September.  Did you know black cats are the least likely to get adopted?  So sad. #notbadluck #adoptablackcat
Anyway, Baxter is the newest Bassett and we couldn't love him more!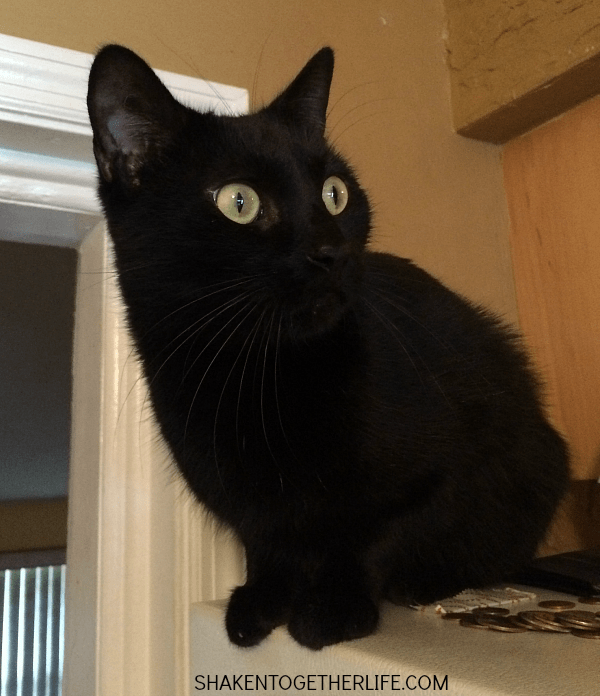 He is a little quirky which means he fits in to our crazy household just fine.  He will only drink water out of the bathroom sink, rarely meows and loves a good random high speed romp around the dining room.
Since black cats are a Halloween fixture, I decided that I should celebrate our nutty Bax with this super fun (and easy!) Black Cat wreath for Halloween!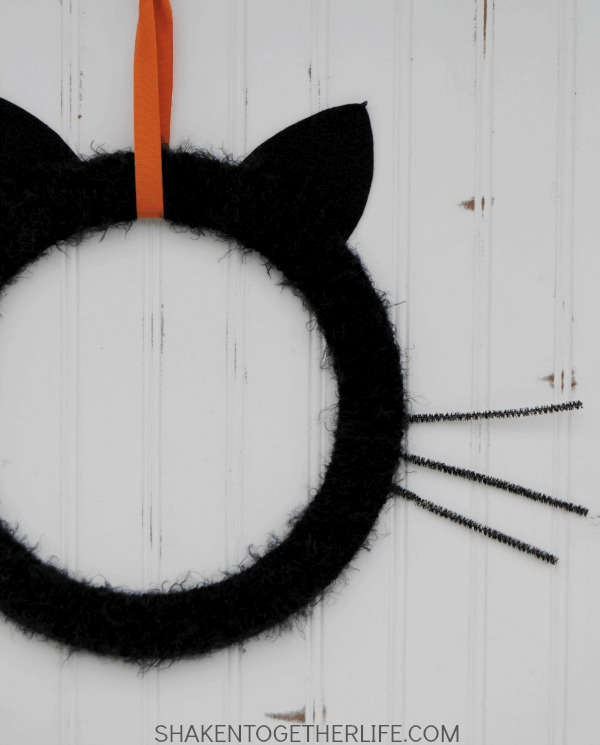 Supplies
12 inch wooden wreath form
Black yarn
Black pipe cleaners
Black felt
Scissors
Hot glue gun & glue sticks
Ribbon (for hanging)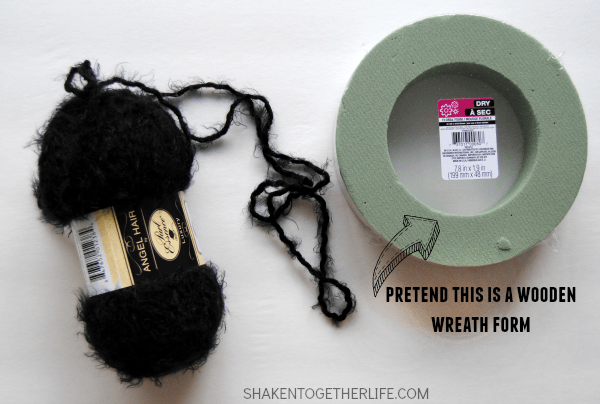 Just a few quick notes:
I started with a floral foam cheapie wreath form from the dollar store, but it was messy and the green foam got everywhere.  So, I ended up using a 12 inch wooden wreath form from the craft store and it worked like a charm.  I used one of the wooden forms when I made my gold tipped cork leaf wreath last year, too.
For the yarn, I used Solid Black Angel Hair Yarn from Purl Essence that I found at JoAnns. I love that it's a little furry and fuzzy and gives some texture to the wreath.  You could use any type of black yarn, black fabric or even black faux fur.
The How-To
Wrap (and wrap and wrap) your wreath form with the yarn.  If necessary, go back and add a few more wraps around any bare spots where the wreath form may show through.  I just tied the end to some of the wrapped yarn on the back of the wreath but you could hot glue the end as well.
Using the hot glue gun, attach pipe cleaner whiskers on the back of the wreath at each side where the 'cheeks' would be.
Cut two felt ears and attach them with the hot glue gun at the top of the wreath.
Attach a length of ribbon for hanging.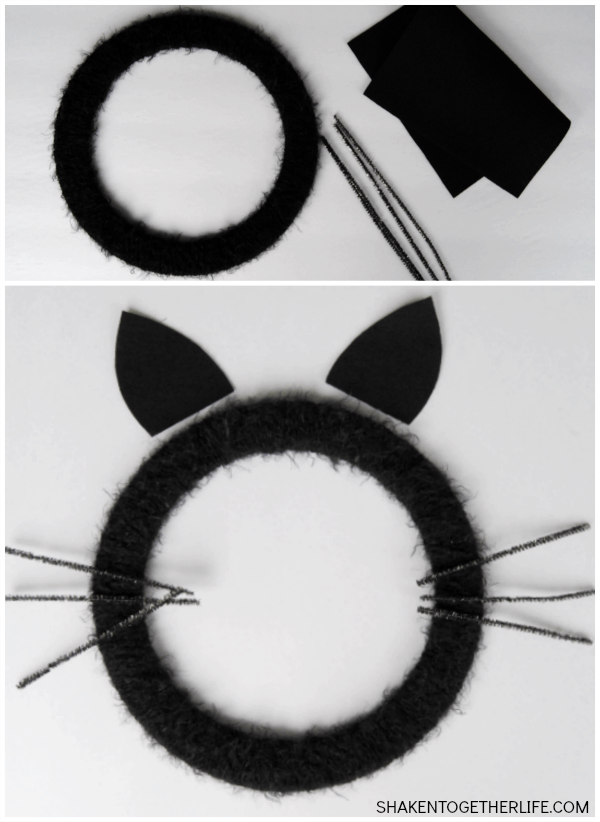 Once the glue has dried, this fun and furry Black Cat Wreath is ready for hanging!  I just love how furry the wreath is from that fuzzy yarn and the pipe cleaner whiskers have a little metallic sparkle ... a purr-fect representation of our quirky Bax!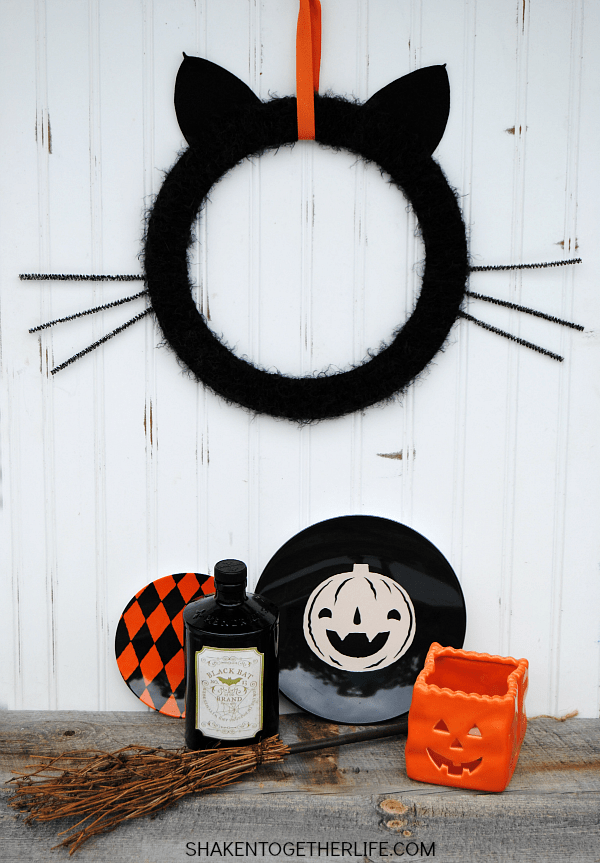 And now, before the clock strikes midnight and the things that go bump in the night arrive, check out more frightfully fun Halloween wreaths from some of my favorite bloggers!  Hop on over for brand new bewitching tutorials and some of our favorite Halloween wreaths from years past!!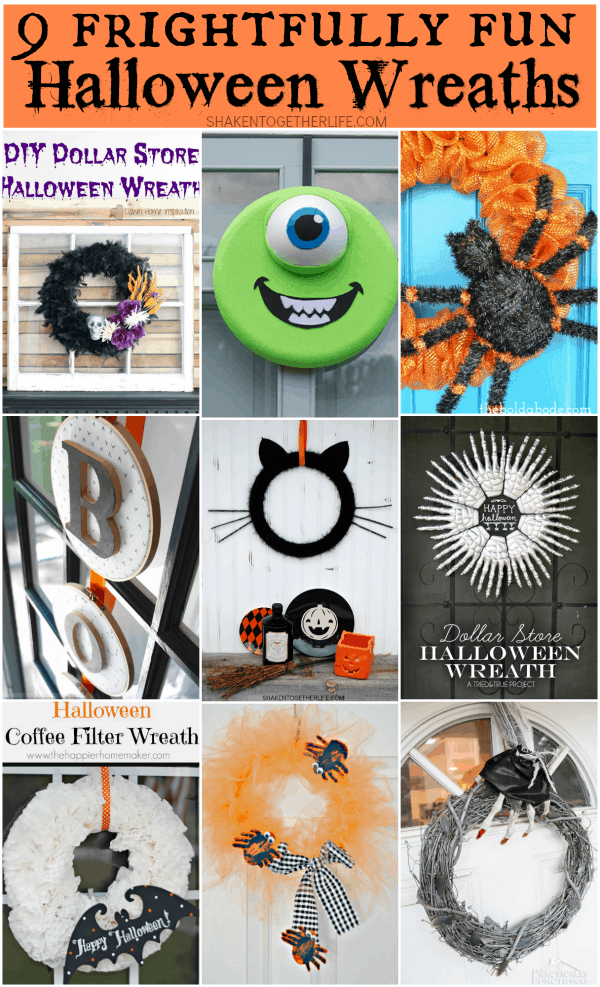 Even MORE Halloween wreaths - get your craft on!!

Our Black Cat Wreath may be shared here: