I've declared this week Birthday Week at shaken together! And since my birthday is coming up on Saturday and I just l-o-v-e to celebrate, I decided that this was the perfect week to share all things birthday! Like my new favorite treat ... birthday cake ice cream floats!! These delightfully delicious drinks are so easy to make and taste just like birthday cake!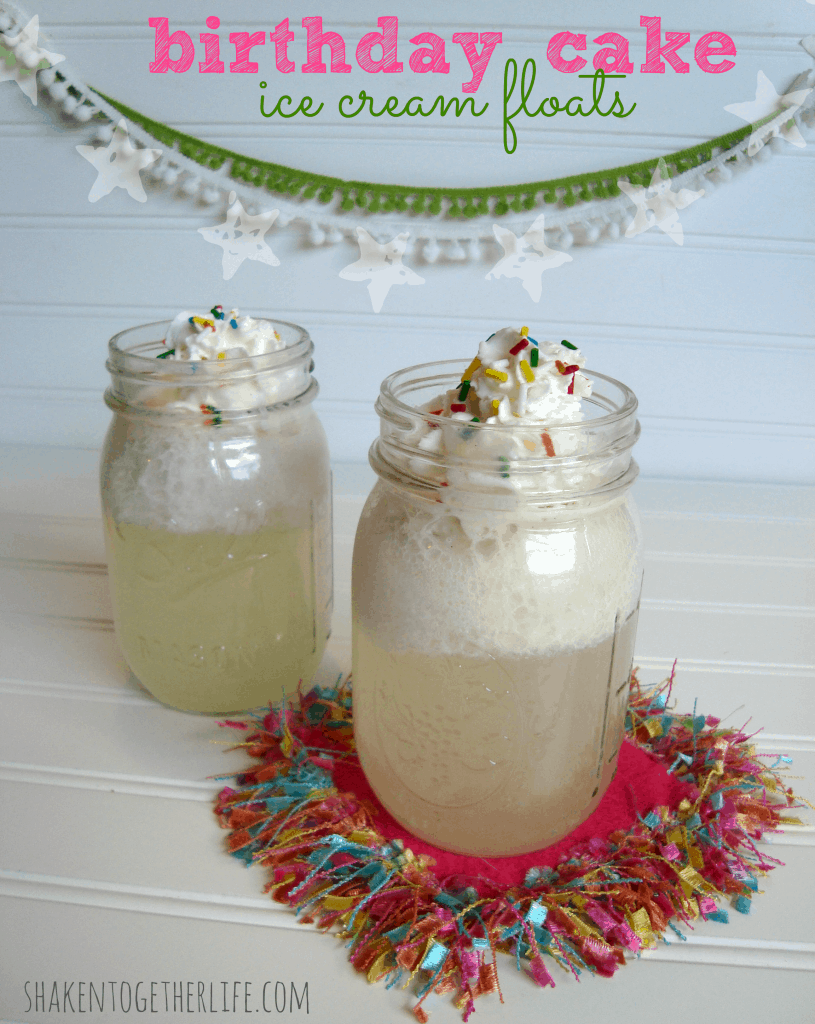 Cake is naturally the first thing to think of when having a birthday, right?! Now, you can have your cake and drink it, too! Despite all of the sugar that you'll find here, I am the girl who wants a piece of cake from the inner part of the cake with no frosting flowers or writing. Not even the pretty little frosting border on the corner pieces. Just cake and a thin layer of frosting. What part of the cake is your favorite?
Speaking of cake, these birthday cake ice cream floats were inspired by a birthday cake shot that I had eons ago. I'm not normally a shot kinda girl, but that thing seriously tasted like cake in a glass! So, I decided to create a non-alcoholic version for my birthday. And what is a cake without ice cream?!
Print Birthday Cake Ice Cream Floats
---
8 oz

. Sprite (I used Sprite Zero)
Pineapple juice
Vanilla Extract
Vanilla or Birthday Cake flavored ice cream
---
Instructions
Pour 8 oz. of Sprite in your glass - I used mason jars, naturally!
Add a splash of pineapple juice and a drop or two of vanilla extract.
Top with a big scoop of vanilla or birthday cake flavored ice cream.
Add whipped cream and sprinkles!
Sip and celebrate!!
---
Notes
We liked these best when everything is stirred together - they really taste like birthday cake!
Original recipe found at shakentogether.com.
Now, I tried a few different sodas as the base of this float - and cream soda was almost there - but simple, fresh Sprite ended up making the most refreshing float. Vanilla ice cream is classic but you could absolutely turn up the cake flavor with a birthday cake ice cream. (You may remember that Take the Cake was my favorite flavor for our Inside-Out Sundae bar!)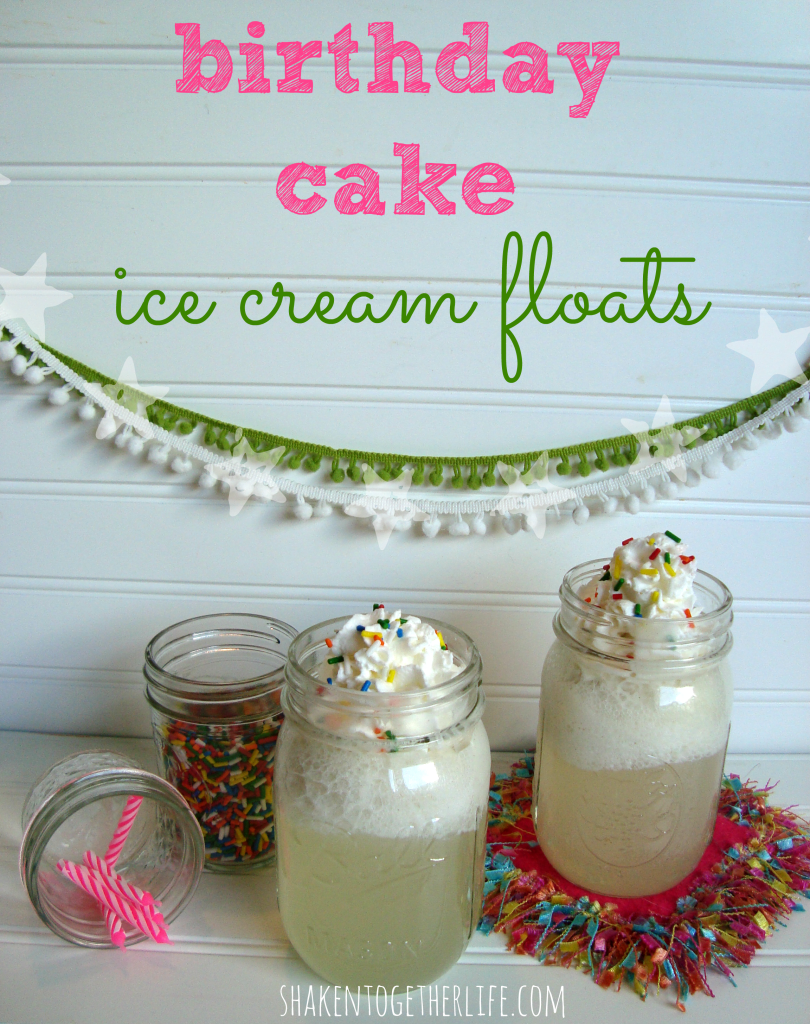 Sprinkles are optional on these floats, but highly recommended! We had a blast stirring everything together into thick fizzy floats only to have a few sprinkles slurp up the straw for a satisfying sugary crunch. Birthdays are definitely better with birthday cake ice cream floats! Now, close your eyes and make a wish!!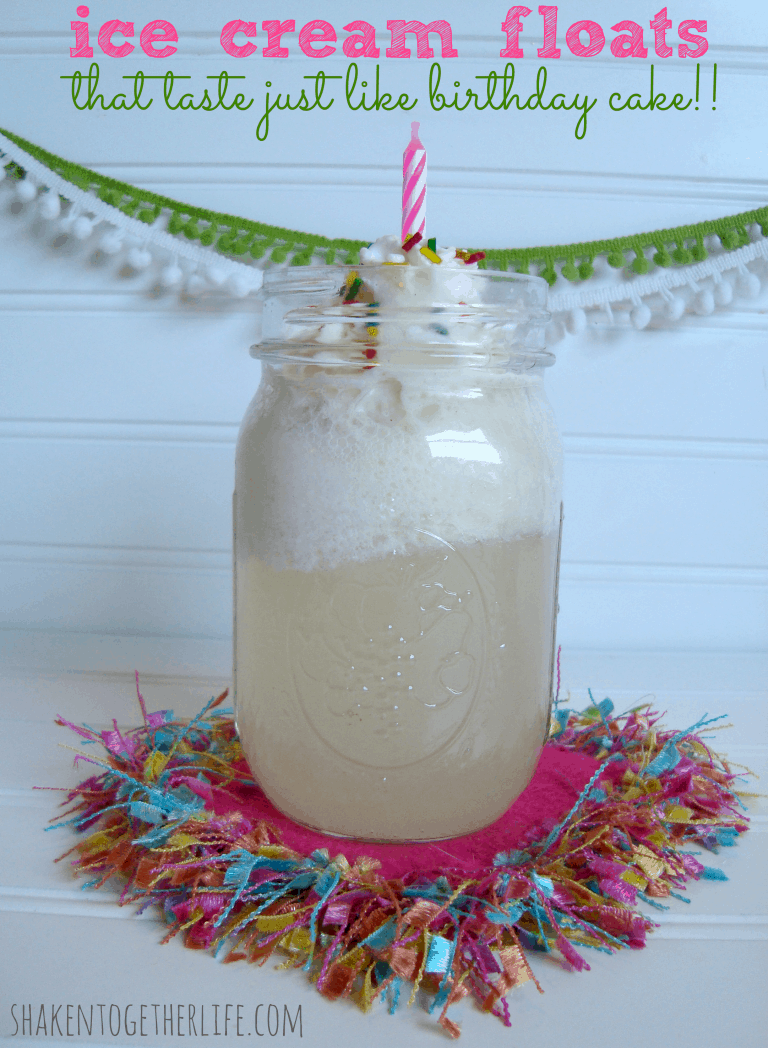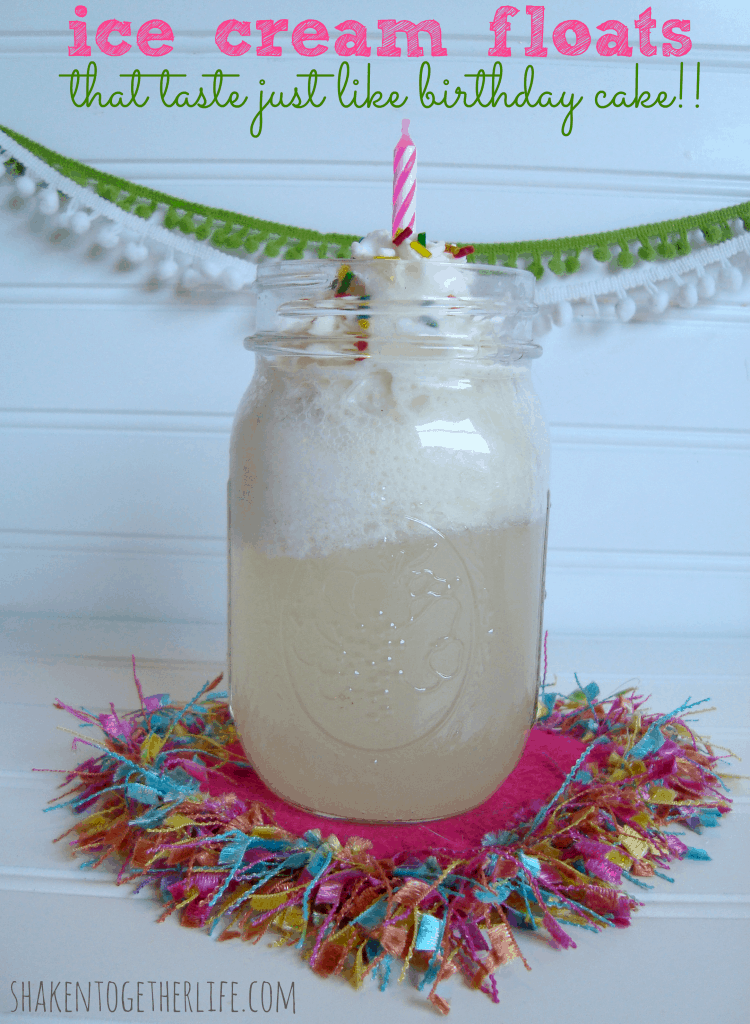 Here are a few more of my favorite birthday things!!
Birthday Banner in a Box upcycle a Laughing Cow Cheese Box for a fun twist on a birthday card
80s Birthday Party Reveal - tons of ideas & tutorials (and eyeshadow and neon, ha ha!)