I first shared this project last week over at Jill's blogiversary bash at Two Yellow Birds Decor (Thanks, Jill!!) and I wanted to make sure to share it with you in case you missed it!!

Just so you know, I did not share my intense love of Laughing Cow Cheese with Jill's readers … no, no, some things are reserved for you who love me and all of my quirks 😉 So anyway, Laughing Cow is my favorite little wedge of 35 calories and I pretty much put it on everything: pasta, sandwiches, in celery, substitute it for mayo in egg salad or on a burger instead of a slice of cheese, I dip crackers in it and it is only 1 WW point, so Laughing Cow and I are BFFs, for sure!

SO … that means I had a ton of their little cardboard boxes sitting around after I devoured the cheese (you didn't think I'd throw them out, would you?!?!). And I had an idea sort of rolling around in the crafty section of my brain that really came to fruition when I decided to share a birthday banner over at Jill's place!

On with the show … and a fun birthday banner in a box (using an upcycled Laughing Cow cheese box)!!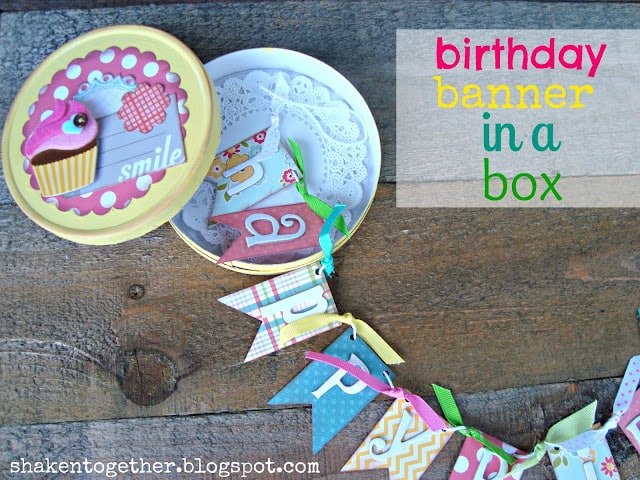 As a crafter, I have a really hard time giving store-bought birthday cards. Since I have two boys and 99.9% of the birthday parties we're invited to are for boys, I can whip up a cool wallet-shaped card to stash some cash in in no time flat!! The Bugs aren't even embarrassed to give them to their friends 😉

Today, I have another unique birthday card that doubles as a party decoration!!

Here's what you'll need:
Laughing cow cheese box (or small wooden/chipboard box) – remove all labels/paper and paint with your favorite color of acrylic paint. Seal with Mod Podge if desired.

Scrapbook/decorative paper – I used Bo Bunny, American Crafts, October Afternoon and My Mind's Eye

Embellishments

Chipboard letter stickers – I used two different fonts of the American Crafts Thickers

A doily that fits inside of your box (or paper circle, or paint it …)

Twine and ribbon scraps

Small hole punch or Crop-o-Dile

Brown ink pad (optional)
While the paint is drying on your upcycled Laughing Cow cheese box, use several patterned papers to make the banner flags (enough to spell what ever message you want to send):




I inked the edges of my banner flags … because I just can't help myself!! I love the aged, vintage look you get just from running an ink pad lightly around a paper shape.



Now, string your paper flags on simple white twine and knot a ribbon scrap on either side of each banner flag. Tie a loop in the twine at each end of the banner so your recipient can hang it up! Adhere white chipboard letters on the flags to spell your birthday message.

Now that your box is dry, add a variety of fun celebratory embellishments to the top … it is a birthday after all!! Polka dots, flowers and cupcakes … oh my!! Bundle your banner up, tuck it inside your box and your card and banner are ready to gift!!



Here are a few more pictures and up close and personal details …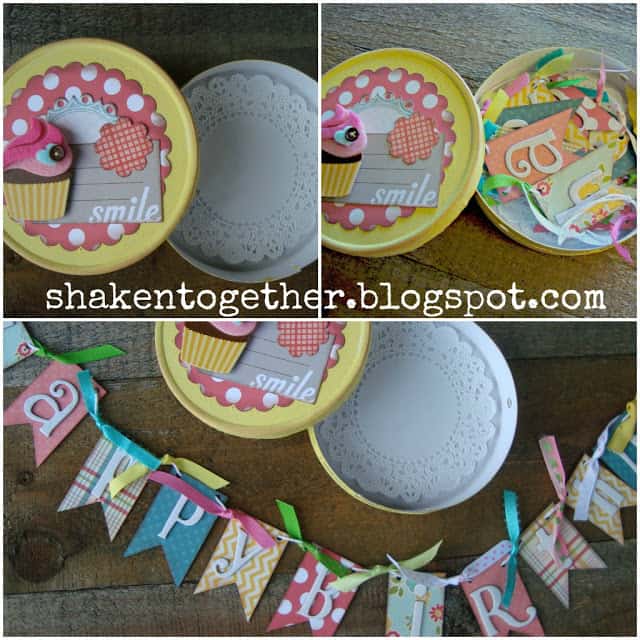 Write a message on the doily or on the underside of the top of the box to share a special birthday message. Add a gift card or cash inside the box under the banner and pop it in the mail for a special someone! The fun little box can be used for trinkets, sweets or passed on to the next birthday girl or boy!


These would be adorable to mail to announce "It's a Girl" or "It's a Boy" to family members, perfect to say "Congratulations" to a graduate and include some cash or an IKEA gift card, send a unique Christmas Card or just brighten someone's day with a "hello" banner and a smoothie gift card!

This project or recipe was shared at the blogs on my Link page!