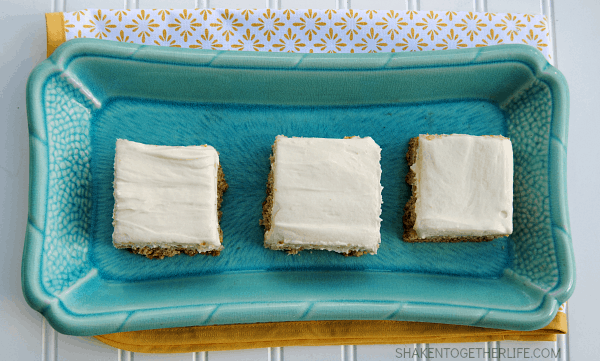 Don't let those unassuming cookie bars fool you.  They may sit all prim and proper like a school marm on that pretty blue tray, they are just waiting to clock you like an MMA fighter with big banana flavor and rich tangy cream cheese frosting!  Even I as was writing this post, Cam walked by and said, "OH!  Those were so good!" Straight from the mouths of babes, friends.
Banana Sugar Cookie Bars
Now, don't you worry … these cookie bars are easy.  Almost embarrassingly easy.  I say almost because once you taste them, you will t0tally not care that all you did was replace eggs with bananas in a cookie mix and add homemade frosting.  It can be our little secret.
And since Immaculate Baking Company was kind enough to send me a big ol' box with some of their mixes, I used their Gluten Free Sugar Cookie Mix for these cookie bars.  You can try your favorite sugar cookie mix or even make a batch of from scratch sugar cookie dough.  BUT, just remember to replace the eggs with ripe bananas.
That's right – simply replace each egg in your recipe with one ripe banana – about 1/3 cup of banana.  I first tried a similar technique to replace eggs in a cake mix and made these banana pudding cupcakes.  It worked then and it really worked now!!
Print Banana Sugar Cookie Bars
---
Scale
Ingredients
For the Banana Sugar Cookie Bars
One sugar cookie mix (I used a 15 oz. box of Immaculate Baking Gluten Free Sugar Cookie Mix + ingredients called for EXCEPT for any eggs)
One ripe banana (about 1/3 cup to replace each egg called for in the cookie mix)
For the Cream Cheese Frosting
1

stick softened unsalted butter

1

8 oz. block of softened cream cheese

1 teaspoon

vanilla extract*
Small pinch salt

3 1/2 cup

s of powdered sugar
---
Instructions
For the Banana Sugar Cookie Bars:
Preheat oven according to cookie mix directions.
Prepare an 8×8 baking dish with parchment paper.
Mix cookie mix, ingredients called for on the box/bag of mix but replace each egg with a ripe banana (about 1/3 cup).
Press the banana cookie dough into the baking dish evenly and to the edges of the dish.
Bake according to package directions or until cookie is lightly browned and there is no raw/uncooked dough. (My cookie dough took about 23-25 minutes.)
Allow cookie to cool and remove it from the pan.
For the Cream Cheese Frosting
In a large bowl, cream together the butter, cream cheese, vanilla and salt.
Add powdered sugar in one cup increments, mixing slowly until incorporated. Repeat until all powdered sugar is added.
Spread frosting over cooled cookie base.
Cut into 12 squares.
---
Notes
*You can replace vanilla extract with banana extract if you want a banana cream cheese frosting.
Now, I will say that we actually cut the banana sugar cookie bars pictured in half to chow down and share with friends.  So, even though we got 12 big squares from our pan, you could easily get 24 cookie bars out of this recipe and be just fine.  Really, that is 24 reasons to love this recipe!
And if you want less frosting, we can still be friends.  I am not normally a frosting girl – yeah, I will always pass on the corner piece of cake with all of the buttercream roses – but I make a big exception for cream cheese frosting.  So I piled it on … mmmmmmmm!  Feel free to be a little less generous with your frosting.  Just don't tell them I said that.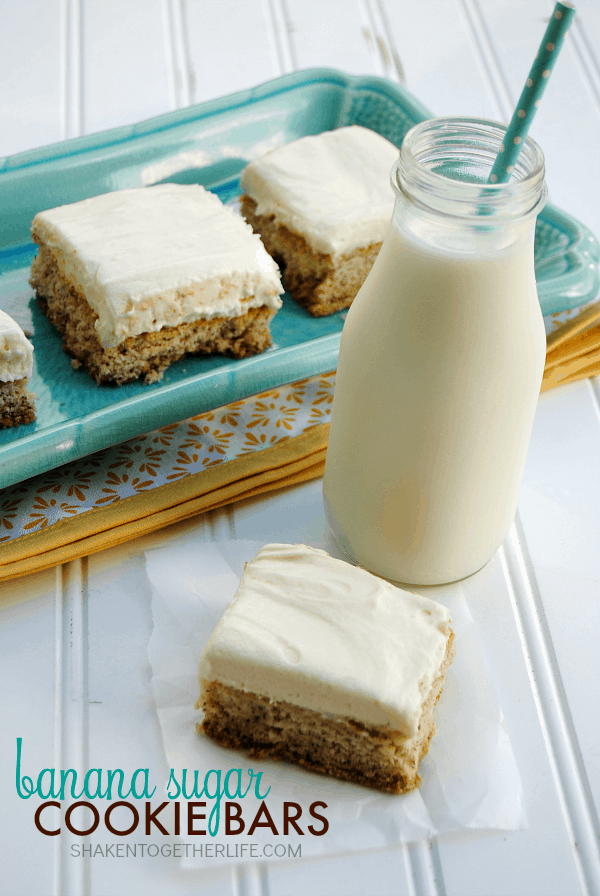 For everyone banana for bananas …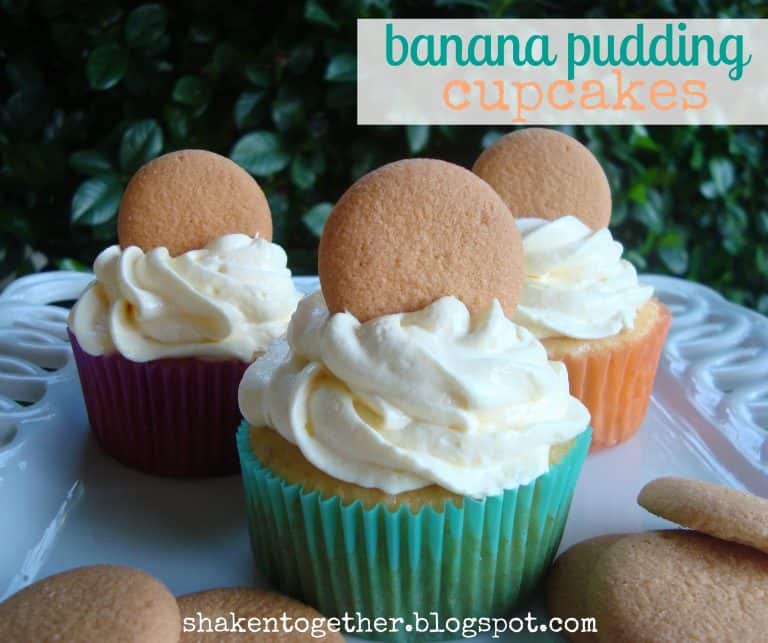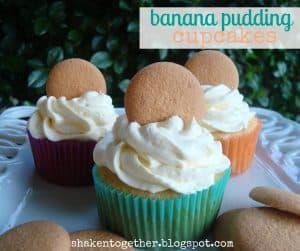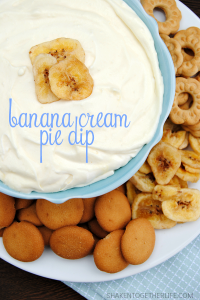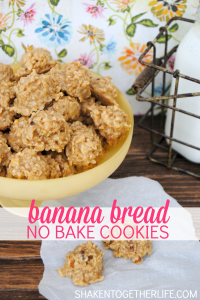 For my cookie monsters …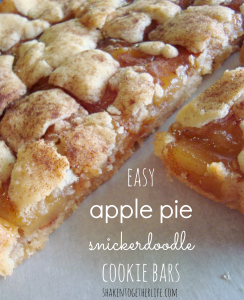 Apple Pie Snickerdoodle Cookie Bars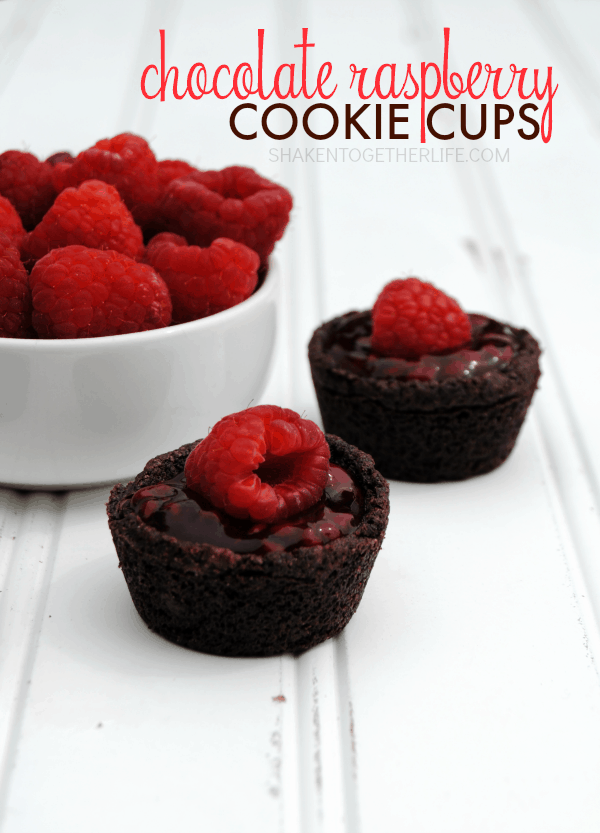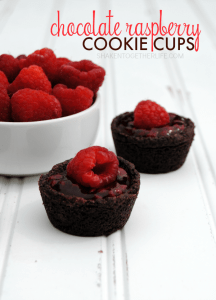 Chocolate Raspberry Cookie Cups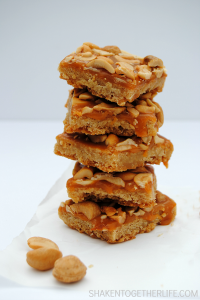 Butterscotch Caramel Cashew Cookie Bars
 Our Banana Sugar Cookie Bars may be shared here: