It's been a while since I have given you cupcakes ... forgive me?  Because I am SO making it up to you today!!  That is, if you like bananas.  These cupcakes are absolutely bursting with sweet banana flavor and topped with a banana cream pudding topping that is light and fluffy ...  And since you've stuck around this long, I have an awesome cupcake secret for you, too!

But first, feast your eyes on these babies ... banana pudding cupcakes with banana cream pudding topping!!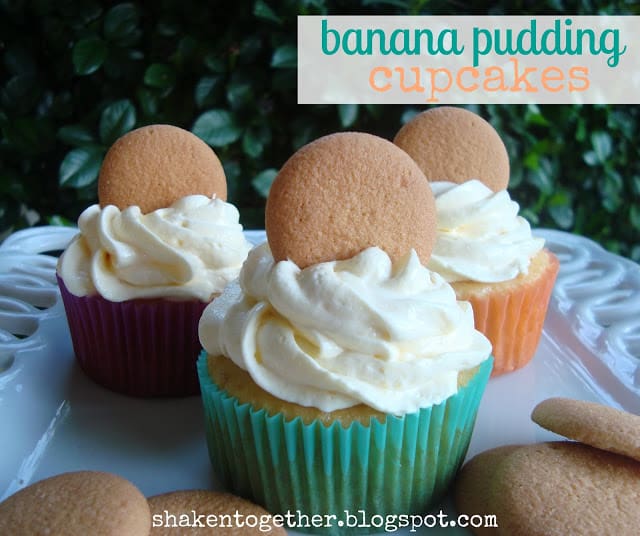 While these may look and sound difficult, they are so so easy to make and they are a fresh, light way to finish any summer meal!
And now...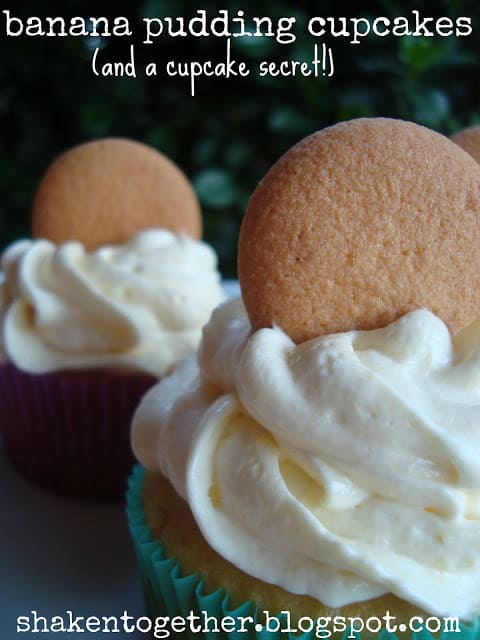 Prepare one yellow cake mix as directed on the box EXCEPT DON'T ADD THE EGGS!!  Here is my cupcake secret ... using this technique found over at Live Strong, substitute ripe bananas mixed with a little baking powder for the eggs.  Sounds crazy, but these cupcakes were soooooo light and fluffy and the extra banana really kicked up the flavor!  Using the back of a fork, mash together 2 ripe bananas (each about 6 inches long) with 2 teaspoons of baking powder and replace this mixture for the 3 eggs called for in the cake mix.  Bake the cupcakes as directed.

Now, the pudding for these pudding poke cake cupcakes ... whisk together 2 cups of cold milk and 1 small box of banana cream instant pudding/pie filling.  Poke decent sized holes (I used a bamboo skewer rather than a fork) in your slightly warm cupcakes (poor cupcakes) and slowly spoon about 1 tablespoon of pudding over the cupcakes into the holes, allowing it to soak in or at least just fill up the holes.  It may not look very pretty since the cakes are soft and the pudding may sit on top a bit.  It's okay ... you're going to give them a face lift with a yummy topping 🙂  Refrigerate for 2 hours or until ready to serve.

For the banana pudding topping, whisk together 1 cup cold milk and another small box of banana cream instant pudding/pie filling.  Gently fold in one 8 oz. tub of Cool Whip, stirring just until incorporated.  (I used skim milk, lite whipped topping and sugar free pudding, so this is about as guilt free as you can get for a cupcake "frosting"!)

Just before serving, pipe or spoon the topping on your cupcakes and garnish with a vanilla wafer cookie.  These have been one of my favorites lately ... light, fluffy and in all honesty, these really do taste just like classic banana pudding.  In fact: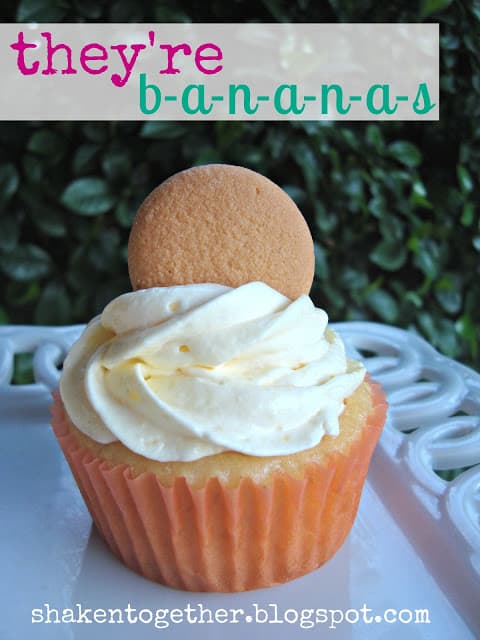 This project or recipe was shared at the blogs on my Link page!