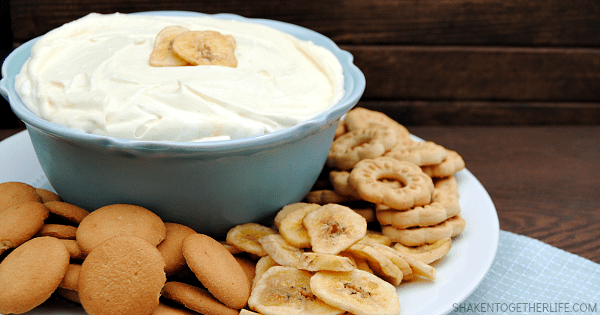 Happy Pi Day, friends! Huh? "Don't you mean pie?"  Well, yes … and  no.  Pi is the Greek symbol that is used to represent the number you get when you divide the circumference of a circle by its diameter.  No matter how big or small the circle is, that ratio is always pi.  When you actually calculate what pi is, you get a number starts with 3.1415 and goes on and on without repeating!  Since today's date is 3/14/15 (get it?  Pi = 3.1415), I thought it was only appropriate that we celebrate Pi Day with PIE!!  Well, pie dip, that is.  Fluffy, creamy banana cream pie dip!
Banana Cream Pie Dip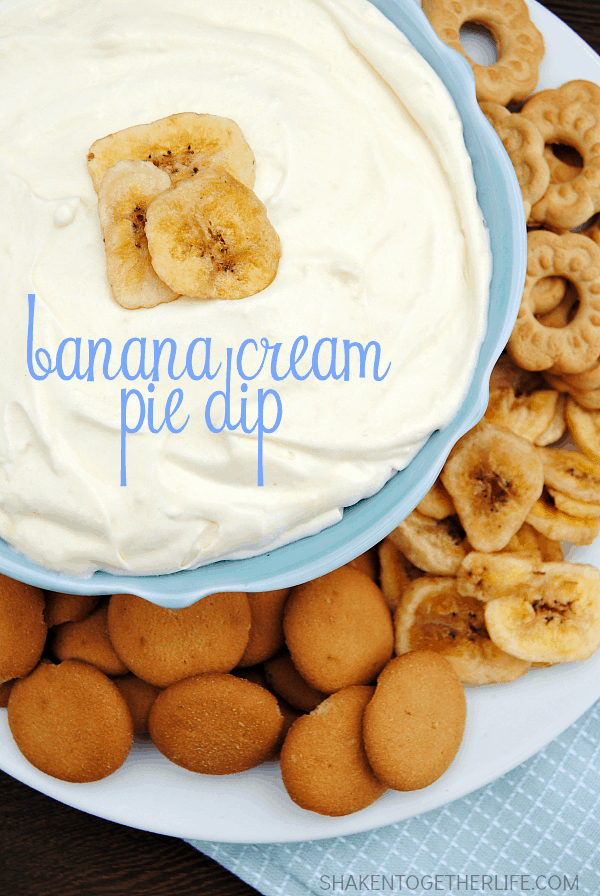 Surely this makes you want to celebrate, yes?  And now that the pesky math lesson is out of the way, let's talk pie. And dip. And banana cream pie dip!  Three ingredients, folks.  That is all you need to make this fluffy, wanna-eat-it-with-a-spoon dip.
Print Banana Cream Pie Dip & 8 Pi Day Pie Recipes!
---
Scale
Ingredients
One small box instant banana pudding & pie mix

One cup

cold milk
One small tub of Cool Whip (thawed)
Butter cookies (vanilla wafers and banana chips for dipping)
---
Instructions
With a whisk or hand mixer, blend pudding mix and cold milk.
Allow to set for about a minute.
On the lowest setting of your mixer, or by hand, gently fold in the Cool Whip and mix just until combined.
Don't over mix or the dip will break down and become watery.
Place in serving bowl and refrigerate until serving.
Serve with butter cookies, vanilla wafers and banana chips.
---
And let me tell you, it is nearly impossible to decide which of the delicious dippers is your favorite. Those classic flower shaped butter cookies (see also Easy Spring Flower Cookies) are just.so.good!  Vanilla wafers are banana pudding's BFF so those are a shoo in!  And crispy banana chips just double the banana flavor.  I think I've found the dipper trifecta!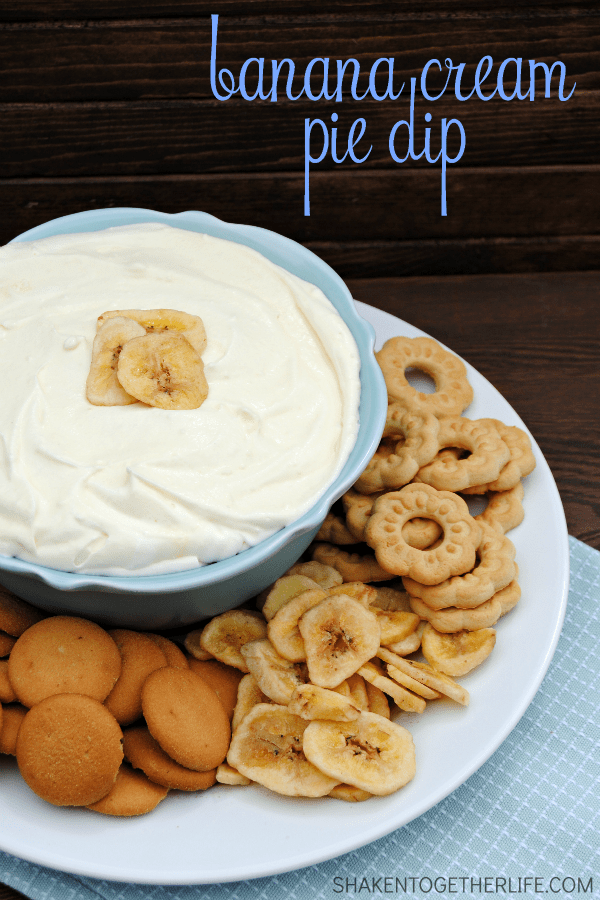 And since this is a national holiday, it only seems patriotic of me to join with 7 other awesome bloggers to bring you 8 recipes to help you celebrate Pi Day, too!  Scroll down for a glorious gluten free pie, a beautiful vegan pie, pie soup, a frozen pie, hand held pies, blood orange (!) mini pies and a coconut cream pie with mile high meringue … that is pretty much a pie for every person!  Let them eat pie!
8 Amazing Pi Day PIE Recipes!!
Pin the enter glorious Pi Day Pie collection and then hop over to each yummy pie recipe!!

Gluten Free Coconut Cream Pie – What the Fork Food Blog
Blood Orange Mini Pies – The Crafting Foodie
Banana Cream Pie Dip – Shaken Together
Frozen Chocolate Pie – Nessa Makes
Apricot Hand Pies – Rick•a•bam•boo
Coconut Cream Pie – Delightful E Made
Vegan Pecan Pie – The Viet Vegan
Chicken Pot Pie Soup – Bubbly Nature Creations
Our Banana Cream Pie Dip may be shared here: