A Baby It's Cold Outside Gift Basket is perfect for sending warm wishes and lots of cozy ways to snuggle up this holiday season! Add the free printable gift tag for an easy, personal touch, too! This post was written by me through an activation with HireInfluence on behalf of Community Coffee. Although I received compensation for participating in the campaign, all thoughts and opinions are my own.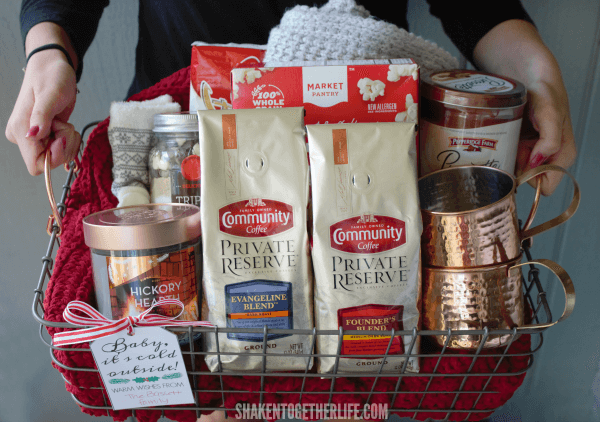 My absolute favorite gift to give and receive is a gift basket. Carefully chosen and artfully arranged, there is nothing better than a basket full of themed fun finds! Whether it is full of pampering spa products, kitchen tools and baking goodies or the mother lode of craft supplies, a thoughtfully themed gift basket makes my heart go pitter patter. And this one is no exception!
Baby It's Cold Outside Gift Basket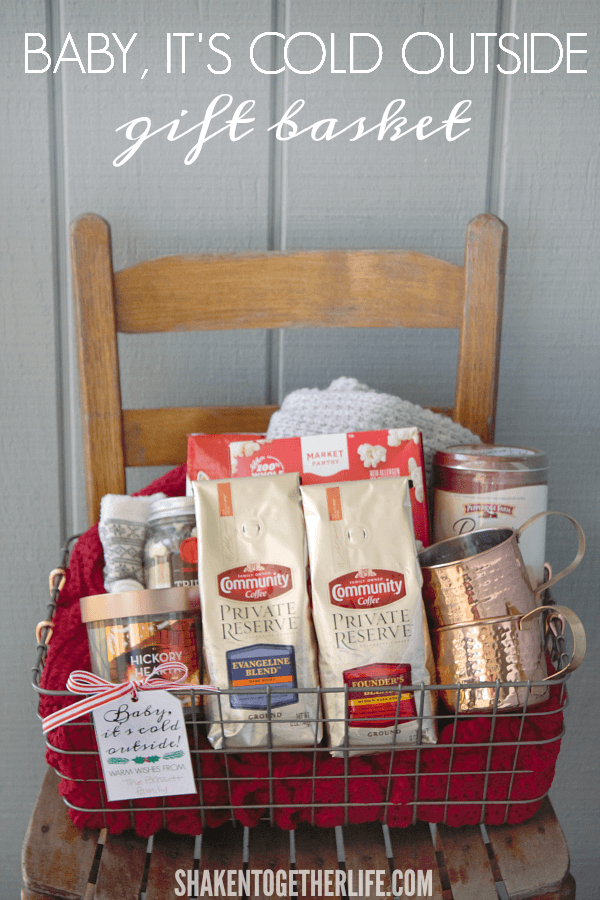 Tucked inside a gorgeous metal basket with copper handles, I've gathered all of the things that are perfect for a blustery winter day. Or maybe even a snow day! You know the kind of day I'm talking about … the perfect day to call in to work and stay home from school, hunker down, snuggle up, wrap your hands around a hot cup of coffee and enjoy a little down time.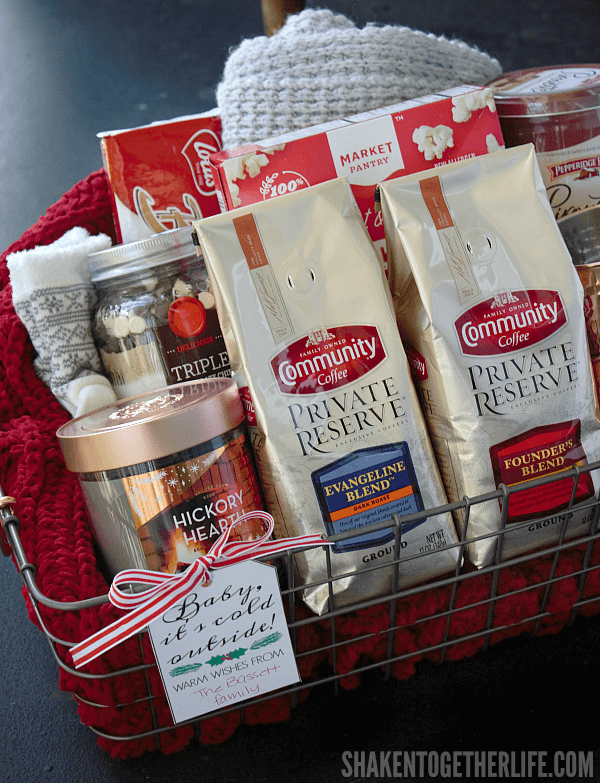 Now, we don't get any snow days in Florida. But when the temperatures drop, I will use any excuse to wrap a scarf around my neck, crank up the oven for a batch of cookies and splurge on an extra cup of coffee.
So, since I'm a little bit of a foodie (no surprise there!), I picked up a few eats and treats and some of my favorite soft and snuggly winter wear to create a gorgeous themed gift basket! Let's take a peek at all the fun stuff inside my Baby, It's Cold Outside Gift Basket!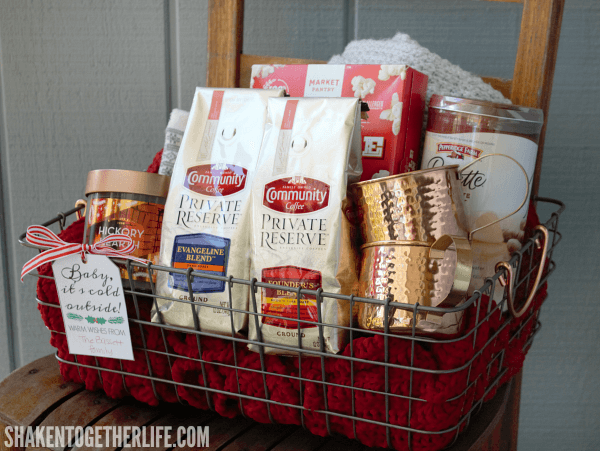 These are some of my absolute favorite things!! **If they are your favorite things, too, scroll down to vote for my basket and a chance to win it!!**
Community Coffee Private Reserve® Evangeline Blend™ & Founder's Blend coffee

Two copper mugs
Kettle corn
Chocolate filled cookie sticks
Biscoff cookies
Candle
Cookie mix
Red chenille blanket
Cozy gray infinity scarf
Soft fluffy socks
Can't you just see it? Slip on the socks, light the candle, mix up some cookies to nibble with your coffee, settle on the couch under that cozy blanket and watch your favorite movie or a marathon of your favorite show!
Speaking of coffee, we are starting the holiday season with the Community® Private Reserve® line of coffee. Community Coffee Company houses the largest family-owned and operated retail coffee brand in America – they are approaching 100 years! Their Evangeline Blend™ is made from 100% specialty-grade, dark roasted Arabica coffee beans. It is a deep and semisweet blend that is a tribute to the Acadian culture in Louisiana. The Founder's Blend was developed in honor of the company's founder, Cap Saurage. Every cup highlights the semisweet flavors of South America, the rich flavors of Africa, and the smoothness of Brazil!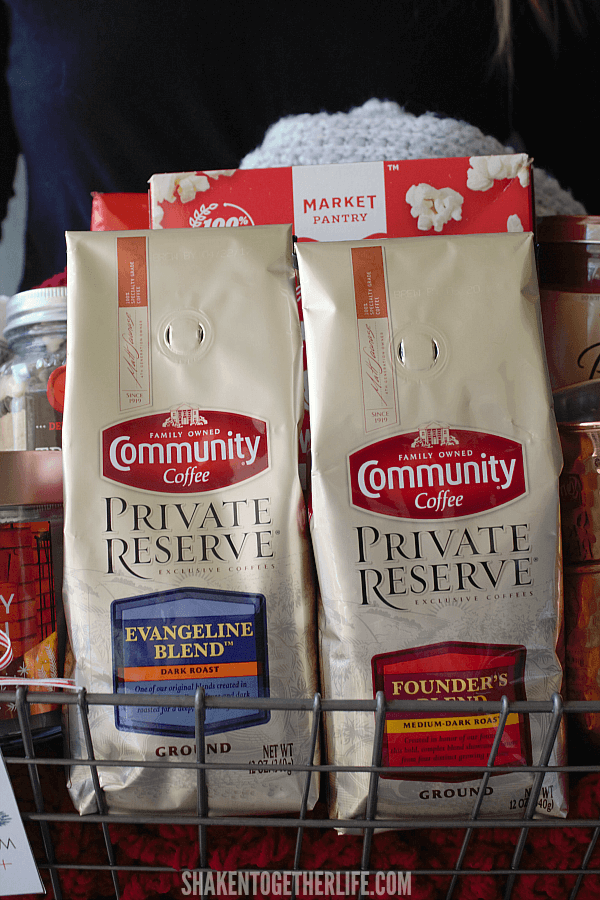 I also whipped up a cute little gift tag that you can print out and attach to your gift basket with a pretty ribbon or some twine.
**Click here to print your Baby, It's Cold Outside gift tags!**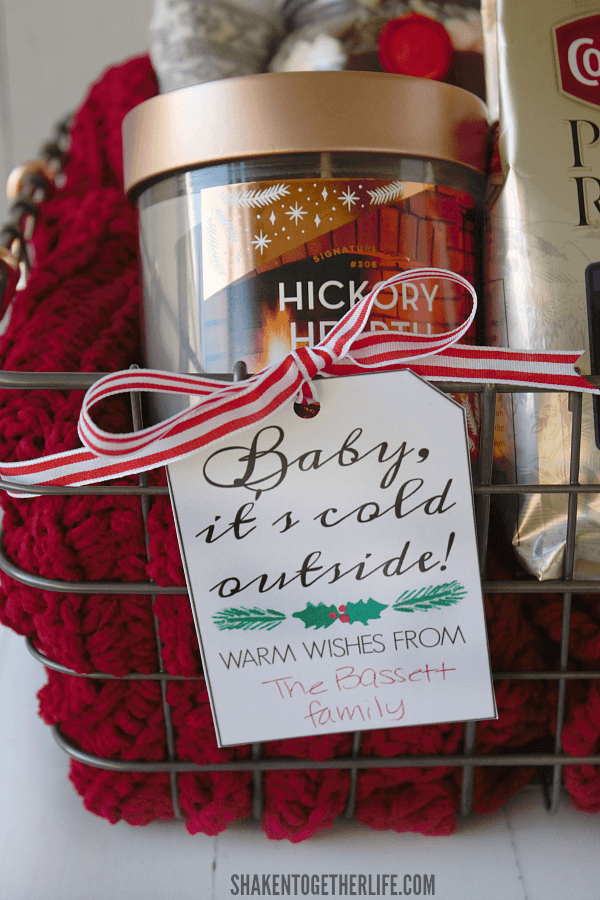 This gift basket would be a thoughtful family gift, a silent auction donation or a winter wedding or anniversary gift!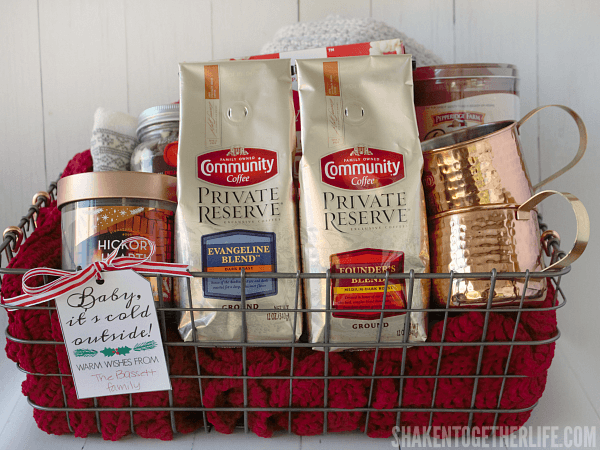 If you love our Baby It's Cold Outside Gift Basket, would you do me a solid and vote for it? (Virtual fist bump, friend!) One lucky voter will get this entire basket full of goodies delivered to their doorstep from yours truly!