The newest addition to the Bassett family…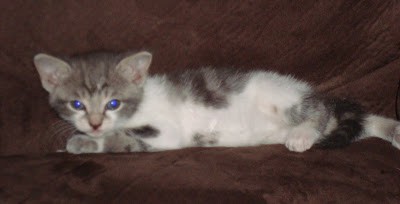 I know.  We caved!  Give the Bassetts a litter of kittens and we can't.say.no.  Isn't he/she (?) the sweetest little fluff ball around?  A snugly, tiny, gray and white scoop full of scrumptiousness! 
Here, have another look…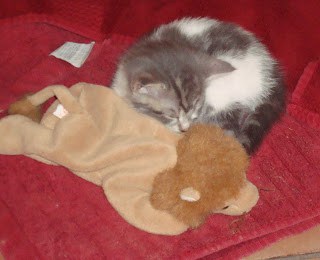 Since Awesome wouldn't oblige and snuggle, the lion was more  agreeable 😉
We're still batting around names…(get it?  batting around?  ha!)
August (Auggie for short)

Little (I'm leaning towards this one!)

Yoda – he has cute little Yoda-like ears

 
…so he/she is still yet to be christened formally.
BUT … this little fellow (gal?) is getting mixed reviews: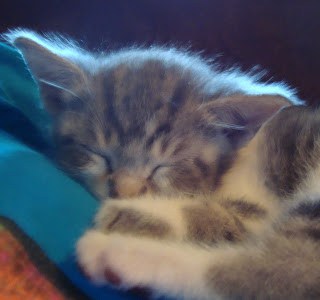 little Yoda baby
The Little Bug is a little bit rough, a "bull in a china shop" kinda kid and he is having a hard time getting used to having to be so careful.  And he stalks the poor thing … and just can't stop himself from picking it up, moving furniture to look for him/her and just generally (but of course, good intentionally) harassing the little love.  He had a stern talking-to and I asked him why he couldn't just leave the kitten alone.  Wailing, he said, "But … he's … just … so … adorable!!"  I completely understand 🙂

The Bigger Bug is in L-O-V-E!  Like cannot get enough, baby talk, smooshy smooshy love.  It's pretty cute to watch.  But don't tell his friends I said that.

Awesome is…less than excited shall we say.  He has made noises that I have never heard before.  He hisses more than a leaky accordion and he is most definitely a grump.  Double grump, even.  Understandably upset about sharing his people and his territory.  But the intruder has only been here two days.  And I don't think Awesome can resist kitten superpower cute much longer.  We'll see…
Oh, okay!  One more picture 🙂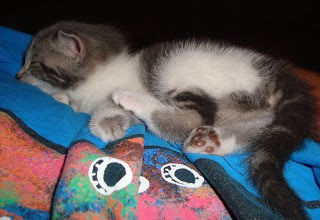 Now, where did that little thing take off to?!
Keri