After the disturbing news on Friday about the heartbreakingly sad events in Connecticut, spending quality time at home with my family was even more important than usual.  So, I ran out to Walmart in the early morning hours on Saturday (no really, like at 7am!) to get our grocery shopping done before the boys were awake and raring to go.  While I was there, I noticed this display: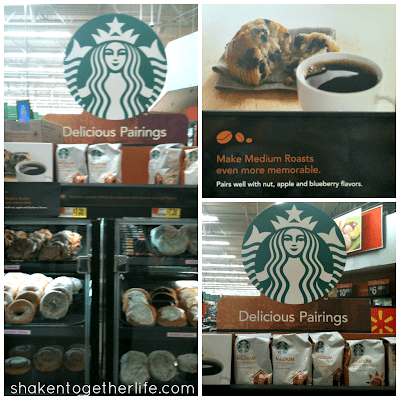 Hmmm … I never thought about really "pairing" coffee with baked goods.  I love pastries AND Starbucks, but I rarely splurge on it! Needing a sweet little pick-me-up, I decided to grab Starbucks' Holiday Blend coffee (the last two bags on the shelf & with a coupon!!) with a box of Walmart's fresh baked cinnamon rolls with cream cheese icing.  A little early morning quiet time was in order and this pair was the perfect way to enjoy that!

While the coffee was brewing, the kitchen smelled amazing … I just love the smell coffee early in the morning!  Once the coffee was brewed and piping hot, I filled one of my favorite mugs (added what is probably an excessive amount of cream!), grabbed a stack of magazines that have been sadly neglected lately, popped a cinnamon roll in the microwave for about 10 seconds and proceeded to find an early morning moment of joy by our Christmas tree!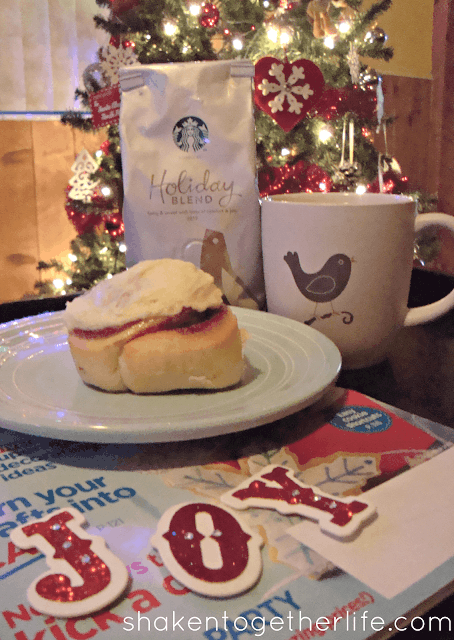 I tried the coffee first and found it rich and satisfying but not too dark. Sometimes Starbucks coffee is a little strong for me, but I was pleasantly surprised!  This blend is more mild and something I would definitely drink each morning at home.  Oh, but when it was paired with a warm cinnamon roll with thick sweet cream cheese icing, it was like a little slice of heaven.  The Holiday Blend is supposed to compliment flavors of ginger, orange, pumpkin, cloves and cinnamon … believe it or not, the coffee and cinnamon roll actually tasted better together!  Starbucks and Walmart hit the nail on the head with #DeliciousPairings!!
When the boys saw those awesome cinnamon rolls, they made "kid coffee" aka hot chocolate. Chris even decided to pass on "regular" morning coffee to try the Starbucks Holiday Blend with his cinnamon roll.  My quiet morning moment turned into a big ol' family breakfast and while it wasn't what I expected, I wouldn't have it any other way!
While at Walmart, I had one of those "ah-ha!" moments and knew I had also found the perfect gift for our favorite Extended Day teachers!  Kaleb goes to the before and after care program – or "Extended Day" – at his elementary school since both Chris and I work outside of our home.  I struggle to find a meaningful gift to give to the eight or so teachers that take such good care of him.  But this year … say hello to a decadent holiday breakfast teacher gift!!  A stack of fresh baked cinnamon rolls with cream cheese icing from the Walmart bakery and Starbucks Holiday Blend coffee!!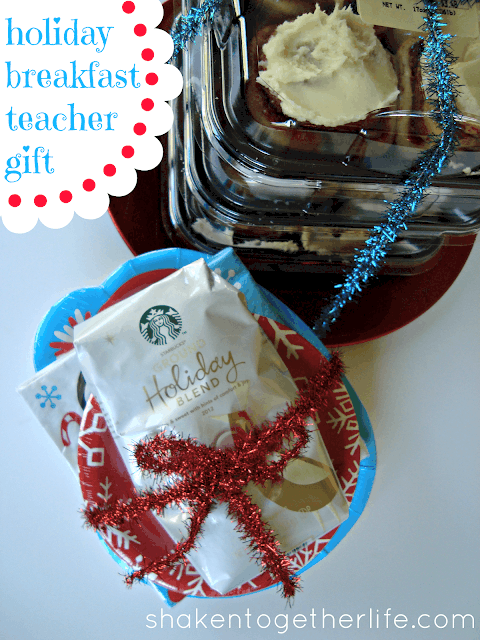 After stacking up three boxes of those yummy cinnamon rolls on a red charger, I picked up a few packs of holiday plates and napkins and tied it together with the Starbucks coffee using sparkly mini garland to make enjoying this breakfast even more festive!
Kaleb was so excited to bring breakfast (and a pretty darn special one!) to his teachers …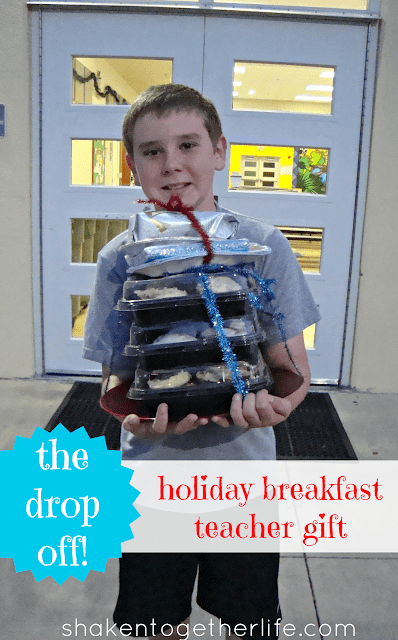 One of the teachers even called me on my way to work to thank us for breakfast and when Chris picked Kaleb up from school, two of the other teachers told us how much they appreciated the cinnamon rolls and coffee.  We are so blessed to have such special people in our boys' lives … sometimes, it's the "little things" like the simple gift of a yummy breakfast that mean so much more than we think!  Never underestimate the power of sugar and caffeine 😉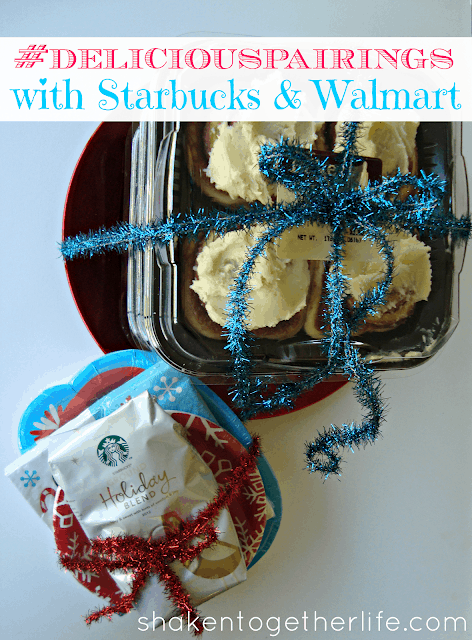 Need a few more gift ideas for teachers?
This project or recipe was shared at all the blogs on my Link page! Go take a peek … they rock!