Though I was only 2 when then 80s officially started, there is just something about the late 80s/early 90s that holds a special place in my heart ... teased bangs, tight rolled jeans, slouch socks, Keds with the curly shoe strings (or none at all!), Jamz, Milli Vanilli, NKOTB, puff paint, Punky Brewster, Saved by the Bell, Rainbow Brite, The Smurfs, scratch & sniff stickers to put in sticker books ... what wasn't there to love?
So this year?  I am ringing in 34 in a few weeks with a totally rad 80s party!  Which means you (lucky, lucky readers!) get to see all the fun DIY party food, decorations, ideas, etc.  It's like, going to be epic!
Let's kick off the party and go back in time with ...

80s Party Fortune Teller Garland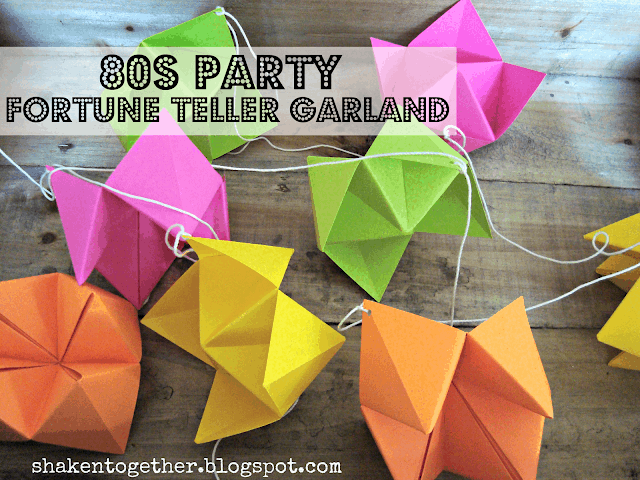 You'll need neon cardstock and string/twine/thread ... oh, and some mad folding skills!
I am a visual learner, so let me show you in pictures how to fold these (and I didn't even have to look up a tutorial online ... it's like riding a bike, ha ha!).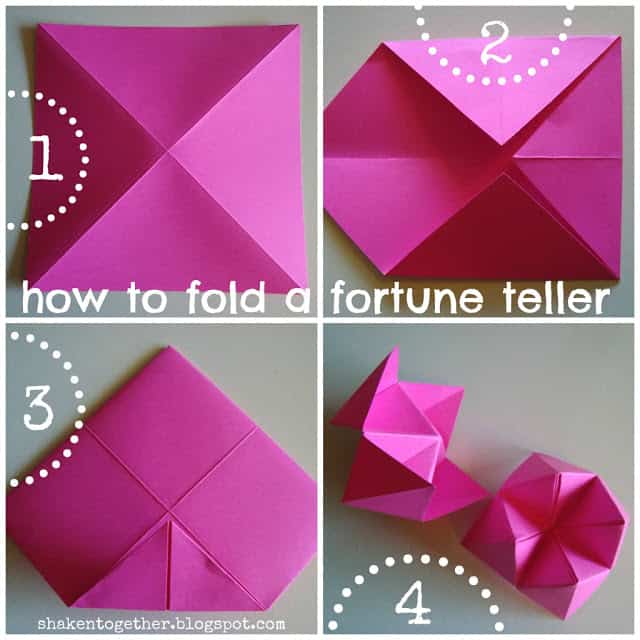 1.  Cut an 8.5 x 8.5 inch square from your cardstock - save the leftover pieces for our next project!  Fold the cardstock into a triangle, unfold it and fold it the other way.  Once opened, you end up with the picture above.
2.  Fold each point of the square into the very center of the square where your two folds met.
3.  Flip this square over and fold each corner in again to the center.  (This is the inside of your fortune teller.)
4.  Now, maneuver your fingers inside the big flaps (the back of picture 3 above) and draw them up until you have the fortune teller you can open and close.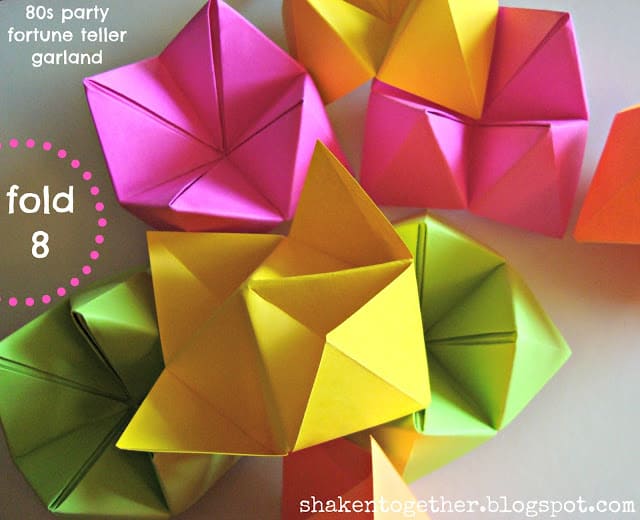 I folded 8 fortune tellers - 2 in each color of my cardstock.  Now, you can either punch a small hole to string these together or use needle/thread to string them up.  Drape them at a table or in a doorway for a neon throwback to the 80s!!
With party planning in full swing, I will be sharing several more easy 80s party projects using this same neon card stock ... it would be radical if you would like, stop by!
More Totally Rad 80s Party Ideas