I just want to preface this post with this:  Yes, we went cheesy 'Hollywood 80s'.  Yes, I know not everyone dressed in neon in the 80s.  We also had preppy 80s, vests & teased bangs, heavy metal 80s ... we pretty much hit on every 80s cliche.  It was awesome.  And, yes, I did wear side ponytails 😉
This year was not a milestone birthday, but when neon is "in" and almost every store is stocked with something inspired by the 80s, it just seemed right to throw a big ol' 80s party, right?!  I didn't take nearly as many pictures as I wanted to (bad blogger!), but when my house is packed to the gills with good food and friends, my camera took a bit of a back seat.  But have no fear, I've still got TONS to show you!
80s Party BIG REVEAL & TONS of 80s Party Ideas
One of the absolute BEST parts of this birthday was the ultimate surprise from my best friend ... a real live make up artist arrived to do our 80s makeup before the party!!!  Talk about feeling like a celebrity!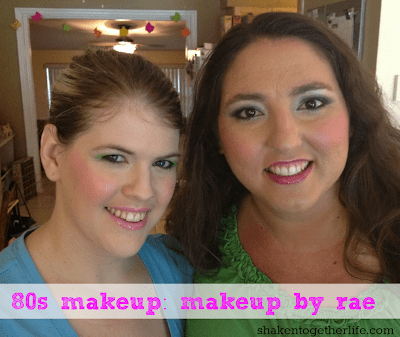 Amy Lynn rockin' green & yellow eyeshadow and bubble gum pink  lipstick and Yours Truly decked out in bright blue eyeshadow, tons-o-blush and super glossy lips ... SO FUN!!
With all of the party prep done, it was time to get all dolled up ... 80s style!!  I think this is one of the only full body pictures of me (eek!) on this whole blog and I am channeling the 80s ... TOO funny!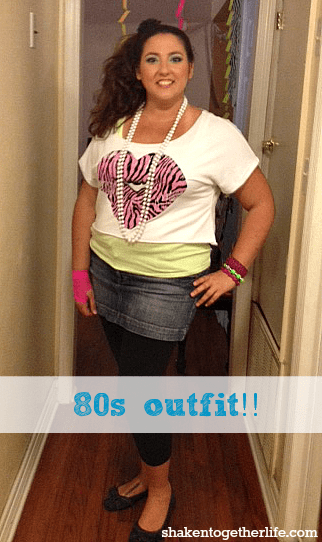 From top to bottom ... Flower in my sweet side ponytail:  31 Gifts, lips shirt:  Dots, neon tank:  Target, denim skirt:  American Eagle $3 thrift store find, leggings:  Target, bow flats:  Target, accessories:  Party City, Dots & borrowed
I shared my 80s party photo props earlier this week and we set up a photo station to put them to use!!  I hung a neon green sheet and cool strips of neon paper (thanks for the idea Mandy @ Sugar Bee Crafts!), added a bright blue chair ($1 yard sale find) and the props!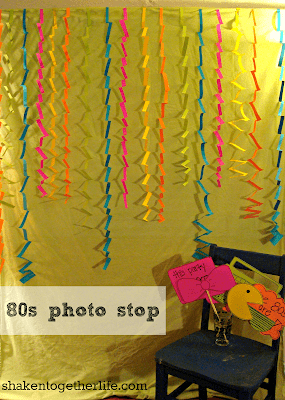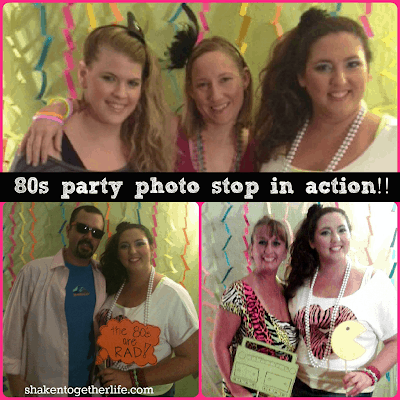 BFFs since highschool :: The Saint & I :: Hot Mamas
The decor was simple, but absolutely 80s!  I used a zebra table cloth  for the dessert/candy table, hung my 80s party fortune teller garland and some zebra streamers, spray painted some cassette tapes (finally dug up by my mom!) and hung them in an empty frame (that is waiting to be updated - project coming soon!) and added slap bracelets and neon pencils to a Rubik cube paper basket for the last decor details: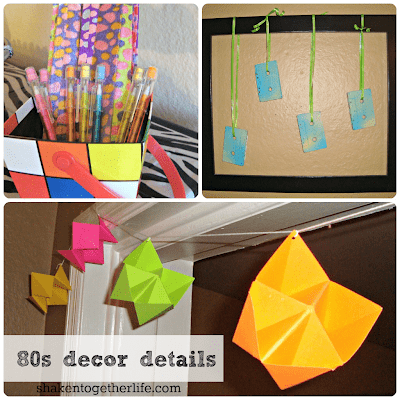 And now onto everyone's favorite ... PARTY FOOD!!  Of course, there must be cupcakes!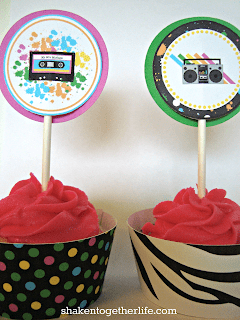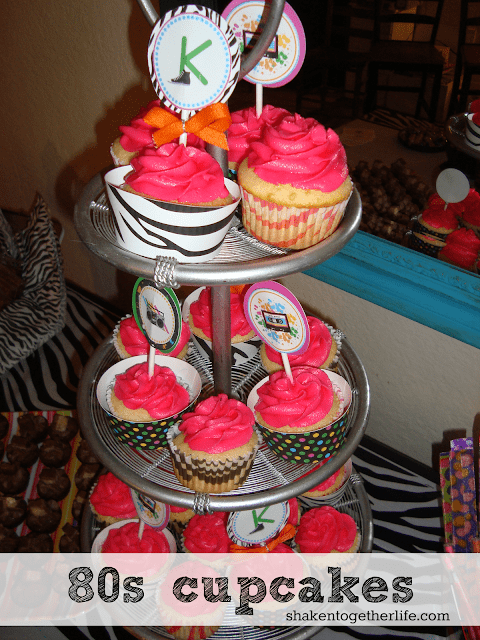 Rachel from Polka Dots and Lemonade made me the custom 80s cupcake toppers and cupcake wrappers ... and now you can find the 80s set in her shop!  She has tons of adorable stuff for all your parties!!
Another seriously popular dessert?  The whatchamacallit brownie bites we made!!  Coarsely chop 2 king size Whatchamacallit candy bars, add to your brownie mix, bake as directed, frost with chocolate frosting and add a bite of the candy bar to the top!  Totally rad, I promise!!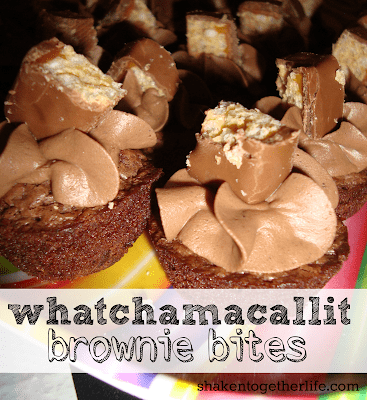 I used 4 more spray painted cassette tapes to label the snacks ... hot hot hot buffalo chicken dip, Spaceballs meatballs (classic grape jelly & chili sauce recipe), CHiPs & dip (get it? CHiPs?!) and Little Debbie Gibsons (oatmeal creme pies, star crunches and nutty buddies in a metal lunch box!).  I also had Twizzlers and Jolly Ranchers.  Everyone loved the flashback food 🙂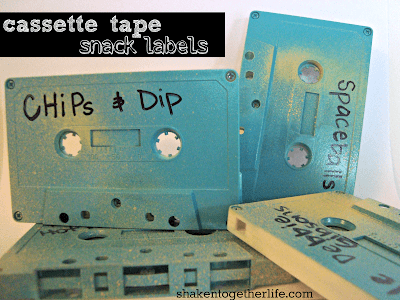 There were also magnet boards draped with a neon/zebra dots banner for everyone to display their photos from the 80s ... this was one of my favorite things!!  I love that my kindergarten dream in 1984 was to be a cheerleader ... little did I know how inflexible I would be and what a chicken I am to do a cartwheel, ha ha!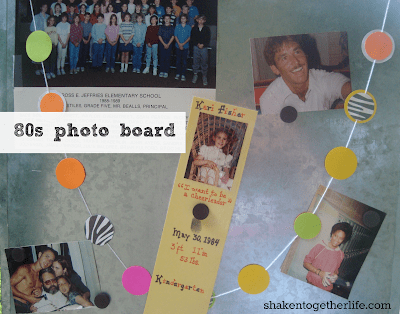 This was one of my favorite birthday parties ever ... how can you have a bad day when you are wearing a hot pink fingerless glove?  Right?!  The party was wicked, the clothes totally tubular, the friends were epic and the food ruled!!  I mean, if I had a big enough house, all of you would have, like, totally been invited!!
More Totally Rad 80s Party Ideas