We are two weeks into our 2014-2015 school year which means I have two weeks of lunch packing for our boys under my belt.  And already I am getting the, "I'm tired of carrots and dressing." "Can I have a different kind of sandwich?" "I don't really like those crackers." I get it.  Variety is the spice of life and lunch box, apparently.  But next week?  I'll beat those lunch box blahs since I am armed with these!
8 great lunch box treats!!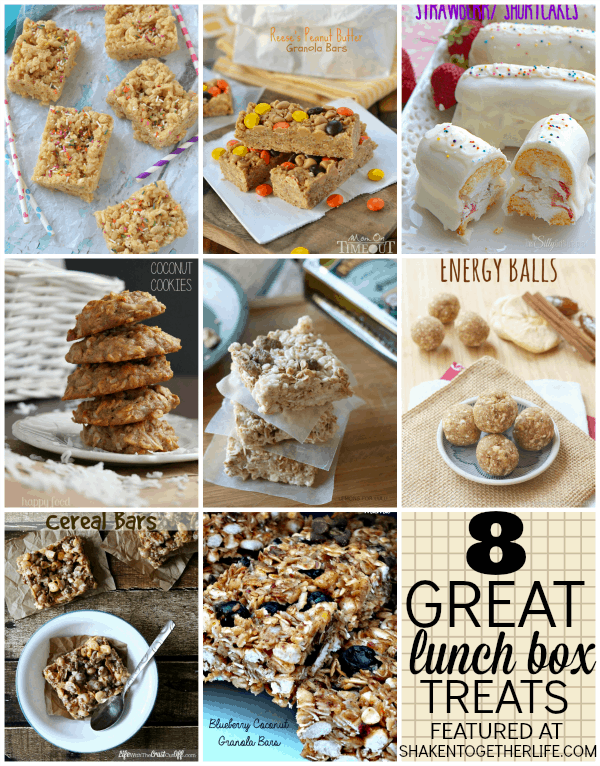 Let's be honest … the fudge round or oatmeal creme pie was always the highlight of my lunch box.  But these easy delicious lunch box treats will blow those pre-made snacks out of the water!  Granola bars, healthy cookies, krispie treats … even energy balls!  I can't wait to tuck some of these into our lunch boxes!!
 8 Great Lunch Box Treats
These tasty lunch box treats have all been pinned to our Creativity Unleashed Link Party Fabulous Features Pinterest board!!  To all the awesome bloggers that link up each week – thanks SO very much for joining us each week and sharing your very best … we couldn't do it without you!!
All five of your Creativity Unleashed hosts pick and share their favorites, so don't forget to check in on:
Now, brush off your blogs and get your pinning finger ready!  Another Creativity Unleashed link party opens bright and early on Friday at 7am EST and we can't wait to party with you!