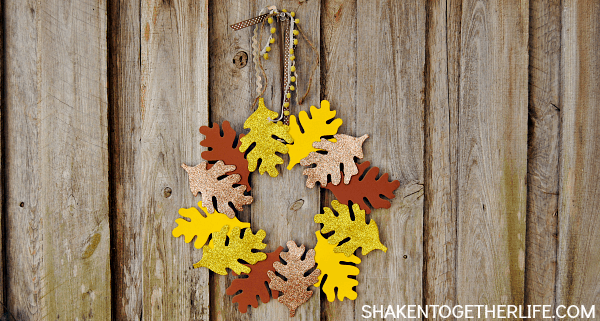 You may remember me mentioning in this post that I am not a master wreath maker.  I don't have a knack for tying a beautiful bow.  That gene stopped with my momma.  I'll admit … flower picks make me slightly panicked.  In fact, as I was scrolling through my archives, I realized that most of the wreaths I share involve hot glue and a little creativity.  Maybe a wing and a prayer.  If that strikes a crafty chord with you and if you have five minutes and a hot glue gun, you will have yourself a pretty Fall wreath for your front door or mantel!  BEHOLD …
The 5 Minute Fall Leaf Wreath
Supplies
*This post contains affiliate links for your convenience {at no additional cost to you} and to assist in the maintenance of this site. Thank you for supporting Shaken Together!*
7-inch Embroidery Hoop
Hot glue gun + glue sticks
12 foam leaves – this package was from my local craft store and had 12 leaves (3 yellow matte, 3 gold glitter, 3 brown matte, 3 brown glitter)
Ribbons and trim (craft ribbon, pom pom trim, twine, jute, ric rac, etc.)
The How-To
Gather your supplies and get your glue gun plugged in.
Using the hot glue gun, hot glue the matte leaves around the embroidery hoop, alternating the colors and leaving space between each leaf.  I glued them on facing the same way – stems towards the center of the hoop.
Now, glue the glitter leaves on in the spaces between the matte leaves.  I glued the glitter leaves on with the stems facing away from the center of the hoop.
When all of your leaves are glued on, gather your ribbons and trim.  Use one length of ribbon (mine was about 14 inches long) to create a loop for hanging.  I threaded my ribbon through the metal tightener of the embroidery hoop – it is a natural hanger!
Finally (see picture below collage), cut various lengths of your pom pom trim, twine, ric rac and ribbon and tie them around the center of the long ribbon loop you made for hanging.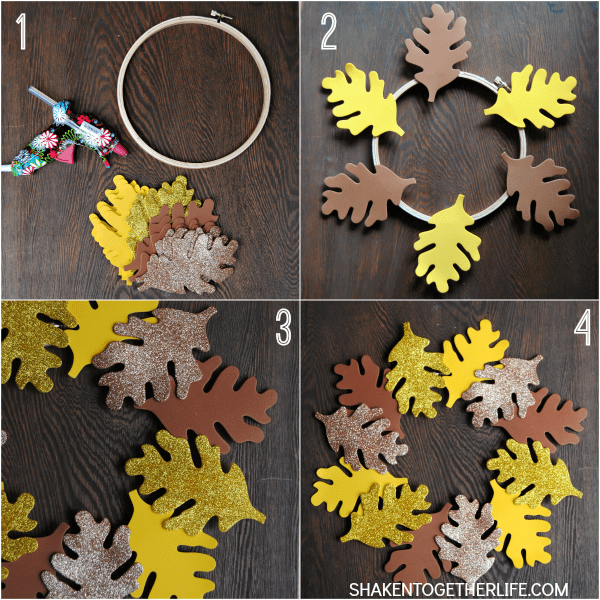 I just love all of the charming ribbons and pom poms and ric rac that hang down – it is completely imperfect and a little rustic – just my style!!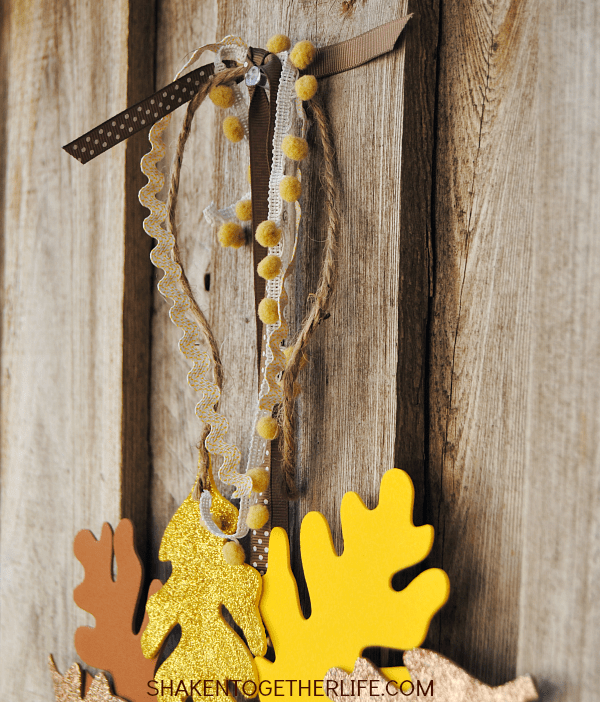 I am actually just a little bit smitten with this super simple Fall wreath.  It's not fancy, it's not fussy and it has just a hint of sparkle!  Who doesn't love a project that takes just 5 minutes?!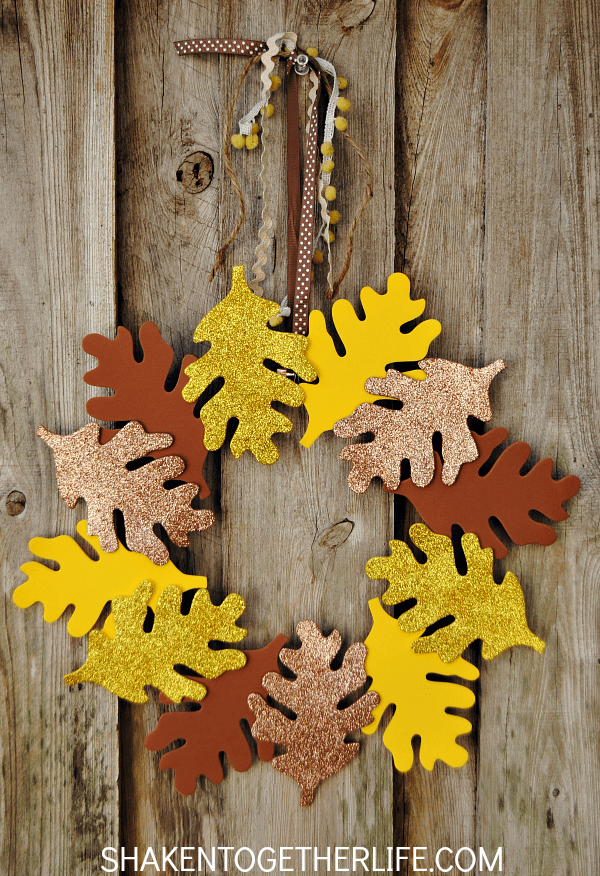 More Fast & Fabulous Fall Crafts!!
My 5 Minute Fall Leaf Wreath may be shared here: