This Summer, I am determined to slim down a bit, eat healthier and get moving! I shared with you all on Facebook a few weeks ago that I joined Weight Watchers and I am thrilled to say that I am down 6.5 pounds! One of my coworkers asked if I eat the same thing all the time. She's a foodie like me so I understood that she didn't want to get in a foot rut. So, I was happy to tell her that I am finding lots of ways to eat healthy so I don't get bored! And today, I am sharing three of my favorite healthy breakfast recipes with you!

You don't have to be doing Weight Watchers or any other formal program for these healthy breakfast recipes – all of the ingredients are found at your local grocery store and none of them require any extensive prep work or unique ingredients! In fact, just the opposite … these couldn't be any easier to make!
First up, my banana granola bowl! Add a sliced medium sized banana to 1 cup of Kashi granola (I love their honey almond flax granola) and add 1/2 cup of cold unsweetened vanilla almond milk. SO good and only 5 Weight Watcher points!!
Next up, give your blender a whirl with an unbelievably delicious chocolate banana peanut butter breakfast smoothie! Simply blend up 1 cup of cold, dark chocolate almond milk, one medium banana (frozen if you have one) and two teaspoons of peanut butter. If your banana isn't frozen, you can add a few ice cubes, too. This really hits the spot if you are craving something sweet and it comes in at only 5 Weight Watcher points!
Finally, I have a lemon strawberry Greek yogurt parfait that is perfect for Summer mornings! Stir 1/2 cup of quartered strawberries into one carton of Yoplait lemon Greek yogurt and top with 1/2 cup of Kashi Go Lean cereal. The cereal adds a crunch and help keeps you full while the strawberries and lemon yogurt are nice and tart! Bonus? Only 4 Weight Watcher points!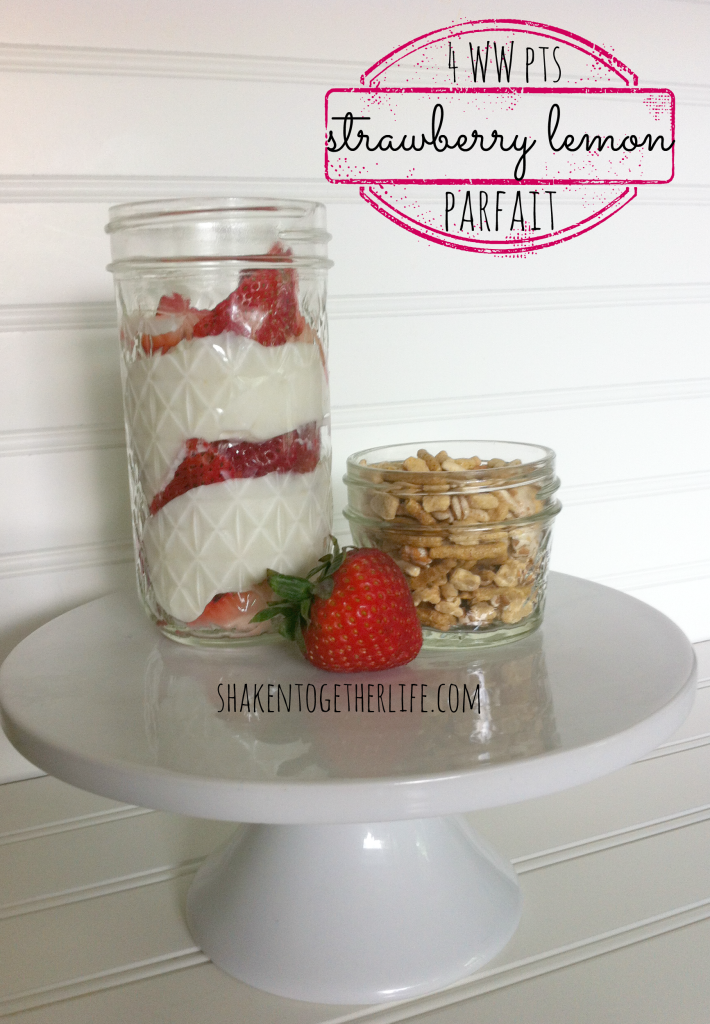 Seriously, for a girl who normally likes to eat savory things for breakfast, these three fruit-filled healthy breakfast recipes really hit the spot and start the morning out right! What is your favorite thing to eat for breakfast?
Here are a few more of my favorite skinny Summertime recipes!
Skinny Key Lime Pie Pops :: Skinny Root Beer Floats :: Skinny Peach Lemonade
This post may be shared at Savvy Southern Style, Between Naps on the Porch and these awesome link parties: