With a glorious grilled and glazed exterior and a juicy center, this Grilled BBQ Glazed Smoked Sausage is an easy way to bring big bold flavor to your BBQ! This 2-ingredient grilling recipe was created as part of a sponsored partnership with Collective Bias, Inc. and its advertiser. All opinions are mine alone. #GiveLifeMoreFlavor #CollectiveBias
There is nothing like Summer: The absence of homework, projects, lunches to pack and early morning wake ups. The sounds of a pool full of kids, laughter long into the night from boys up a little too late and afternoon Summer storms. The sights of bathing suits hung over chairs, a pile of flip flops by the door and tan lines. The smells of sunscreen, fresh cut grass and a full grill. This unbelievably easy grilling recipe will help you keep Summer rolling right along!
Grilled BBQ Glazed Smoked Sausage
Our grill gets a SERIOUS work out during the Summer. There is not a weekend that goes by that we don't clean the grates,  fire her up and get dinner cooking. Lately, we've been hooked on quick grilling recipes that give us a little more time to hang out by the pool. One of our favorite ways to get dinner on the table starts with Eckrich Smoked Sausage. It is naturally hardword smoked and perfectly spiced. Eckrich is a familiar, reliable brand so I know I can trust the quality and taste every time. Plus, it's fully cooked, so its a quick and easy way to get your grill on!
I grab these in the refrigerated meats section of my local grocery store – this weekend, it was Winn Dixie. (While you're there, grab the Cheddar Smoked Sausage Links or the Jalapeño & Cheddar Smoked Sausage Links, too!):
This is one of those recipes that really couldn't get much easier. Smoked sausage + BBQ sauce (sweet, spicy or smoky) and a few minutes on the grill = dinner in minutes. Honestly, that's it!
I like to give the smoked sausage a chance to get some of those great grill marks and to start crisping up a bit, so I place the links directly on a preheated grill.
Once I turn the smoked sausage, I give it a brush with our favorite BBQ sauce. We like a basic mild, smoky sauce but you could totally take the sweet or spicy route or use your blue ribbon homemade sauce.
As the smoked sausage continues to heat on the grill, the BBQ sauce will thicken, creating a sticky glaze that will make your taste buds sing. (Okay, well, maybe that's just me jamming by the pool, ha ha.)
Just tuck each Grilled BBQ Glazed Smoked Sausage in a soft bakery bun, brush on a little more BBQ sauce (because why not?!), add toppings like relish, caramelized onions, shredded cheddar cheese or chopped bacon and dig in!
I mean, just look at how that sticky, slightly crispy exterior that gives way to a juicy, hardwood smoked center!
Whether paired with a scoop of cool creamy macaroni salad or next to a generous helping of Mom's famous Calico Beans, this Grilled BBQ Glazed Smoked Sausage will be the star of your next Summer meal!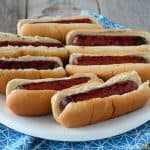 Grilled BBQ Glazed Smoked Sausage
Ingredients
Eckrich Smoked Sausage Links

1

cup

of your favorite BBQ sauce

Hot dog buns

Optional toppings: relish

caramelized onions, shredded cheddar cheese, chopped cooked bacon
Instructions
Preheat a grill to medium heat.

Placed the smoked sausage on the grill.

Turn the smoked sausages and begin brushing them with BBQ sauce.

Continue turning and brushing with BBQ sauce until the smoked sausages are grilled and glazed to your liking.

Tuck into a soft bun, brush with a little extra BBQ sauce and add optional toppings if desired.
More Recipes to Get Your Grill On!