Cool down all Summer long with a refreshingly tart and tangy Blueberry Limeade Slush!  This Florida girl is proud to say that this recipe is sponsored by Fresh From Florida as part of Influencer Activation for Influence Central.
In 1988, a sassy little 10 year old girl from Texas (feathered bangs, twang, y'all and all) hopped in her momma's car as her family set off for a move to Florida. As she made friends, grew up and had a family of her own right in the middle of sandy beaches, theme parks and orange blossoms, only then did she realize how much she loved the Sunshine State. And after 25+ years (ahem.), I still do!
Which is why I am so excited to celebrate Summer with dishes and drinks made with some of Florida's amazing produce and seafood: sweet corn, sun ripened tomatoes, fresh fish and shrimp caught right in the Gulf, juicy watermelon and plump blueberries. In fact, I couldn't resist using some of those blueberries to whip up a little something to cool off with after a hot afternoon at the ball park!
Blueberry Limeade Slush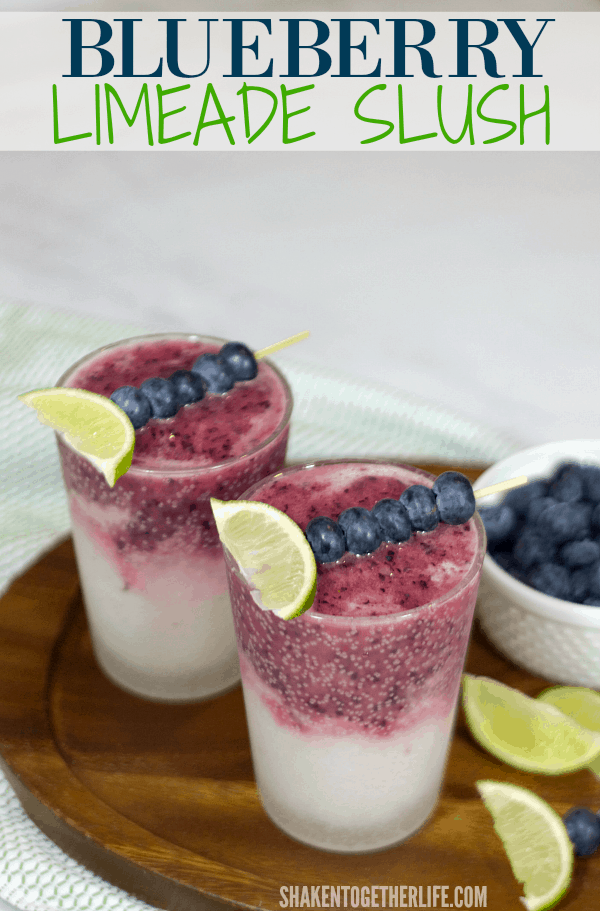 I love seeing seafood in my grocery store that was caught just hours ago right off the coast. And produce that I know was grown by farmers that are just a short drive away. There is a local farm with pick-your-own blueberries and it is so popular, that they are already "picked out" for the season. It is going on our bucket list for next Summer for sure.
But luckily, these Florida beauties were waiting for me right in my produce aisle!
YUM! Some of Florida's finest right there. I'm not even sure how these made it home without me stealing a few from the package.
So … this slush.
You'll only need three ingredients: blueberries, limeade and ice. That's it! Oh okay, 4 ingredients if you count the lime for garnish 😉
Speaking of garnish, these pretty little blueberry and lime skewers are the perfect addition to our slush. Just slide 5 blueberries on a 4 inch bamboo skewer and then add a lime wedge to finish the skewer.
See? So easy and super festive!
Even better, the fresh blueberry and lime garnish lets your guests know what flavors to expect from this cool frosty glass of Blueberry Limeade Slush!
I really love the layered look of this slush … cool limeade slush topped with bright, vibrant blueberry slush. Enjoy the layers separately or stir it all together for a refreshing drink! This is a surefire Summer hit for sure!
Blueberry Limeade Slush
Ingredients
For the Blueberry Limeade Slush
3

cups

limeade

purchased or homemade

3 - 4

cups

ice + more if necessary

1

cup

blueberries

Optional: sweetener

see notes
For Blueberry Lime Skewers for Garnish
5

blueberries per skewer

One lime

cut into wedges

4

inch

bamboo skewers
Instructions
Blueberry Lime Skewer Garnishes
If you are making the blueberry lime skewers, slide 5 berries onto each skewer and finish with a lime wedge.

Refrigerate until serving.
Blueberry Limeade Slush
In the pitcher of your blender, add limeade and 3 cups of ice.

Blend until slushy - I like to be able to spoon the limeade slush into the glasses, so add more ice and limeade as necessary.

Use 2/3 of the slush in the blender to fill your glasses about 1/2 - 3/4 full.

To the remaining slush in the blender, add the blueberries and blend well. (Add additional water/ice as necessary.)

Top with blueberry lime skewers and enjoy!
Recipe Notes
I love the refreshing tartness of the limeade + blueberry combination, but if you want a little more sweetness, you can blend honey, agave, simple syrup or fine granulated sugar with the blueberry slush mixture.
With Memorial Day weekend right around the corner (yay for 3 day weekends!), we'll spend plenty of time enjoying the weather, entertaining and manning the grill. And thanks to the good folks at Fresh from Florida and the Florida Department of Agriculture, we have plenty of fresh ingredients to enjoy:
I'm going to put a twist on this slush recipe and switch up blueberries for watermelon.
And since my boys can eat their weight in watermelon, so we'll be munching on it all weekend long.
Shrimp and fresh sweet corn are hitting the grill!
And our favorite lightly dressed avocado and tomato salad will be on repeat as we lounge by the pool.
Summer, here we come!
More Summer Dishes to Celebrate the Sunshine State!