Our Simple Strawberry Balsamic Salad pairs tangy Gorgonzola cheese, ripe berries, crisp greens and crunchy seeds for a deliciously easy dish that is big on flavor!  I'm sharing this salad and #FreshWorks with you as part of a sponsored series for Rubbermaid and Socialstars™.
Well, Spring has Sprung in Florida. Or as I call it, the Season of the Salad. The grocery store and farmers' markets are just bursting with seasonal citrus, gorgeous deep red strawberries, plump tomatoes and sweet corn, just begging to be sliced, diced and enjoyed in a fantastically fresh salad. Like this one …
Simple Strawberry Balsamic Salad
With just 5 ingredients, you can throw this salad together in minutes for a light lunch. Add a grilled chicken breast, a handful of grilled shrimp or even a hard boiled egg or two and this salad easily transitions to a healthy, delicious dinner. SO so perfect for Spring and Summer!
Now, I grocery shop on the weekend – probably like most of you. Which means, all of the produce I buy sits in our fridge for at least a few days until Tuesday rolls around and I'm ready to whip up this salad from our menu plan. Only to find that the berries are rubbery and mushy and our lettuce is wet and wilted. Produce fail. Planning fail. Big win for the pizza delivery guy.
BUT … I've started using Rubbermaid® Freshworks™ Produce Savers in our fridge to keep our fruit and veggies fresher longer.
The FreshVent™ in the lids and CrispTray™ in the bottom of each container regulate moisture and promote air flow. Which means happier produce 🙂 You can toss every piece in the dishwasher, too, so clean up is no big deal. When I get home from the grocery store, I just remove the produce from the packaging and pop it it in the containers. An entire 16 oz. package of strawberries fits in the medium container and there is room for a whole head of lettuce in the large container!
Then, when I need to grab a salad for lunch at the office to throw together an easy salad for dinner while the marinated chicken in on the grill, the greens are crisp and the berries are still plump. I just have to toss on the cheese, seeds and dressing and this Easy Strawberry Balsamic Salad is done!
Simple Strawberry Balsamic Salad
Ingredients
Spring mix or your favorite salad greens

5

strawberries

1/4

cup

Gorgonzola cheese

2

tablespoons

sunflower seeds

Balsamic dressing
Instructions
Remove the stems and leaves from the strawberries and cut each berry into bite sized pieces.

In a bowl, layer Spring mix, strawberries and Gorgonzola cheese.

Sprinkle on sunflower seeds.

Drizzle with Balsamic dressing and dig in!
Now, if you don't like Gorgonzola cheese, feel free to use feta or even fresh mozzarella cheese. Substitute the strawberries for blueberries or raspberries. Use spinach if you're out of Spring mix. This salad is pretty forgiving and totally delicious!
My 13 year old asked if I would pack this salad in his lunch, so you know it has to be good!
 More Simple Salads with tons of fresh produce!!
Crisp Cabbage Salad – you'll love the lemon garlic dressing!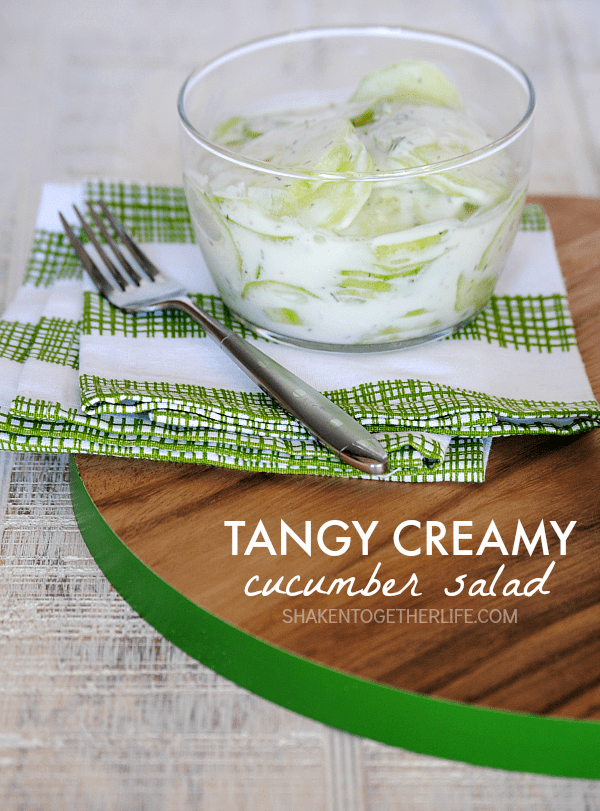 Tangy Creamy Cucumber Salad – just like my Grandma makes!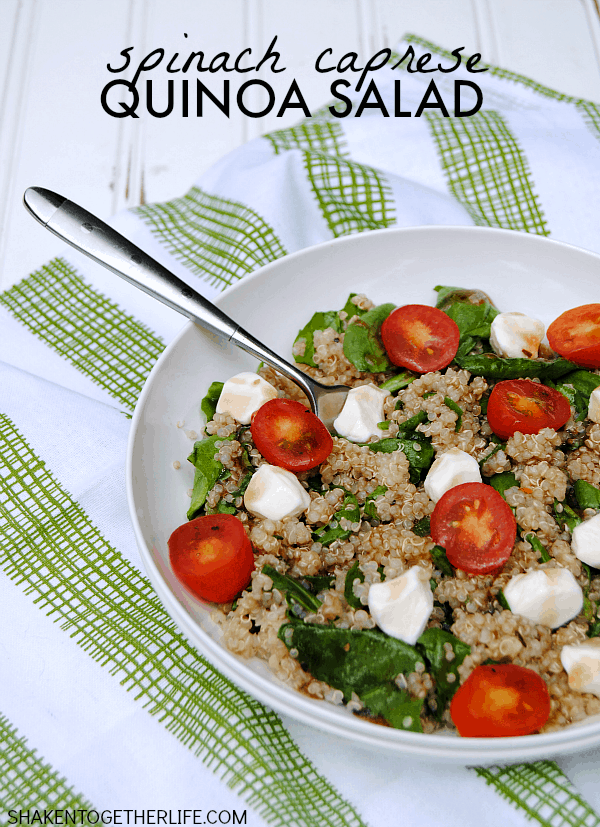 Our Simple Strawberry Balsamic Salad may be shared here: