Thank you to Collective Bias & their client for sponsoring this post.

If there was one dessert you had to eat for the rest of your life, what would it be?  While I love all sorts of holiday baking – cheesecake, cupcakes, cookies and no-bake truffles – my mom's Cherry Pineapple Dessert (or Cherry Pineapple Dump Cake) would be my pick.  It is full of tart cherries and tangy pineapple, then topped with a buttery cake layer, studded with pecans and baked until bubbly and golden!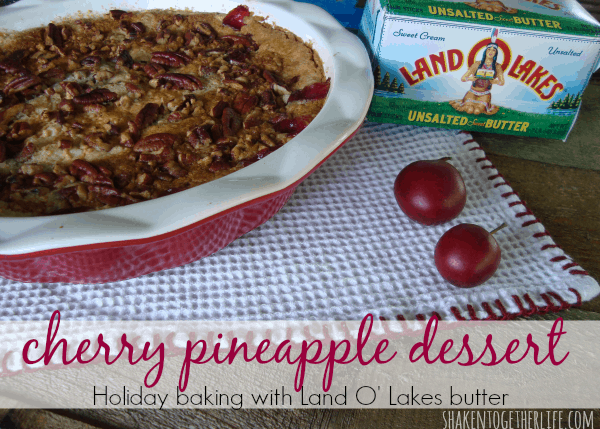 Our family lovingly calls this a "dump cake" because you really can just dump everything in the baking dish and bake it!  Our cherry pineapple dessert always gets rave reviews and lots of requests for the recipe.  And more often than not, disbelief that this rich buttery dessert is sooooo easy!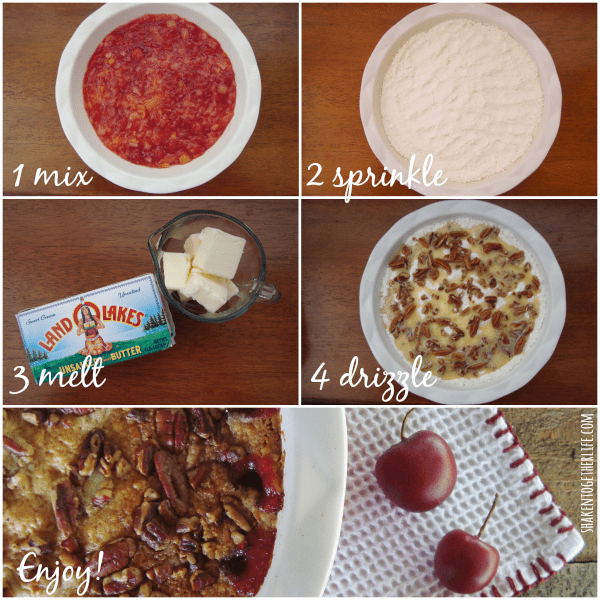 My mom's recipe calls for a 9×13 baking dish, but as you can see, my pictures feature a 9-inch pie plate.  Why?  Well, as I was shopping for the ingredients for this recipe at Walmart, I remembered I wanted to do a little something for our sweet older neighbor, "Uncle  Jimmy".  After I picked up the unsalted Land O' Lakes Butter in the dairy section – its green and red packaging is perfect for holiday baking! – I headed over to grab a pack of disposable pie pans.
More often than not, Uncle Jimmy will mow our grass when he mows his own.  It is a such an awesome surprise to pull into our driveway and see our yard looking spic and span!  Sometimes, we'll say thank you with a big ol' steak for him to throw on his grill – you know that is totally Chris' idea!  But since I happen to know he has a serious sweet tooth, I decided to split the recipe for the cherry pineapple dessert between a 9-inch pie plate for us and a disposable 7-inch pie plate for Uncle Jimmy.  We're starting our holiday random acts of kindness early this year and the smile on his face was so rewarding!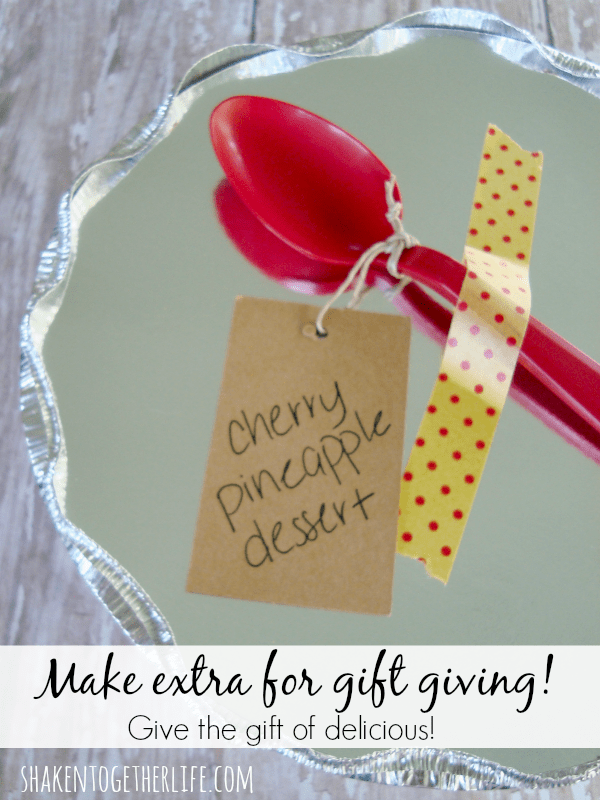 Cherry Pineapple Dessert (Cherry Pineapple Dump Cake)
Ingredients
One box yellow cake mix

One 15 oz. can of cherry pie filling

One 20z. can of crushed pineapple

undrained

One stick

1/2 cup Land O' Lakes unsalted butter, melted

Dash of vanilla extract

1/2

teaspoon

ground cinnamon

1/3

cup

chopped pecans
Instructions
Preheat oven to 350*.

Prepare a 9x13 baking dish with non-stick cooking spray.

In a mixing bowl, stir together the cherry pie filling and crushed pineapple, including the juice.

Spread cherry pineapple mixture in the bottom of the baking dish.

Sprinkle the dry yellow cake mix evenly over the cherry pineapple mixture.

Sprinkle pecans over the cake mix.

Melt butter and stir in cinnamon and vanilla.

Drizzle butter over the cake mix and pecans - try to cover as much of the dry cake mix as possible.

Bake about 45 minutes until top is golden brown and the filling is hot and bubbly.
Recipe Notes
Baking times may vary due to oven temperatures and size/type of baking dish. The recipe above calls for a 9x13 rectangle baking dish. I divided the recipe between a 9-inch pie plate and a 7-inch disposable pie plate to gift our neighbor!
Just look at that golden brown topping with hints of cherry pineapple filling bubbling out!