Are you ready for the first day of school? I know that those are forbidden words in our house but it's coming … with squeaky new shoes and freshly cut hair, no. 2 pencils and unopened spiral bound notebooks. And 1st day of school pictures!! You know … "Cheeeeeeese!" in the front yard, awkward smiles, pausing in front of the school. Oh, I've done all of the cliche photos. So this year, I was bound and determined to take "cooler" pictures and made these easy 1st day of school chalkboard photo props!
Pardon my 3rd grade handwriting … I was hustling to get some pictures taken before our afternoon thunderstorms moved in. And yes, those are my boys' grades – how in the world are they in the last year of middle school and elementary school?!
Anyway, on my recent shopping trip to Michaels where I picked up all of the supplies for my mason jar caddy teacher gifts, I spied these wooden talk bubbles and immediately thought these would be the perfect things to paint with chalkboard paint for 1st day of school pictures! I also grabbed a frame but the boys quickly vetoed it … BOO! I guess I didn't realize until I got it home that it was made of scrolly hearts. No cool points scored there, ha ha!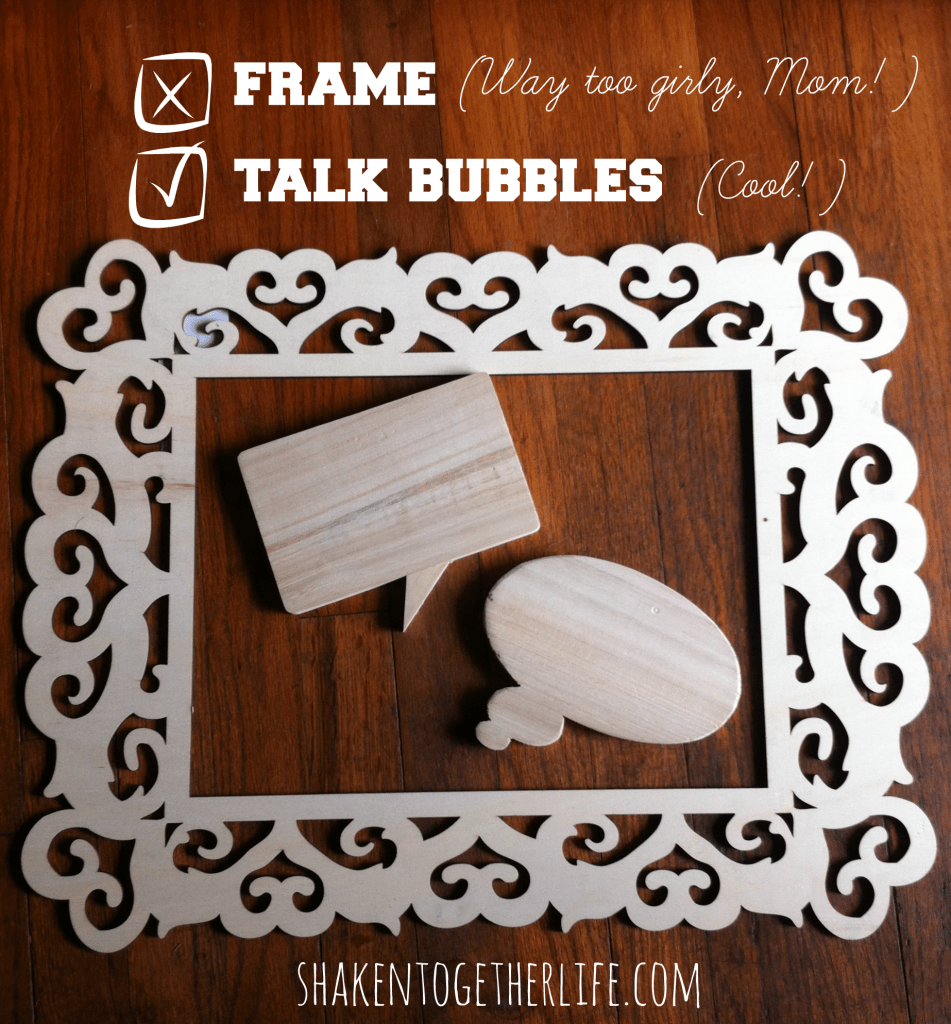 I sanded down the rough edges and I painted two coats of chalkboard paint on each talk bubble. Once the paint was dry, I seasoned the chalkboard paint (I've got simple instructions on how to do this when I made a chalkboard sign) and then glued the painted talk bubbles to wooden dowels with wood glue. But the signs were a little plain. So, I raided my washi tape stash and added some graphic black and white patterned tape around the edge of each sign. (I haven't done it yet, but I plan to put on a light coat of Mod Podge to seal the tape around the edges of the signs.) Everything is better with washi, right?!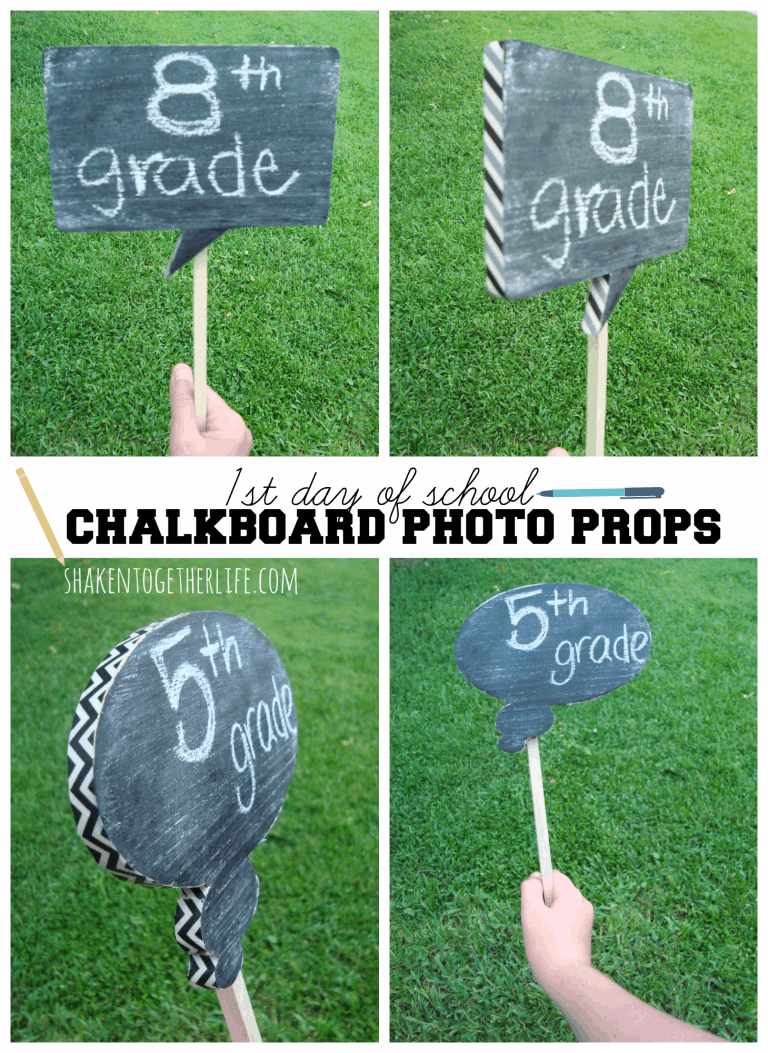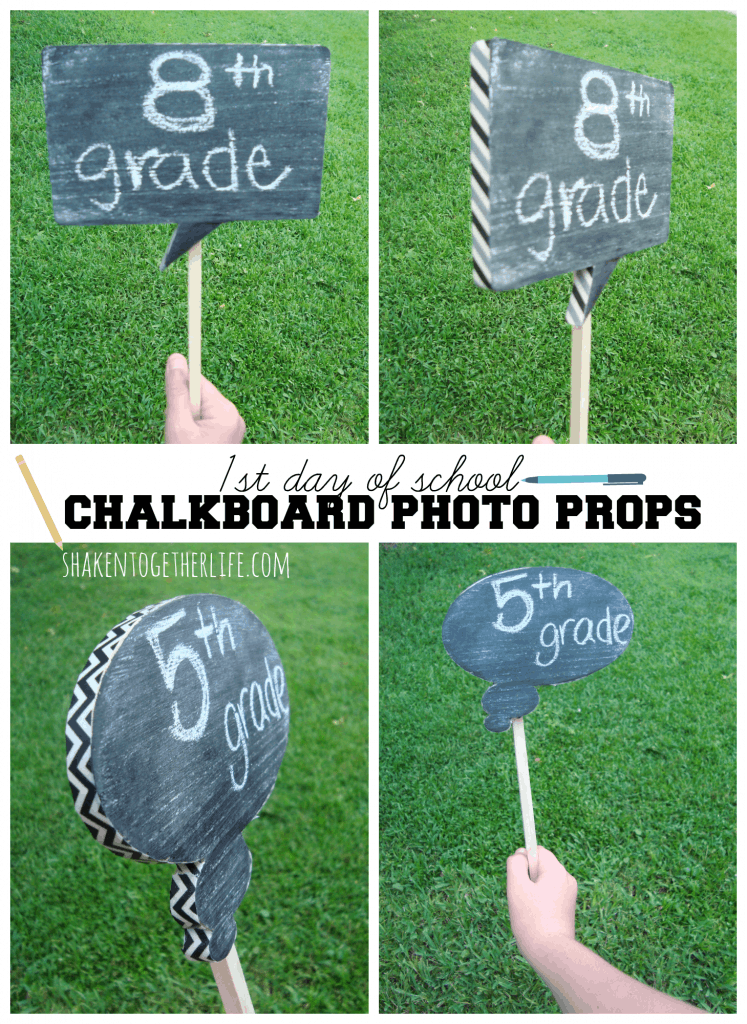 We've still got two weeks until school starts, but I may have sparked just the tiniest bit of excitement when the boys helped me take pictures in the front yard for this post! Well, maybe the new Nikes have a little to do with it, too.
Did I hear you say "More chalkboard paint!" Coming right up from shaken together + friends …
Rustic Wooden Chalkboard Sign from shaken together :: Magnetic Chalkboard Clipboards from The Bold Adobe
"Life is Tweet" Chalkboard Bird from shaken together:: Easy Chalkboard Frame from Dreamsicle Sisters
Chalkboard Closet Doors from The Creekline House :: Cute Kitchen Chalkboard at OPC's The Better Half
DIY Painted Terra Cotta Pots at Practically Functional :: Halloween Chalkboard Art at Unskinny Boppy
This post may be shared at these awesome link parties: