Ok, I'll admit it ... I am on a citrus kick! Can you blame me? It's Spring! Birds are literally singing outside our house. Dreamy weekend weather just inspires me to make all things lemon, lime and orange. Did you see the luscious lemon no-bake mini pies I shared last Monday? I used the same skinny lemon fluff filling to make these lemon fluff freezer cookies. And believe it or not, each cookie sandwich can be enjoyed for just under 100 calories! They are a great skinny Spring snack!
100 calorie* lemon fluff freezer cookies
Yield: 30 sandwich cookies - you can half the recipe but then you'll have ½ a bag of pudding mix and ½ a tub of Cool Whip to contend with ... I say just make the whole recipe and you are ready for when the sweet tooth hits 🙂
2 bags Newton Fruit Thins (30 cookies each) - Lemon Crisp flavor
1 small tub of Lite Cool Whip
1 cup cold skim milk
1 small box (3.4 oz) sugar-free, fat-free instant lemon pudding mix
1 teaspoon of lemon zest (optional but SO yummy)
Whisk together pudding mix and skim milk; allow to set for 30 seconds. Gently fold in Lite Cool Whip and lemon zest, incorporating the pudding thoroughly. Place in a piping bag fit with a large star tip. Pipe approximately 2 tablespoons of lemon fluff filling on one cookie and place another cookie on top, pressing slightly. Repeat until all cookies are filled. Place in freezer until filling is set - at least one hour.
*Calories per freezer cookie approximated using 2 cookies and 2 tablespoons of lemon fluff filling prepared as described above.
The lemon cookies are satisfying, crunchy and full of whole grains. The filling is light and fluffy and packed with lemon flavor. My boys happily finished off the last of these freezer cookies, so they get two kid approved thumbs up! The best part is, you can indulge in a sweet frozen treat that won't completely derail your diet or foil your summer bathing suit goal!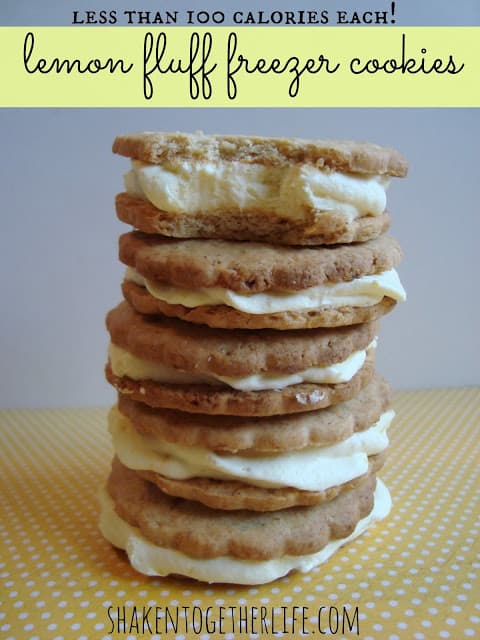 Lemon lovers ... take note below!
Here are some of my favorite lemon recipes from shaken together + friends!!