Thank you to the Chinet® brand for sponsoring this post.
Our 10 Secrets for Holiday Entertaining are the best tips & tricks for all your holiday events that bring maximum impact with minimal effort. Holiday hosting has never been easier or more fun and it all starts with the Chinet® Cut Crystal® collection!
*Ready for something fun? Click on the photo above for a shoppable experience with the Chinet brand!*
It is the most wonderful time of the year! Especially in these last few months of 2018, it is prime time to gather with food (lots of food!), friends and family. So, this post on easy entertaining has some of my favorite tips and tricks to make hosting your next holiday event less stressful and more fun. Whether you are celebrating a friend, marking a milestone, holding a holiday wine tasting or hosting a big holiday meal, you will love these secrets for holiday entertaining!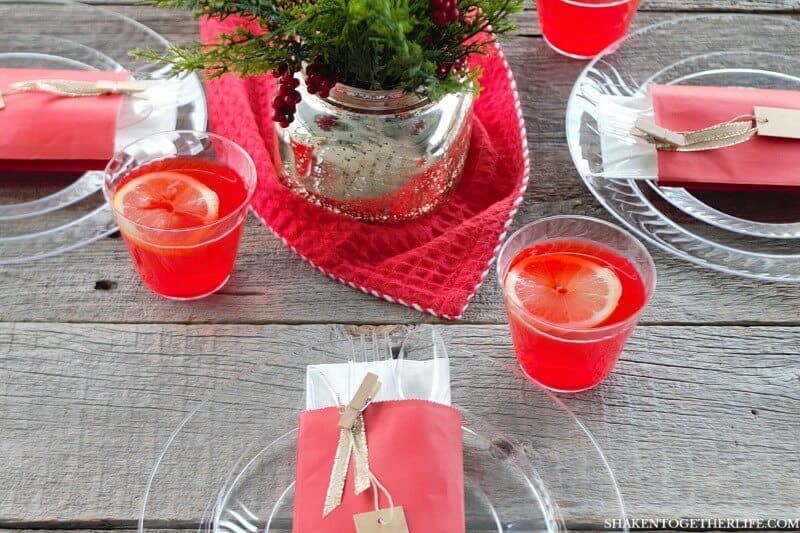 10 Secrets for Holiday Entertaining & an Easy Holiday Place Setting!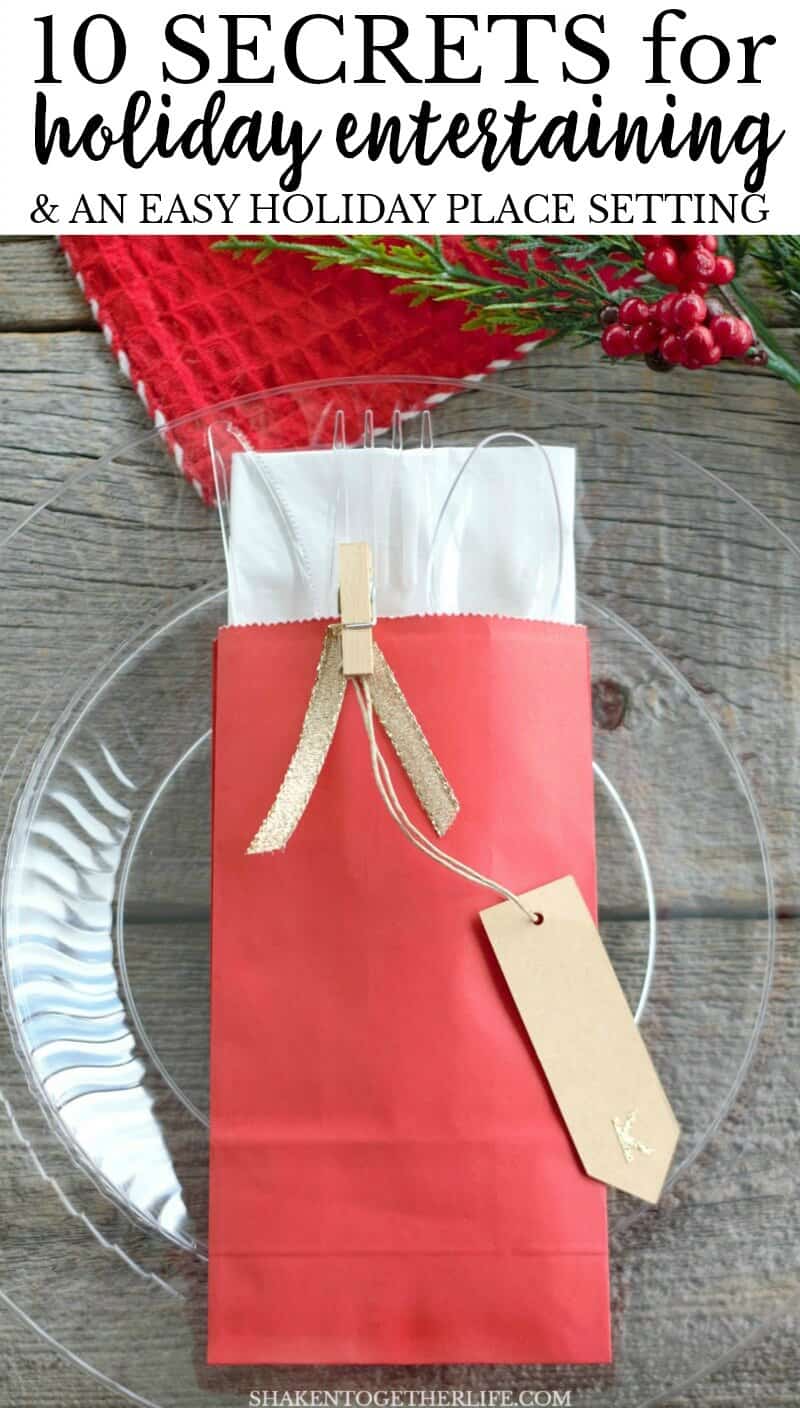 I am not a professional event planner but I sure love having people over. Over the years, I have found simple ways that allow me to spend less time on the set up and cleanup of the party and more time with the people I love. Hopefully you will find a tip or two (or 10!) that will work for your events and gatherings.
10 Tips & Tricks for Food, Décor, Serving & More!!
1. Keep it casual. Unless you are hosting a formal, multi-course dinner, don't drag out the fine china and polish the silver. Guests will feel right at home with a low key event.
2. Fake it with your favorite take out. Spend your time making a few fabulous appetizers or crowd-pleasing desserts and let the pros dish up dinner.
3. Pick up décor from the grocery store. Candles surrounded by fresh cranberries, bowls of brightly colored pomegranates or citrus, rosemary sprigs tucked in the buffet line and simple seasonal flower arrangements in mason jars can all bring elegant touches in no time!
4. This is one of my tried and true entertaining tips: buy white serving pieces. White trays, serving dishes, large bowls, small dip bowls, cake stands, etc. are entertaining life savers. These key pieces match any color scheme, holiday, event or theme and they are so, so versatile.
5. Skip doing the dishes and stock up on high quality disposable tableware that will complement your white serving pieces. The Chinet® Cut Crystal® collection is the only fully coordinated line of disposable tableware, making serving and cleanup easy so you can spend more time with friends, family, and guests —just toss when done! (P.S. The Chinet® brand can be found at most major grocers and big-box retailers.  Select products now available at Target.)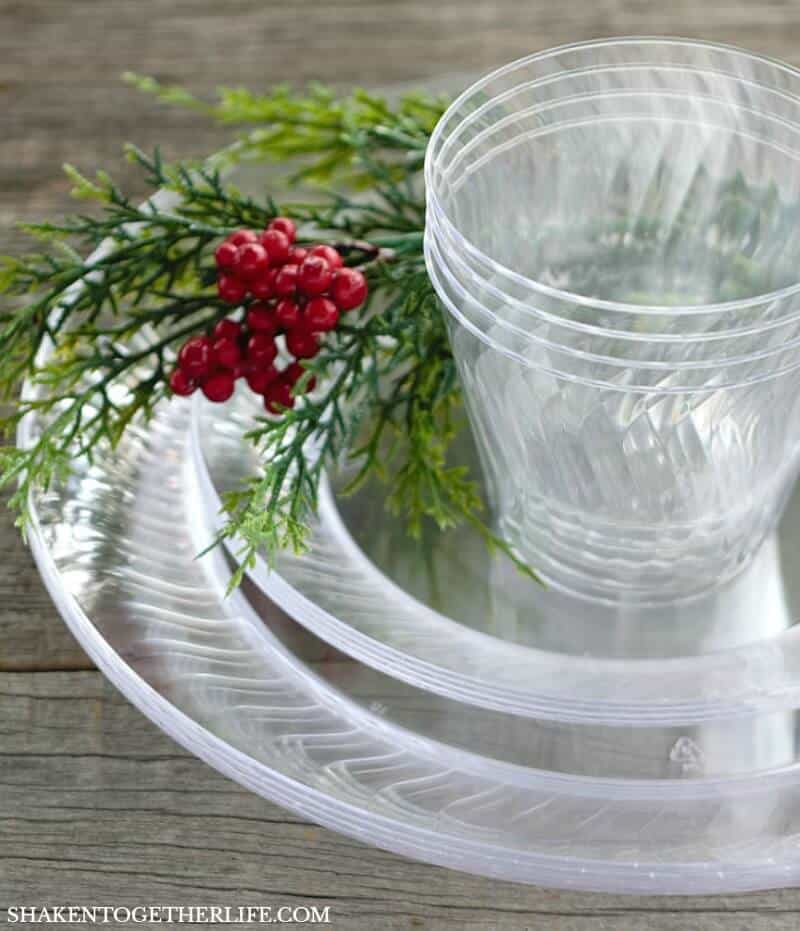 6. If you are serving buffet style, stand Chinet Cut Crystal disposable plates up in a basket lined with a pretty dish towel. This helps the plates separate and makes selecting a plate easier for guests. Bonus – it saves room on a crowded buffet table.
7. Don't worry about using and washing your best stemware. Chinet's Cut Crystal disposable 9 oz. cups are a convenient stress-free solution for gatherings!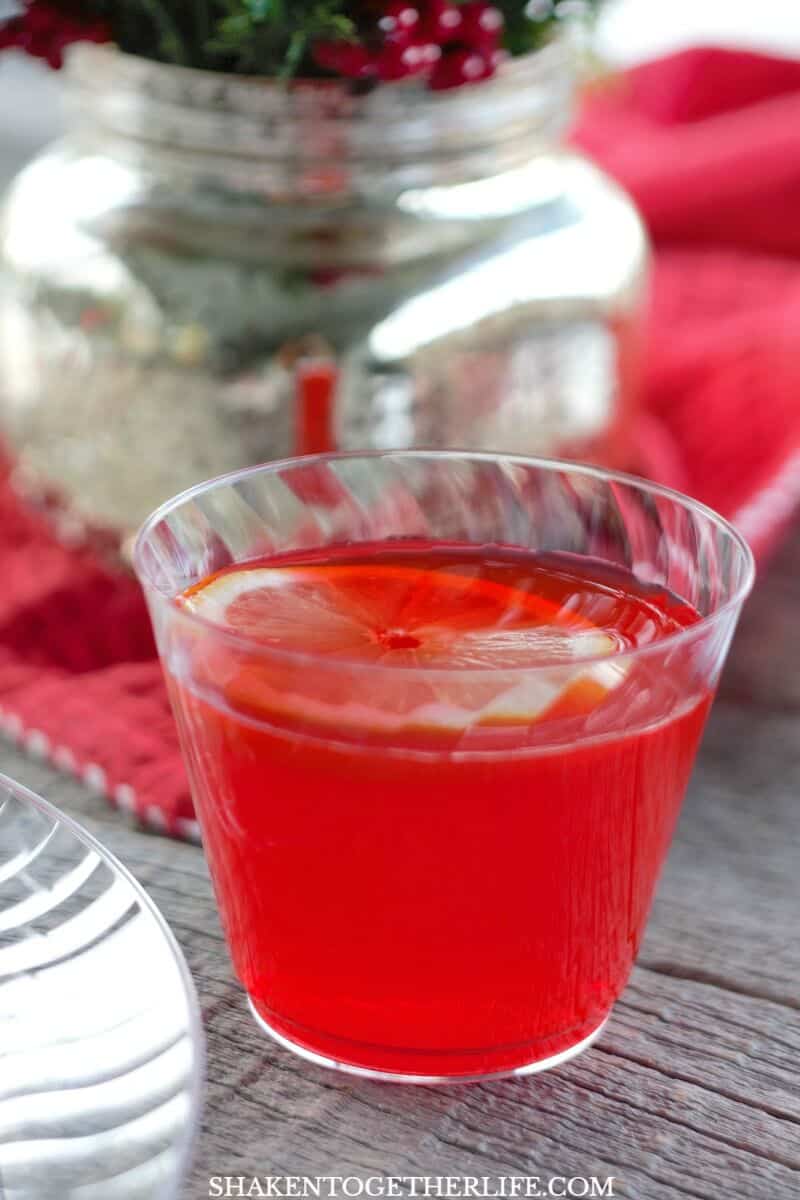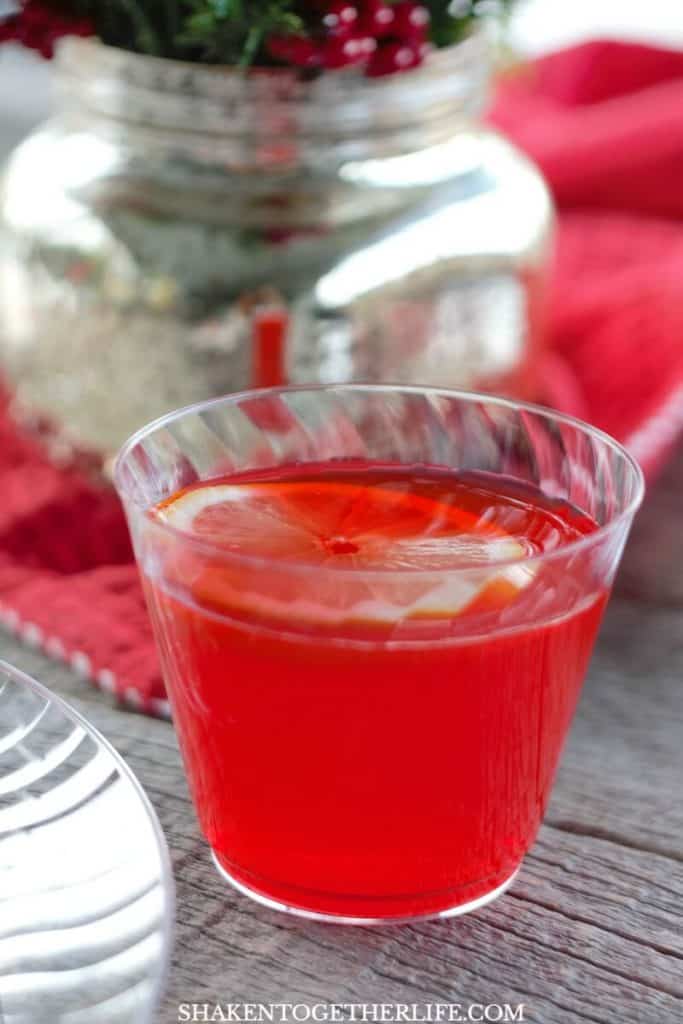 8. Say buh-bye to that black marker and have a supply of alphabet stickers for guests to use to mark their disposable cups. No mess stickers mean no smudging or accidental stains on clothes and they add an elegant touch with minimal effort.
9. Speaking of disposable cups … they aren't just for drinks anymore! Add a stack of sturdy and durable, yet stylish cups from the Chinet Cut Crystal collection to serve pasta salad, fruit salad, veggies + dip, trail/snack mixes, individual desserts, popcorn or to tuck a cupcake into for the ride home.
10. If you are hosting a sit down meal, set the table ahead of time using the Chinet Cut Crystal collection with this easy holiday place setting. Corral Chinet Cut Crystal cutlery and napkins into small decorative bags that serve as colorful, seasonal place cards. This idea can be updated for any theme, color scheme, holiday or event so it is my go-to table setting when I entertain. (I'll share some details below on the chic and simple cutlery holders you see in these pictures!)
Chic & Simple Cutlery Holders
I love adding simple DIY touches to events. In about 5 minutes, you can add a personalized place card at each place setting that keeps cutlery organized and makes setting a table quick and easy!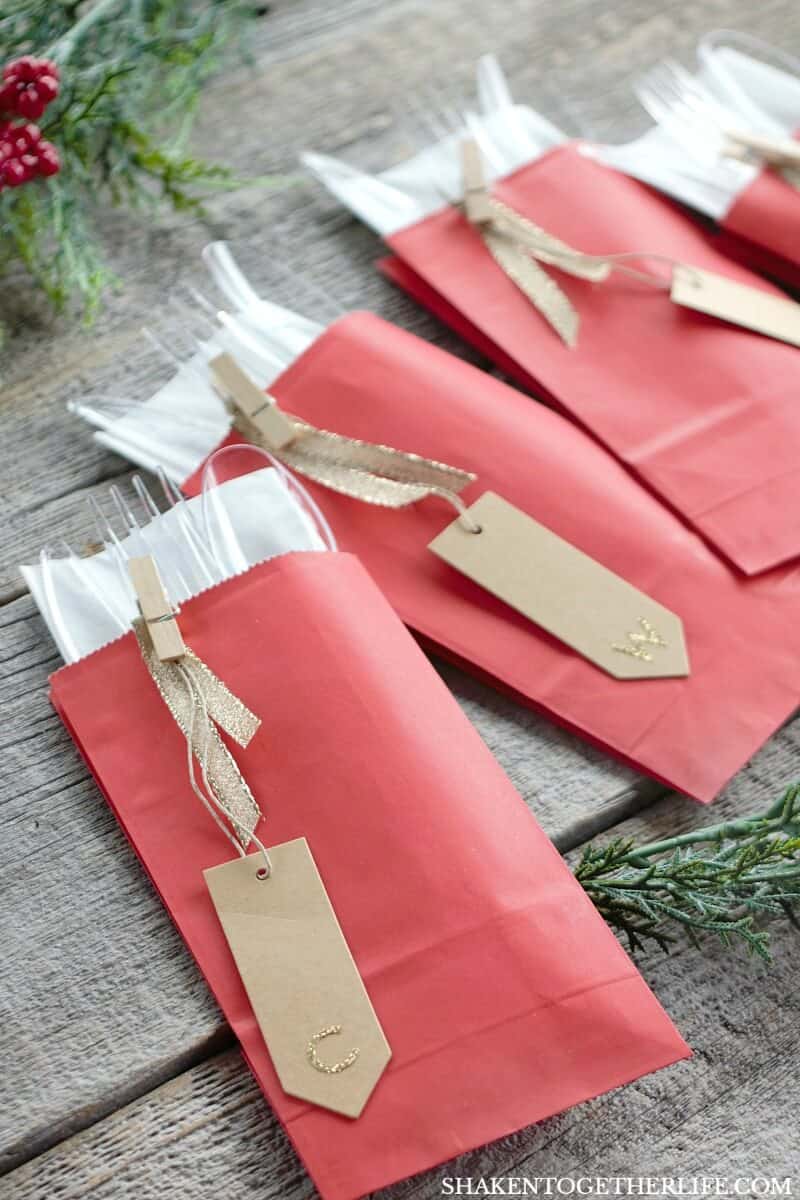 These simple cutlery holders start with small colorful paper bags that I picked up at my local craft store. They are the perfect size to hold a folded Chinet Classic White dinner napkin and Chinet Cut Crystal cutlery. Using a small clothespin, I clipped on a piece of gold ribbon and a small paper tag featuring a single sparkly gold letter sticker for each guest's name. No gluing, no complicated tools and no mess!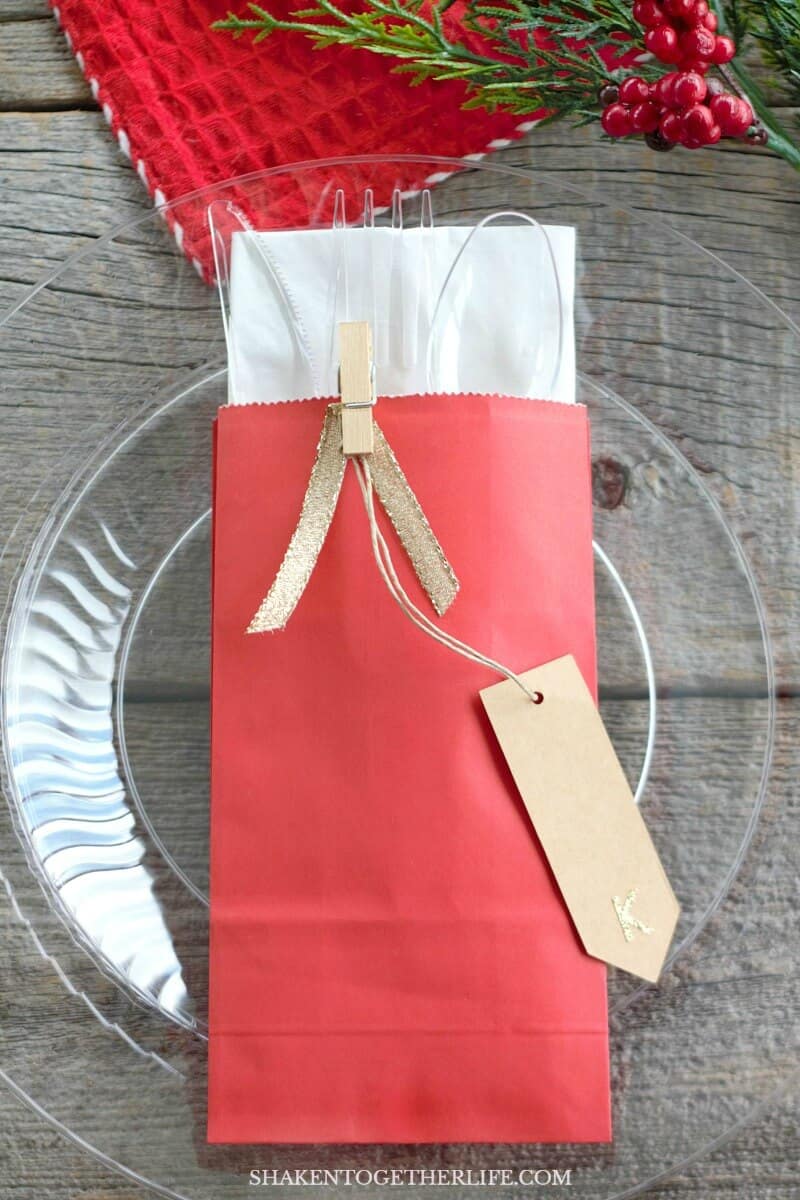 Do you have any entertaining hacks or tips to add to my list? Have you had success with any of these suggestions? I'd love to hear about it – leave a comment or visit Shaken Together on any of our social media channels to discuss!
Oh and don't forget to purchase your Chinet Cut Crystal products before the holidays!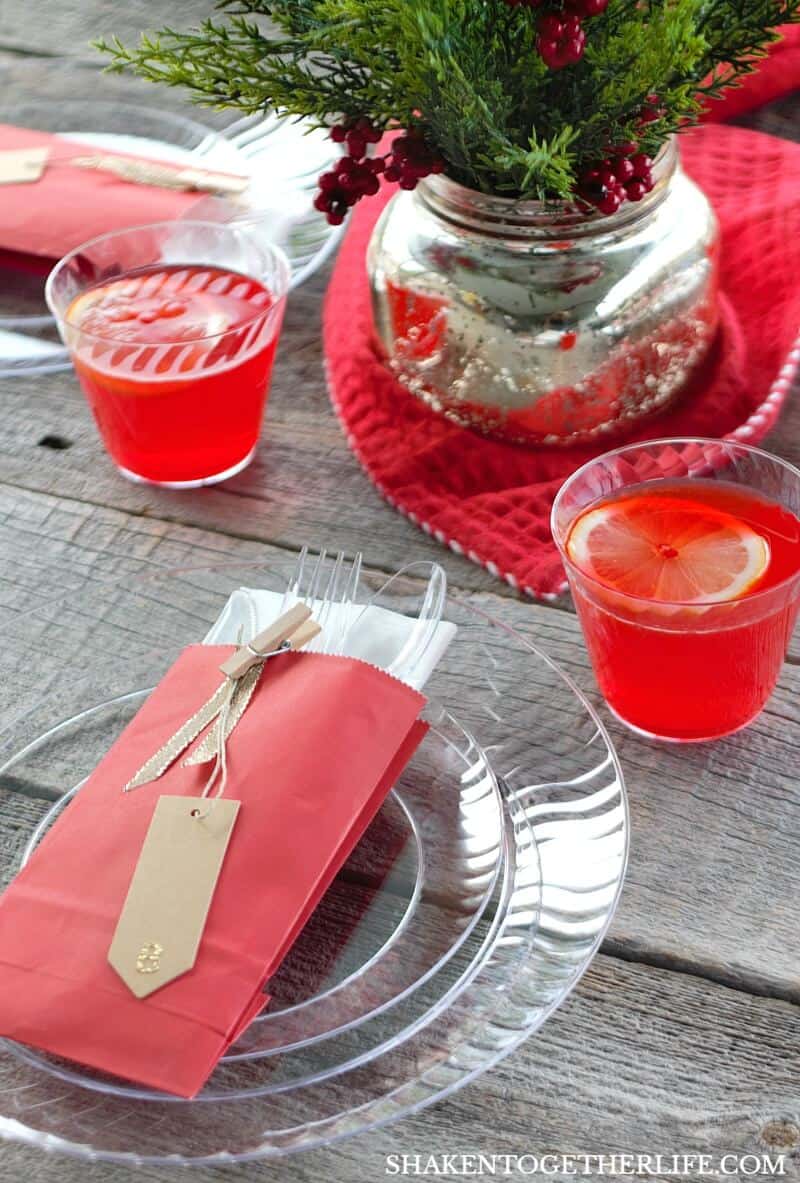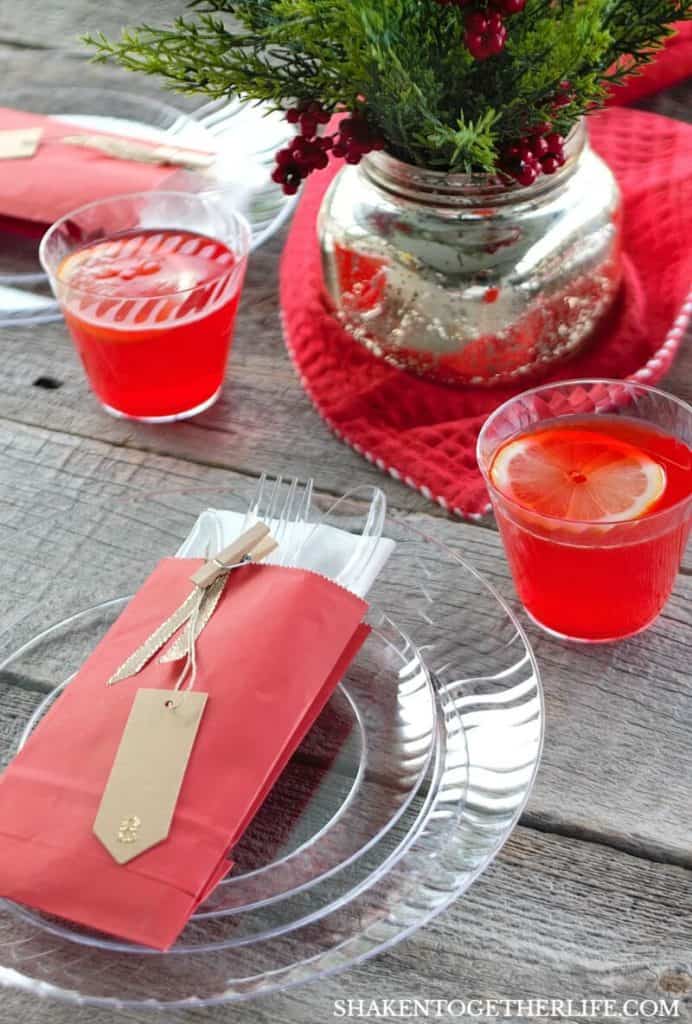 I was selected for this opportunity as a member of CLEVER and the content and opinions expressed here are all my own. Chinet® and Cut Crystal™ are registered trademarks of Huhtamaki, Inc. in the U.S. and other countries.