Tonight, I am beyond excited to be sharing a project in the Handmade Holidays Series at Under the Table and Dreaming!!  25 talented bloggers (including yours truly – wheeee!), 25 unbelievable projects in 5 days!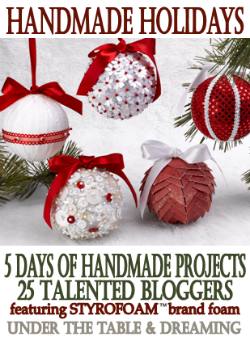 While I can't give away all the details here … my project involves STYROFOAM (TM) Brand Foam products, fun and funky paint colors, ribbons and a totally fun way to help your family enjoy the holiday season … you can count on it
I'd love for my pressed down, shaken together readers to blow Stephanie away with visits and comments and a big show of love for this little ol' blogger!! 
Thanks, ya'll … you make this bloggirl so happy!!
Keri
(R) TM Trademark of The Dow Chemical Company ("Dow") or an affiliated company of Dow